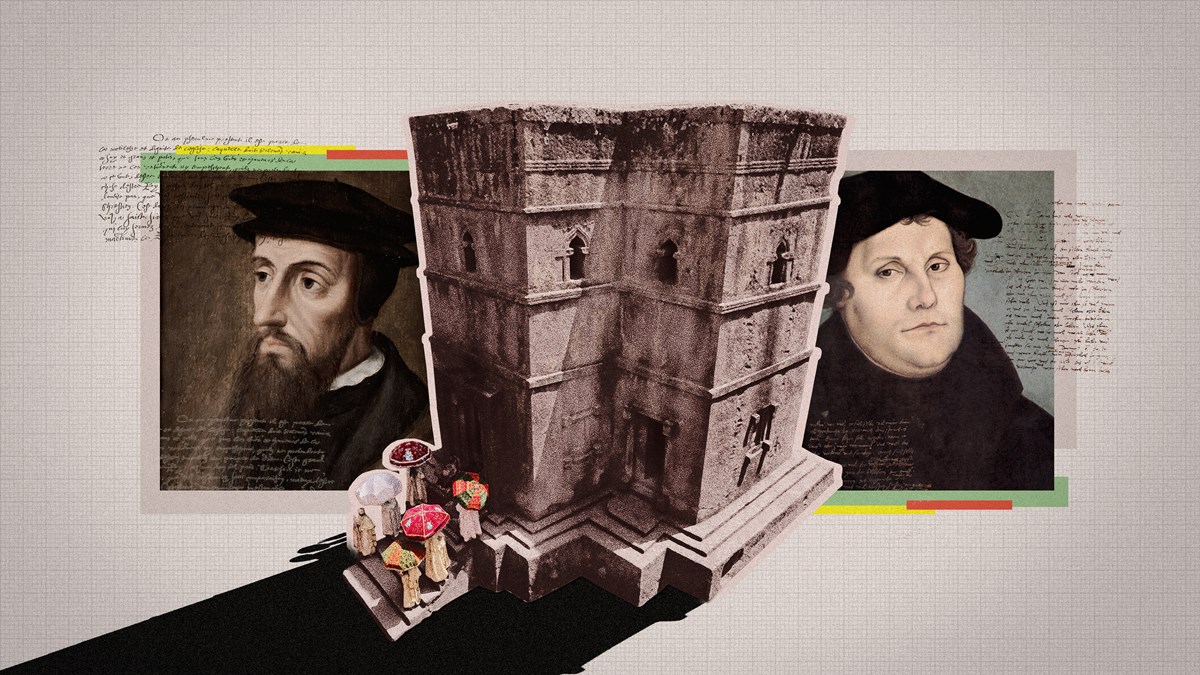 An Unsung Inspiration for the Protestant Reformation: the Ethiopian Church

Image: Illustration by Rick Szuecs / Source images: Sean Gallup / Staff / Getty / WikiMedia Commons
There are some parts of the world that you never expect to see. A few years after the Iron Curtain fell, my parents took me out of school to visit Russia. My dad was taking pastoral study leave and was involved in the missionary outreach foundation of our denomination.
Our first days were spent in Moscow, an austere but extraordinary city that was home to soldiers, beggars, and the Bolshoi Ballet. Our overnight sleeper train from Moscow to St. Petersburg required bodyguards to protect our travel group from train robberies. Tourism was new, so we were some of the first Americans to set foot in the Kremlin and the Hermitage Museum. Statues memorializing past regimes had been toppled and moved. Tour guides were still sorting out the complexities of explaining their past in a fast-changing and sensitive present. We felt exhilarated (and overwhelmed) by the food, the language, and the customs, but most of all, we were drawn to the churches.
Stepping into St. Basil's Cathedral in St. Petersburg's Red Square was a lesson in Christian unity and diversity. We three American Presbyterians were surrounded by the familiar and the strange. For the first time, we saw an iconostasis—a screen of icons that divides the sanctuary from the nave—and encountered the stories of Christian faith, suffering, and beauty depicted there. Later in the trip, a visit with an embattled Protestant missionary added layers to my young adult perspective on faith. Through these and other experiences, the Eastern Orthodox branch of the church was making itself known to me in the heart of the "Third Rome," a moniker used to signify Moscow as the heir of Byzantium (or Eastern Orthodox) Christianity. I began to realize that the …
You have reached the end of this Article Preview
Already a CT subscriber?
Log in
for full digital access.