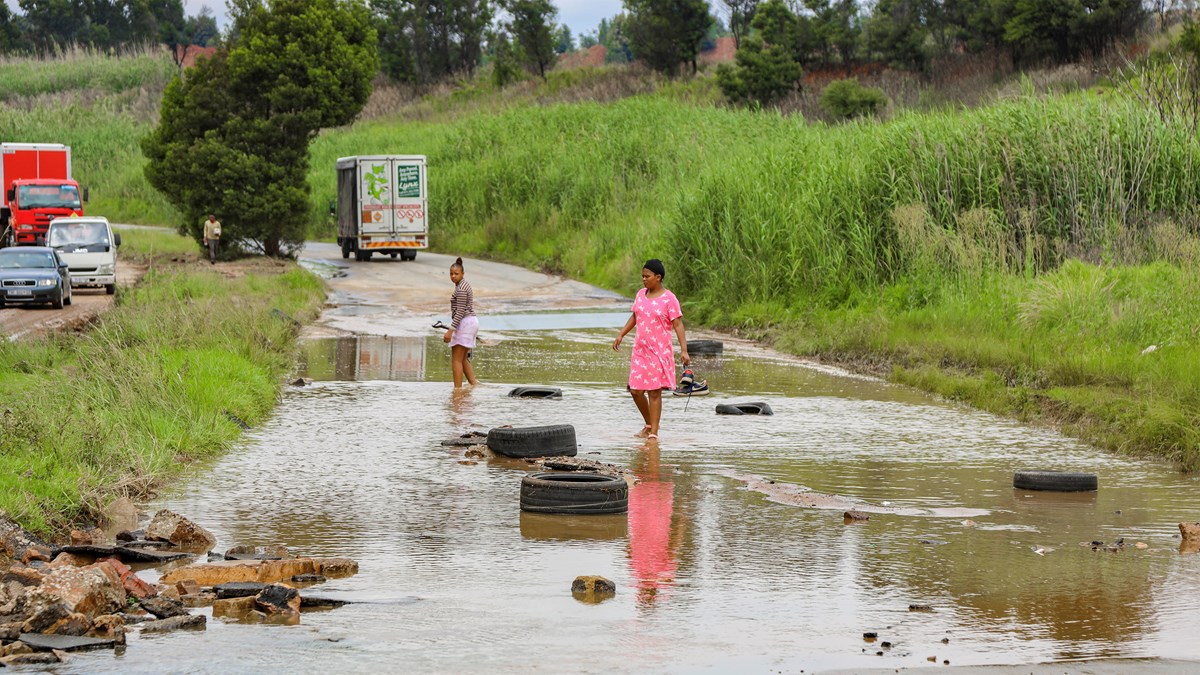 Baptisms Turn Deadly with South African Floods
South Africa is reeling from the shocking death of 15 people, including a three-month-old baby, during a river baptism that went wrong last month.
The victims were swept away December 3 by floodwaters in the Jukskei River, which flows through a number of suburbs in Johannesburg, South Africa's biggest city. The pastor conducting the baptism ceremony, identified by local press as Kind Kupe from neighboring Zimbabwe, was rescued by other members of his church.
The church is part of the Johane Masowe group, started by an indigenous, itinerant preacher in 1930s Zimbabwe. Adherents are known for their prominent white robes and preference for outdoor worship.
Some in South Africa are blaming church leaders for the tragedy.
"I know that baptism is something that has been happening for a very long time, but for someone to be baptized at a river with that heavy flow of water is dangerous," a resident of Alexandria told the News24 website.
Nomusa Bandile, who lost her teenage daughter in the flood, labeled the pastor a "cruel fraudster."
Some academics, however, are pointing to the tragedy as an example of how humans have trouble adapting to climate change.
"Without proper information filtering to the grassroots on climate change, we are likely to see more tragedies," said Sibusiso Masondo, an associate professor in the school of religion, philosophy, and classics at the University of KwaZulu-Natal.
He said traditionally in South Africa, lakes, rivers, and the ocean were seen as significant in both cleansing and healing rituals.
Indigenous churches connect this tradition with the Christian ritual of baptism, centering much of their faith and worship on outdoor immersion ceremonies.
"African religion has an element of respect for nature and dependence on her for provision," he said. "It is up to them to adapt to the weather changes that we currently observe."
South Africa has been hit by deadly floods more frequently in recent years, making open-river baptisms more dangerous.
Last April, floods and landslides hit the country's Eastern Cape and KwaZulu-Natal Provinces after heavy rains that in some areas exceeded 11 inches in 24 hours. The floods killed more than 400 people, displaced 40,000 others, and destroyed over 12,000 homes.
A coalition of research groups, including the University of Oxford's School of Geography and the Environment and Princeton University's Department of Geosciences, concluded that the probability of such heavy rainfall had doubled due to human-induced climate change.
"An event of this magnitude would have been rarer in a 1.2°C cooler world," they wrote. Going forward, the scientists said, heavy rainfall events "are projected to increase in frequency and magnitude … with additional global warming levels."
The heavy rains that hit South Africa's Gauteng Province in early December sparked another humanitarian disaster affecting 40,000 people, according to aid agencies.
Previous floods have also killed people getting baptized. In December 2021, a minister and one of his congregants drowned during a river immersion after heavy rains in South Africa's Free State Province.
South Africa's Commission for the Promotion and Protection of the Rights of Cultural, Religious and Linguistic Communities said that while people have the right to exercise rituals such as water baptism, greater levels of responsibility are needed from both leaders and members.
"The practice of a person's faith should always ensure the protection and preservation of one's life and dignity," the commission said after the Jukskei drownings.
But Retief Müller, a South African researcher and associate professor of mission and world Christianity at Norway's VID Specialized University, cautioned that people are quick to blame marginal groups as a way of avoiding complexity and complicity. The Johane Masowe churches have not adapted their religious rituals to the new challenges of climate change, but then neither has South African society as a whole.
"This is not to defend the pastor, but it is important to be aware of the wider context," Müller said. "Given what we know of the history of xenophobia and anti-foreigner sentiment in various parts of South Africa, including in the Johannesburg area, negative feelings against this church leader might have existed even before the tragedy."
Ten of the victims have been confirmed as South Africans; at least one was Zimbabwean.
The danger is not always easy to see ahead of time either. Drownings have also occurred in the region's rivers when they are not flooding.
In 2021, eight members of an apostolic church group drowned in Zimbabwe during a ceremony along the Mazowe River, in the north of the country. Church leaders had ordered the men to retrieve a "holy stick" tossed into the river. The one who retrieved the stick first would be the next leader of baptisms in the church.
The tragedy occurred at the height of the Zimbabwean dry season, when rivers are at their lowest.
Müller said Africa's long history of rituals associated with water preceded the introduction of Christianity, but life in the city may have blunted some church leaders' sense of what is safe.
"In times gone by, ritual practitioners might have had greater knowledge of the characteristics of bodies of water and weather patterns by virtue of their lifestyles that were closely tied to the natural environment and the geography of the land," he said.
"I would not assume malicious intent on the part of the church leaders. Insufficient knowledge of the environment and how to coexist with it is more likely the real culprit."