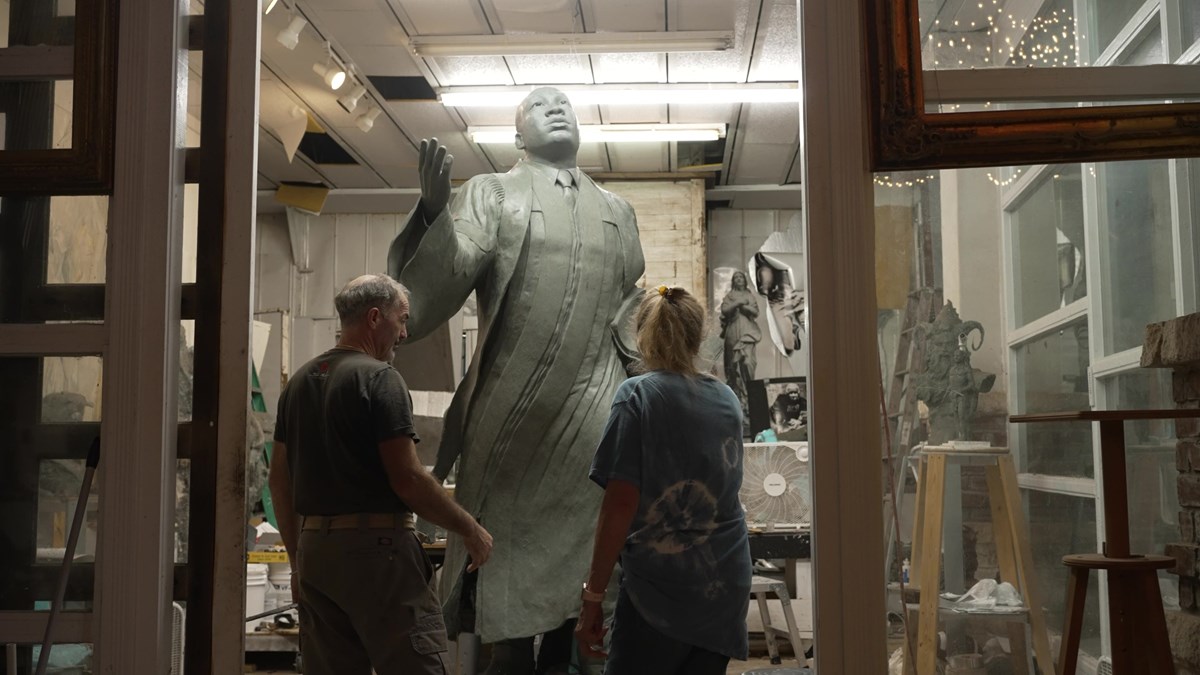 Martin Luther King Jr. Looks to God in New Statue
On Monday, Kathy Fincher looked into Martin Luther King Jr.'s eyes and knew something wasn't quite right.
The statue of King that she had been working on for years is said to be the first to portray the civil rights leader as a pastor, wearing robes and holding a Bible. For Fincher, the design relies on King's heavenward gaze, on the eyes that "have seen the glory of the coming of the Lord," as he said in his 1968 "I've Been to the Mountaintop" speech.
Days before the statue's April 1 unveiling in Atlanta, she removed a piece of clay and made some last-minute adjustments during the patina process so his eyes reflected the light.
"My idea was he would be on a mountaintop, with a Moses-type look, and he would be talking to God," said the Georgia artist, who listened on repeat to the famous speech from the eve of King's assassination. "I designed it so his hands would be face up, so he'd be catching the light that was given to him, not sideways like he was preaching, and his eyes and head were raised up."
The eight-foot, two-inch King monument takes its place on Saturday among what will eventually be 18 statues of Georgia peacemakers at the Rodney Cook Sr. Peace Park in the Vine City neighborhood. The Peace Park opened two years ago—a reconstruction of Mims Park, the first integrated park in Atlanta.
In remembrance of the 55th anniversary of King's death, community leaders, politicians, and clergy will join together for a peace walk and a first view of the statue. The lineup for the event includes Bernice King, daughter of Martin Luther King and CEO of the King Center, as well as Andrew Young, civil rights leader and former Atlanta mayor.
Also speaking and praying on Saturday are philanthropists Clyde Strickland, Dame Didi Wong, and Tim Minard, who partnered with the National Monuments Foundation to commission the statue.
They were intentional about creating a monument to portray King as a man of God. The "I've Been to the Mountaintop" statue, by Fincher and fellow Georgia sculptor Stan Mullins, shows King in flowing robes, pulling details from King's father's 100-year-old robes that were loaned to the artists by Alveda King. He holds the Bible, curled open in the shape of a dove, turned to the last chapters of Deuteronomy. Fincher modeled the Bible after one that belonged to King's brother, who was Alveda's father.
Fincher said when she saw the page at the end of Deuteronomy, it had been stained by the ribbon bookmark, with a red star drawn next to the verse where Moses died having not seen the Promised Land. King stands atop a rock from Stone Mountain, the Confederate monument in Georgia referenced in his "I Have a Dream" speech.
Image: Courtesy of the National Monuments Foundation
For the statue's backers, it is not merely another landmark to King; they pray it will be a marker of a revival. The statue represents a bigger movement to recover the spiritual legacy of the civil rights movement and offer it to a new generation living in polarized times.
Strickland and the others involved see the principles King preached and practiced as instrumental in today's pursuit of peace and justice. They launched World Peace Revival as a global prayer movement drawing from King's commitment to peace. As Christians, they recognize how King's teachings apply across religions and borders but also stem from King's own faith convictions.
Young, whose statue was already erected in the Peace Park, is part of this living legacy. A pastor who worked alongside King and shared his commitment to nonviolence, Young spoke of his reliance on the Spirit during the civil rights movement and has joined the efforts to promote peacemaking in the modern day through scholarships and school curricula.
"A lot of the younger generation aren't as connected the civil rights movement," said DePriest Waddy, CEO of the Community Foundation for Northeast Georgia, which has been involved in the World Peace Revival and statue. "We have to keep these stories in the airways."
Waddy referenced the boldness modeled by King in his famous addresses like the "I've Been to the Mountaintop" speech, which concluded:
We've got some difficult days ahead. But it really doesn't matter with me now, because I've been to the mountaintop, and I don't mind. Like anybody, I would like to live a long life. Longevity has its place. But I'm not concerned about that now.
I just want to do God's will, and he's allowed me to go up to the mountain. And I've looked over, and I've seen the Promised Land. I may not get there with you, but I want you to know tonight that we as a people will get to the Promised Land! And so I'm happy tonight. I'm not worried about anything. I'm not fearing any man. Mine eyes have seen the glory of the coming of the Lord!
Matt Daniels helped develop a global civil rights curriculum for educational publisher McGraw Hill through his organization Good of All and is also working on materials to bring King's teachings into church and Sunday school lessons.
"We have been given in Dr. King's teachings a repository of truth," said Daniels. "He believed in the imago Dei, even in those who opposed him."
He sees teaching peacemaking and racial justice in the digital age as a form of counterprogramming for hateful content that takes off online. "You can't censor," said Daniels. "You must go on offense for the good."
Growing up in Atlanta, artist Fincher said King's message "rubbed us wrong in that time, but his words were true." With this statue project, the Southern Baptist has developed a deeper appreciation for King's biblical witness and joined in the organizer's prayers for healing and revival. She prayed that the depiction of King would encourage preachers who put on their robes each Sunday—and the faithful in their flocks—to speak with boldness.