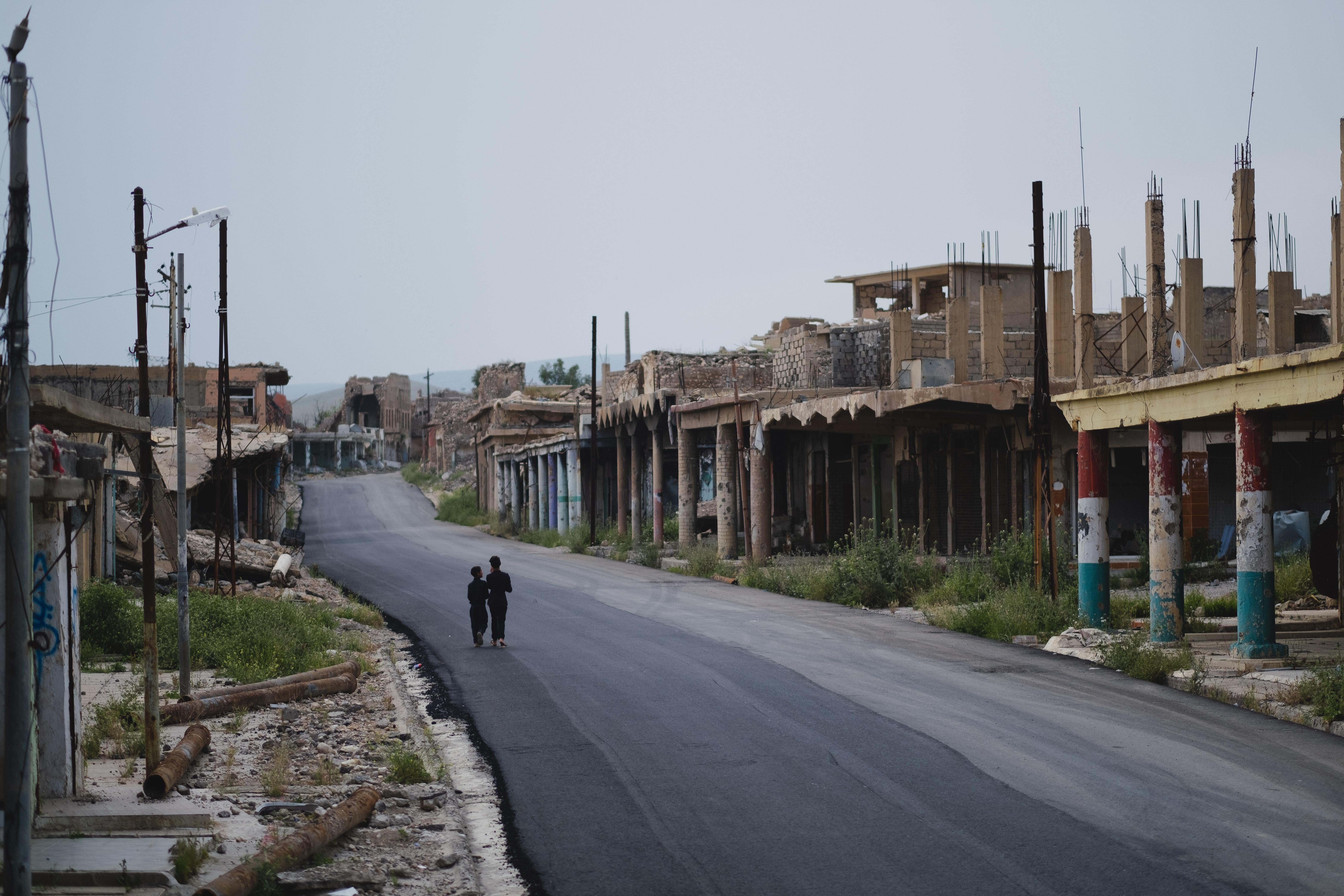 2 girls beheaded at ISIS family displacement camp in Syria; US commander warns of radicalization
Beheaded bodies of two Egyptian girls were found in the sewage system of a displacement camp in northeastern Syria housing tens of thousands of Islamic State fighters' family members, prompting a visit from a high-ranking U.S military commander who voiced concerns about children being radicalized. 
U.S. Central Command announced Sunday that Gen. Michael "Erik" Kurilla visited the Al-Hol displacement camp in northeast Syria on Thursday following last Tuesday's discovery of the bodies of two girls in the sewers of the sprawling camp. More than 50,000 people, the majority of whom are children and include Iraqis and other foreigners, live in the camp run by the Kurdish-led Autonomous Administration for northeast Syria in Al-Hasakah Governorate.
"This visit, my third to al Hol since taking command on April 1st, reaffirmed for me the gravity of the situation at the camp," the CENTCOM commander said. "The more than 25,000 children at the camp are in danger — the recent beheading of two Egyptian girls, ages 12 and 13, inside the camp is a horrific reminder of that. The children in the camp are prime targets for ISIS radicalization."
While the motive for the beheadings remained unknown, an official with the Kurdish-led U.S.-backed Syrian Democratic Forces blamed the Islamic State for the killings, according to The Associated Press. 
The killings are the first of their kind since the Syrian Democratic Forces (SDF) concluded a 24-day raid in al-Hol in mid-September following other murders in the camp. According to the United Kingdom-based watchdog Syrian Observatory for Human Rights, dozens were arrested and weapons were confiscated. 
The observatory reports that 28 murders have been documented in Al-Hol camp since the beginning of 2022.
Kurilla said the U.S. is working with the international community to repatriate camp residents, many of which want to return home and some of which are in the process of being radicalized. In the meantime, the coalition is working to make the camp safer and reduce the Islamic State's influence on residents. The general said camp administrators, the SDF and camp security will be taking up "increased force protection measures."
"ISIS adherents in the camp continue to demonstrate their barbaric tendencies, holding women and children captive, inculcating them with their ideologies," Kurilla said. "Tens of thousands of the camp residents reject this and do so at great risk to them and their families. In fact, many residents arrived at the camp to escape ISIS, which did not come into al-Hol in large numbers until 2019."
The Islamic State terrorist group captured large swaths of territory in Syria and Iraq in 2014, establishing hardline Islamic sharia law in areas under the group's control. The group drew international attention by producing gruesome execution videos that were shared online. The Islamic State killed and enslaved thousands. Several affiliate groups across Africa and Asia have aligned with the Islamic State.  
Retired four-star U.S. Army Gen. Joseph L. Votel, who served as commander of U.S. Central Command from 2016 to 2019, wrote that "victims and families of Islamic State fighters" who had nowhere to go as the military campaign against the Islamic State came to its completion were sent to Al-Hol beginning in 2018. 
"We did not intend for it to be a long-term displacement camp, because consolidating these Islamic State family members for an extended period could mean planting the seeds of future violence," Votel wrote. "We knew a massive, concerted effort to repatriate, rehabilitate and reintegrate these families was required."
"It is a lousy and irresponsible situation — and I am alarmed to see that what we feared several years ago is coming to fruition," he added. 
"I can almost guarantee that if we allow conditions there to go on, unresolved, in the coming years we will find ourselves being drawn back to the region, to deal with a next-generation Islamic State that got its start at al-Hol."
In 2021, 79 children died in Al-Hol camp, according to Doctors Without Borders, which provides medical help to camp residents.
Last February, a 7-year-old boy was brought to the group's clinic in Al-Hol with second-degree burns across his face and arms.
"Lifesaving medical care was no more than an hour's drive away, yet it took two days for his transfer to be approved by camp authorities," Doctors Without Borders stated in a November report. "He died on the way to the hospital under armed guard, separated from his mother, in agony."
In May, a 5-year-old boy was hit by a truck and rushed to the clinic. The group's staff recommended he be referred to the hospital for emergency surgery.
"Despite the urgency, it took hours for his transfer to be approved. He died en route to the hospital, unconscious and alone," the report reads. 
Martine Flokstra, the charity's Syria operations manager, said she had heard many tragic stories from the Al-Hol camp, including young boys being separated from their mothers at age 11 and never to be heard from again. 
"For children and their caregivers in Al-Hol, if they can access medical care, it is often a terrifying ordeal," Flokstra stated. "Children who require treatment at the main hospital about an hour's drive away from the camp are escorted under armed guard, and in most cases without their caregivers, as they are rarely given approval to go with their children."
Although Al Hol was initially established to provide temporary accommodation and humanitarian services to civilians displaced by the conflict, the camp has become "an unsafe and unsanitary open-air prison" ever since people moved in from Islamic State-controlled territories in December 2018, the charity warns. 
In July 2019, Human Rights Watch reported that its staff made three visits to the camp and found "overflowing latrines, sewage trickling into tattered tents, and residents drinking wash water from tanks containing worms."
"Young children with skin rashes, emaciated limbs, and swollen bellies sifted through mounds of stinking garbage under a scorching sun or lay limp on tent floors, their bodies dusted with dirt and flies. Children are dying from acute diarrhea and flu-like infections," the Human Rights Watch report states.