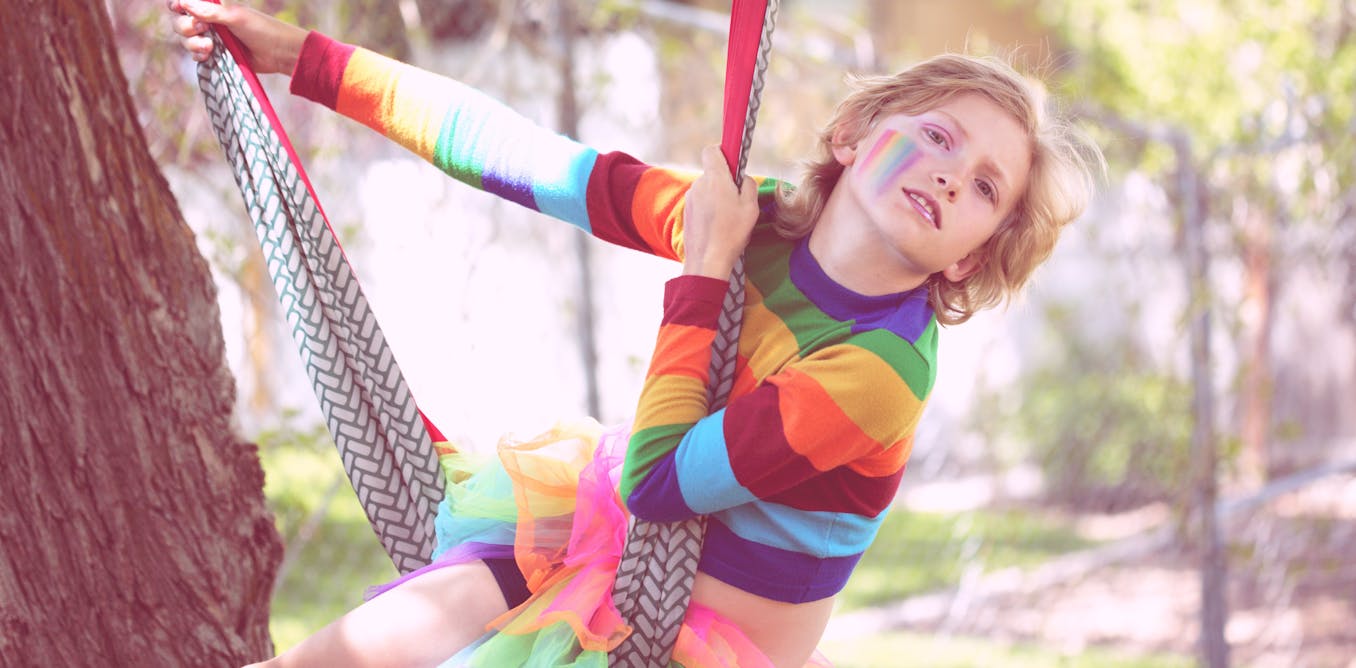 5 books for kids and teens that positively portray trans and gender-diverse lives
International Transgender Day of Visibility is an opportunity to celebrate trans and gender-diverse people – and to raise awareness of the ongoing discrimination they experience.
Trans and gender-diverse people experience higher levels of depression, anxiety, self-harm and suicidal behaviours than the general population.
Recent events in Australia, the United Kingdom and the US remind us of the need to promote acceptance of trans and gender-diverse young people, and to support their mental health and wellbeing.
Community, school and family are vital tools for this.
So are books that positively represent trans and gender-diverse experiences, themes and issues. Such books can expand young people's awareness, understanding and acceptance of gender differences from an early age. They also validate the lived experience of trans and gender-diverse youth.
The five books below all positively portray trans and gender-diverse lives in age-appropriate ways.
---


Read more:
Trans people aren't new, and neither is their oppression: a history of gender crossing in 19th-century Australia


---
1. My Shadow is Purple by Scott Stuart (ages 4-9)
This picture book, My Shadow Is Purple, considers gender diversity through the use of colour. The story focuses on a boy whose shadow is purple: presumably a blend of masculine blue and feminine pink.
Early in the story, the boy celebrates his gender hybridity, enjoying a range of both traditionally masculine and feminine activities. Stuart also explores the way society regulates and limits gender expression, and how this can have negative effects on individuals.
That said, the picture book is positive and offers a promising message to readers. Through both resistance and collective support, we can acknowledge and celebrate the spectrum of colours our shadows might take.
---


Read more:
Supporting trans people: 3 simple things teachers and researchers can do


---
2. Too Bright to See by Kyle Lukoff (ages 10-12)
In his award-winning junior novel, Too Bright to See, Kyle Lukoff uses the ghost story to explore gender dysphoria and grief.
Trans boy Bug, aged 11, lives in a house with relatively benign spirits. However, during the summer before school starts, Bug's uncle dies and a new ghost takes up residence in the house.
It is not only the grief of his uncle's death that Bug must learn to live with. His best friend, Moira, is eager to give him a feminine makeover and the new ghostly resident seems intent on sending him a message.
Bug's investigation of the ghost and his journey of self-discovery and self-acceptance is sensitive and nuanced, allowing readers to learn about transgender issues (and grief) alongside Bug.
---


Read more:
Yes, words can harm young trans people. Here's what we can do to help


---
3. Euphoria Kids by Alison Evans (ages 12+)
Euphoria Kids is an urban fantasy young adult novel that centres on three trans and gender-diverse teenagers: Iris, who grew from a seed; Babs, the daughter of a local witch; and the boy, named so because his current name does not fit him.
The world Evans creates is one of strange magic, free from the trauma and gender dysphoria often associated with representations of transgenderism in literature and film. The characters' quest to break a curse enables them to demonstrate their resilience, develop their confidence and experience euphoria.
Evans explains (in the author note) their decision to create a positive narrative for trans youth:
I want people to know about gender euphoria. I want them to learn about it before gender dysphoria. I want young trans kids that will read this book to be proud of who they are, and imagine wonderful magic lives for themselves.
---


Read more:
Queer young adult fiction isn't all gloomy realism. Here are 5 uplifting books to get you started


---
4. Meet Cute Diary by Emery Lee (ages 14+)
Meet Cute Diary, a heartfelt young adult romantic comedy, explores gender identity and sexuality – and recognises self-discovery entails continuous questioning, rather than a linear progression.
Noah Ramirez, a Japanese, white, Afro-Caribbean 16-year-old trans boy, loves the idea of falling in love. He writes fictional trans love stories for his blog, "Meet Cute Diary". Noah is confronted in real life by Drew, a white cisgender boy who Noah has featured on his blog. After Noah explains his actions, Drew agrees to pretend to date him, in order to validate his stories. Their pretending quickly becomes real.
Things become complicated, though, when Noah finds himself attracted to his nonbinary and asexual coworker, Devin. The narrative explores the changing nature of relationships and love.
Lee creates interesting characters and complex relationships that respect gender fluidity and recognise the blurry boundary between the platonic and romantic.
---


Read more:
Transgender youth on puberty blockers and gender-affirming hormones have lower rates of depression and suicidal thoughts, a new study finds


---
5. Felix Ever After by Kacen Callender (ages 14+)
Felix, the 17-year-old protagonist of Felix Ever After, is Black, queer and trans. The marginalisation and transphobia he experiences are exacerbated when pre-transition images of him are prominently displayed at his school. Felix's search for revenge sees him open up more about himself to others. And he forms new relationships, including with his friend, Ezra Patel.
Similar to Lee's depiction of self-discovery in Meet Cute Diary, Callender suggests that learning about yourself and your identity is an ongoing process. Felix continues to make new discoveries about himself, including the realisation that he is not a boy but a demiboy.
Callender's writing is engaging, and the cast of diverse characters that populate the narrative reflects the variation in our communities. This tender trans young adult romance sensitively explores the complexity of friendship, forgiveness and self-discovery.