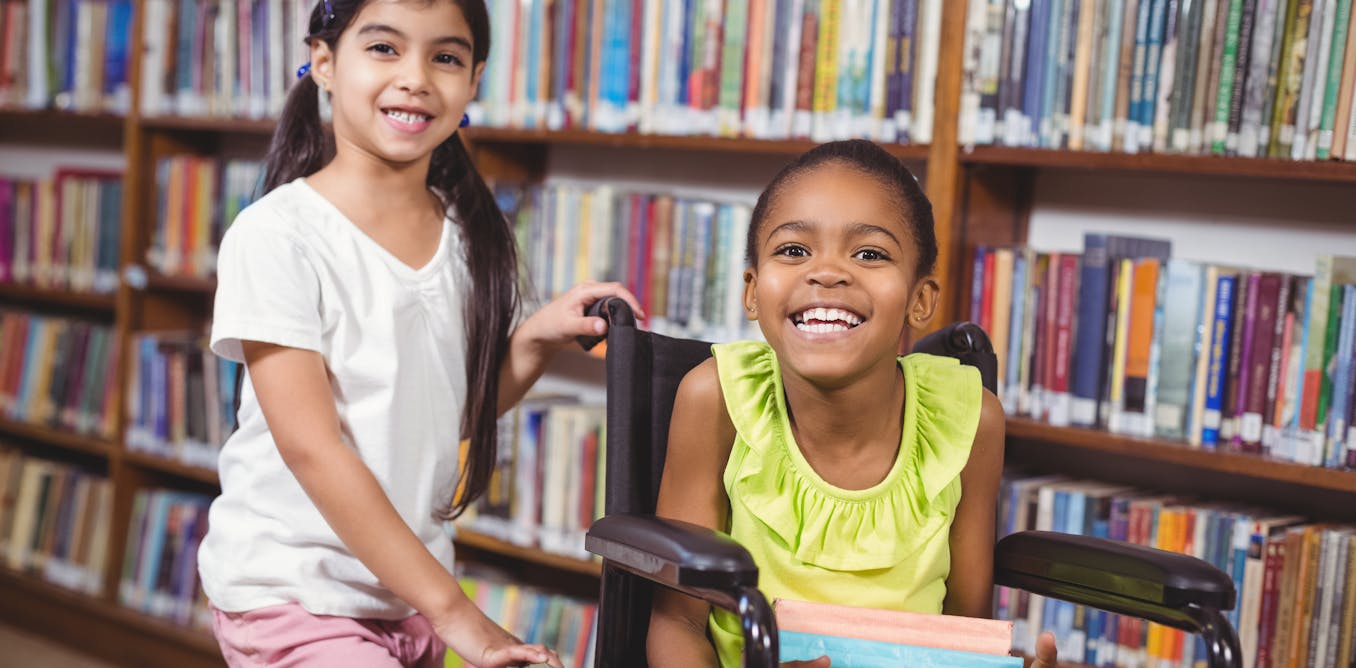 A librarian recommends 5 fun fiction books for kids and teens featuring disabled characters
Disability representation is slowly increasing in books geared toward children and teens.
In 2019 the Cooperative Children's Book Center at the University of Wisconsin-Madison – a library that allows teachers, librarians and researchers to view books before deciding which ones to buy – found that only 3.4% of books it received from publishers included a character with a disability.
The CCBC website recently added a diversity statistics book search with categories for physical, cognitive and psychiatric disabilities or conditions. In 2022, the center received 165 books that included a character with a disability, up from 126 in 2019.
As an academic librarian who also has a disability, I'm happy to recommend the following five children's books that treat disability as a part of life and living.
1. Maria Gianferrari (author), Patrice Barton (illustrator), "Hello Goodbye Dog" (2017)
Moose loves her girl Zara – and she hates saying goodbye. When Zara goes to school, Moose wants to go too and keeps showing up, even though dogs aren't allowed. What will Zara, her parents, the principal, her teacher and the other kids in Zara's class do?
This fun picture book is perfect for preschoolers and kindergartners. While Zara uses a wheelchair, her disability isn't the focus of the story. Readers will have fun seeing what Moose is up to this time and learn that sometimes dogs can go to school.
2. Kelly Fritsch, Anne McGuire, Eduardo Trejos, "We Move Together" (2021)
All bodies are different – whether disabled or nondisabled – and everyone matters. These are the themes of this easy reader. With its vibrant illustrations, simple text and portrayals of a wide variety of people, "We Move Together" is a great introduction to the concepts of community, disability and accessibility for readers in kindergarten through second grade, while older readers can learn more about accessibility and disability rights in the glossary.
3. Darren Lebeuf, Ashley Barron, "My City Speaks" (2021)
A girl who is blind and her dad explore the city and its sounds. They wait at a crosswalk, play in the park, take a bus, avoid a rainstorm and eat ice cream. Words and pictures help the reader feel the rhythms of the city. Readers in preschool through second grade will enjoy this story because of its colorful illustrations and rhythmic text.
4. Ali Stroker, Stacy Davidowitz, "The Chance to Fly" (2021)
Nat Beacon is the new girl in school with a talent for wheelchair racing, but when the 13-year-old gets the chance to audition for a summer production of the musical "Wicked," she knows the theater is where she belongs. How does she tell her parents?
This novel for readers in fifth, sixth and seventh grades explores themes of independence, friendship and first love.
Daisy and Noah are two of the best musicians in their high school orchestra and dream of attending Juilliard, the prestigious performing arts school in New York City. When their performance of an original piece goes viral, they have to deal with the world's interpretation of them and their relationship.
This rom-com of a novel combines disability representation with themes of friendship and romance. Great for readers in grades nine to 12.
---
For more books featuring characters with disabilities, check out the American Library Association's Schneider Family Book Award. For a wide variety of diverse titles, see We Need Diverse Books.