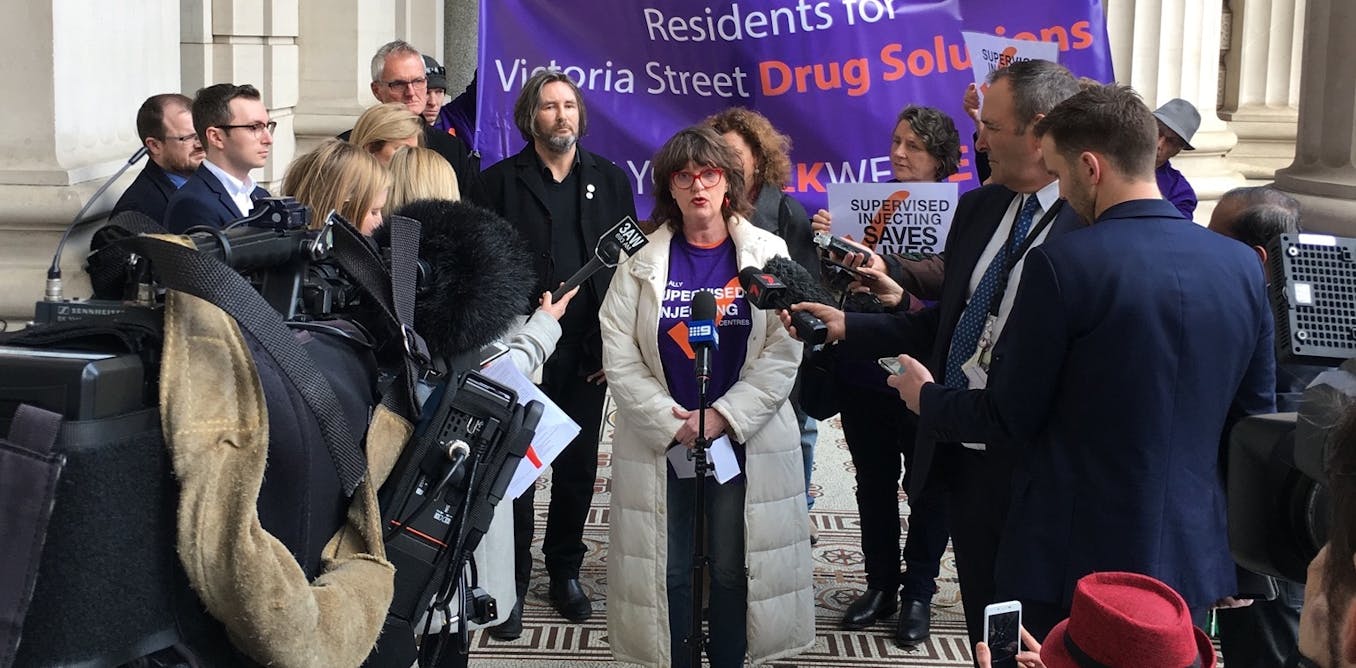 A neighbourhood 'war zone' and a garden-gate overdose sparked Judy Ryan's fight for Victoria's first safe injecting room
Most of us don't have people overdosing on drugs in our front garden. Judy Ryan did. In July 2016, Ryan found a young man slumped at her gate: one of her "regulars", who often injected drugs in or around her Richmond property.
You Talk, We Die describes her involvement, as an community activist, in the battle for Melbourne's first safe injecting facility (and Australia's second).
---
Review: You Talk, We Die the battle for Victoria's first safe injecting facility – Judy Ryan (Scribe Publications)
---
North Richmond Community Health's medically supervised injecting room opened in June 2018: initially for a two-year trial, since extended for a further three years, until June 2023.
Melbourne is set to have a second medically supervised injecting facility, most likely in the CBD.
Ryan describes the situation in her community prior to the safe injecting facility as something akin to a war zone:
I regularly walked south along Lennox Street to Richmond station. It was common to see people injecting, "on the nod", or overdosed in the playground of Richmond West Primary School or next door in the carpark of North Richmond Community Health. As these incidents had been common place in this area for decades, both establishments had well-honed drills.
Ryan's book describes, in meticulous detail, what it took for the Victorian government to trial Richmond's safe injecting facility, through the lens of a local resident. It shows change is not always linear; it can be messy, and involves multiple systems.
And it shows Judy Ryan was the right person, at the right time, to help leverage change.
Safe injecting facilities reduce harm
Safe injecting facilities are health centres where registered nurses and health-education officers supervise "drug injecting that would otherwise happen elsewhere – often in public and under dangerous conditions", as Ryan writes. They provide emergency medical care if needed, and can refer clients to other services, including mental health support, addiction treatment, wound care and blood testing.
There is good evidence safe injecting facilities reduce drug-related harms.
Ryan writes that safe injecting facilities around the world:
have been found to reduce the number of fatal and non-fatal drug overdoses and the spread of blood borne viral infections (including HIV and hepatitis B and C) both among people who inject drugs and in the wider community.
North Richmond Community Health lists vital statistics for its safe injecting facility (recorded between June 30 2018 and September 30 2022) on its website. They include: 346,598 visits, 6,355 overdoses safely managed, and more than 112,000 health and social support services provided onsite.
Despite the available evidence, it's been very challenging to get safe injecting facilities and other harm-reduction strategies (such as pill testing) trialled in Australia.
---


Read more:
What goes on inside a medically supervised injection facility?


---
Windows for change
Drug policy reform, such as the implementation of a safe injecting facility, typically requires "windows" of opportunity.
Such windows can open following specific events such as a spike in drug-related deaths, or a change in government. Or even due to emerging evidence about the medical uses of prohibited drugs, like we have recently seen with cannabis and now psychedelics.
In the 1990s, there was a "glut" in the supply of heroin. More Australians were using it and there was a significant increase in overdose deaths. Some Australian newspapers were publishing the daily death toll.
This concern led to the establishment of Australia's first safe injecting facility in May 2001, in Sydney. Sadly, no similar service was established in Melbourne – despite significant political will. In 1999, the Bracks government sought to establish a safe injecting facility there, but in 2000 the proposal was rejected by the upper house of Victorian parliament.
These different local outcomes to the same national public health crisis highlight how successful drug policy reform requires more than just windows for change.
Drug policy reform requires advocacy.
---


Read more:
More Australians back legalising cannabis and 57% support pill testing, national survey shows


---
Humanity and tenacity make a great advocate
Not everyone would help a stranger who is overdosing in public. But, remarkably, Judy Ryan tried to help her "regulars". Her book shows how another resident adapted to the situation:
I am ashamed to say this, but […] I had become immune to people being overdosed in our area, slumped in the streets. I'd literally step over them because it was so commonplace. I am horrified reflecting on what I had become: a person lacking humanity.
A successful drug policy reform advocate needs more than humanity though: they need tenacity, and to trust their instincts.
In 2016, Ryan helped her fellow residents gain a voice by running to represent them as a councillor, at Yarra City Council. She was given the following unsolicited advice:
That I must have a strong presence on Facebook and Twitter and that I must not campaign with a single policy. On the first point, I was concerned about receiving abusive comments and dealing with trolls, and so I decided not to bother with online platforms.
Ryan won 579 primary votes and at least 791 second-preference votes on the single issue of trialling a safe injecting centre in the area – with no social media presence.
While Ryan did not secure a position on the council, her campaign allowed her to connect with other residents who supported a safe injecting facility. Together, they formed Residents for Victoria Street Drug Solutions.
She has since stood as the Reason Party candidate in the Victorian state electorate of Richmond in 2018, and the federal electorate of Melbourne in 2019.
Politics and the media
Through my work with the Alcohol and Other Drugs Media Watch project, I've observed how the Herald Sun and the Age would often ask local Richmond traders for their views on the best "solution" to the drug problems in their area. The voices of residents were conspicuously absent.
Ryan notes that the "solutions" proposed by local traders (such as CCTV and policing) "don't address drug activity; they relocate it" – to Ryan's home and those of her neighbours.
Ryan's group, Residents for Victoria Street Drug Solutions, was able to ensure the local residents' views were reflected in media stories. In particular, she notes the important role journalist Ian Royall played to provide Richmond residents with a voice.
Their advocacy meant the Richmond safe injecting facilities became a Victorian election issue.
Royall's work regarding the Richmond safe injecting facilities has been acclaimed by Alcohol and Other Drugs Media Watch, and he has received journalism awards for his work. However, soon after the safe injecting facility was opened by the Andrews government in 2018, Royall's reporting – and that of his publication, the Herald Sun – took a 180-degree turn.
Instead of publishing stories about residents rallying for a safe injecting facility, Royall published stories about how residents were opposed to the newly opened facility. In a statement to Alcohol and Other Drugs Media Watch, Royall said
Yes, the Herald Sun supported the trial of the injection room. But we reserve the right to pose the question of whether it's working effectively, and the numbers using it suggest it is. But that does not preclude us from reporting what else is happening in the suburb and wonder if relocation might be appropriate.
The Herald Sun began publishing pictures of people injecting drugs near the Richmond safe injecting facility. It even ran a video interview with a man who had overdosed and would have been unable to consent to his face being broadcast.
This reporting became so bad that in 2020, Alcohol and Other Drugs Media Watch made a complaint to the Australian Press Council.
Ultimately the Press Council, which is primarily funded by industry members (such as the Herald Sun), sided with the newspaper. Making a complaint to the Press Council about a newspaper is a bit like making a complaint to Drinkwise about a beer advertisement.
I believe the Herald Sun was only supportive of the Richmond safe injecting facility while the Andrews government was opposed to it: that the Herald Sun's editorial policy was about the Andrews government, not the safe injecting facility itself.
---


Read more:
A mental disorder, not a personal failure: why now is the time for Australia to rethink addiction


---
Not in my back yard
Additional criticisms of the safe injecting facility have included fears property prices would decline and concern for the welfare of the children attending adjacent Richmond West Primary School.
But Ryan writes that parent opposition to the facility's location is not, despite media reports, "widespread", but instead mixed; parent support is given "quietly for fear of repercussions". In an appendix, she compiles anonymous comments from school parents, both for and against the facility.
Drugs have always been around North Richmond. In the eight years since my kids have gone to RWPS, I have not experienced an increase in drug use. I've always spoken to my kids about what's going on for drug users and my kids have never had a problem negotiating their way to and from school.
And:
The problem has grown since the injecting room has been established. It does support a very vulnerable part of our community and they do need it but don't put it next to our kids' school.
In the afterword, Ryan notes a story published in the Herald Sun about a man who was arrested at the local school and "changed with trespass, possessing a controlled weapon and breach of bail". However, the Herald Sun failed to reported he was also charged with public drunkenness, presumably since this would limit their ability to frame him as a potential consumer of the Richmond safe injecting room.
Just as the media played an important role in helping secure a trial of Melbourne's first safe injecting facility, irresponsible reporting could jeopardise new efforts to reduce drug-related harm.
On the shoulders of giants
As she became increasingly involved in advocating for a trial of a safe injecting facility in Victoria, Ryan read three seminal books on drug policy: Johann Hari's Chasing the Scream, Matt Noffs' Breaking the Ice and Ingrid van Beek's In the Eye of a Needle: Diary of a Medically Supervised Injecting Facility.
In her work, Ryan says, she stood on the shoulders of such giants, who'd forged similar paths to drug policy reform before her. Her book is also likely to become a seminal text: it so clearly documents the timeline of events leading up to the establishment of Victoria's first safe injecting room, and what happened in the immediate aftermath.
Drug policy scholars might use this timeline to compare and contrast different models of drug policy reform.