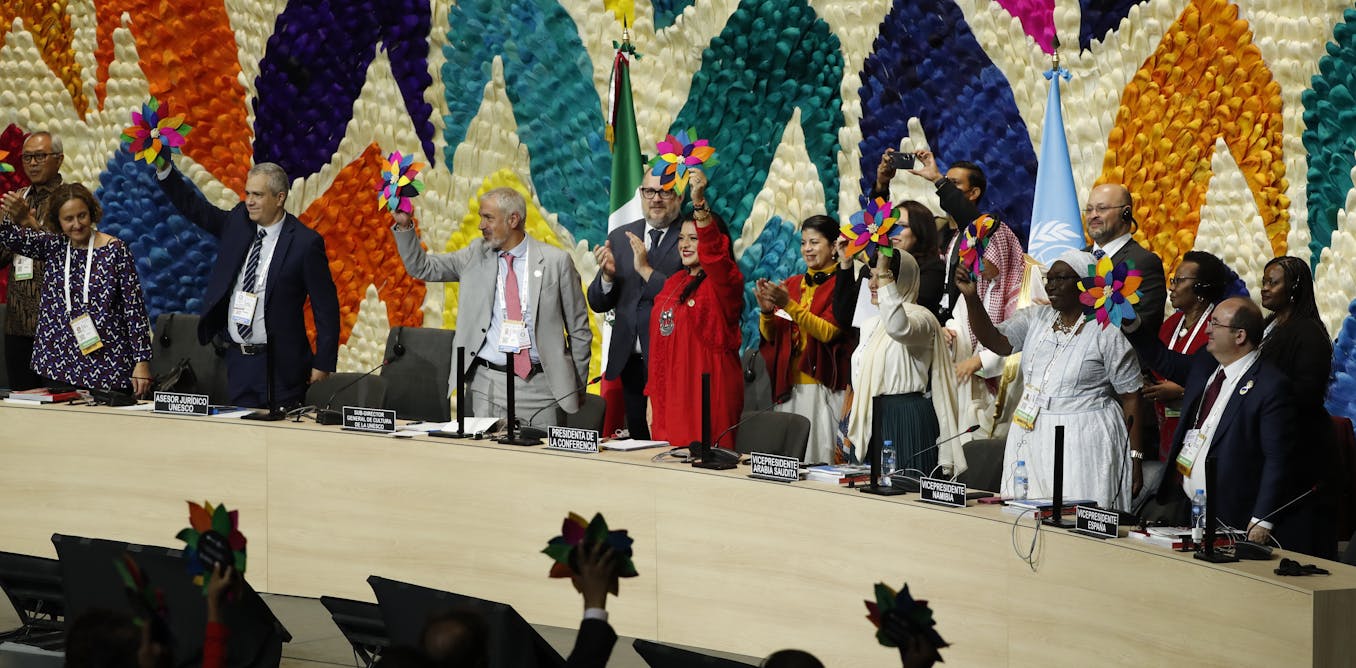 A story for every place, not jobs and growth: Revive reflects global trends in policy – cultural and otherwise
Federal Labor is engaged in urgent reform, making up for the "lost decade" under the Coalition. The Voice, industrial relations, climate change, universities, health, Asian-Pacific diplomacy, research and development are all undergoing significant policy review. We can now add the new National Cultural Policy, dubbed Revive.
The reference points since the launch of the policy have been Whitlam and Keating, both for their reforming energies and their love of the arts. But it is worth putting this into an international context.
Australia's lack of a cultural policy was often seen as a throwback to some philistine past, provoking a toe-curling culture cringe at the thought of how this might look overseas. But the Coalition was in fact adopting a right-wing politics that began with the mid-1990s US Republican Party, then picked up in the United Kingdom, across the European Union and beyond.
If party lines in culture were string quartets versus some pop-modernism combo, the new conservative dispensation was happy to reject art.
In doing this they could pose as populists, setting the huddled masses of the suburbs against the metropolitan elites.
---


Read more:
'Arts are meant to be at the heart of our life': what the new national cultural policy could mean for Australia – if it all comes together


---
A creative nation
Labor's new cultural policy harks back to the ill-fated 2013 Creative Australia and to 1994's fondly remembered Creative Nation.
Creative Nation set an international benchmark for a new kind of cultural policy thinking, embracing commercial popular culture alongside the arts. This combination was seized upon by UK New Labour for its creative industries rebranding in 1998.
Flagging by the time Conservatives got back into power in 2010, the whole idea was briefly revived after Brexit.
The head of the UK Arts Council, Peter Bazalgette, got creative industries inserted into Theresa May's 2017 industrial policy, and the British Council actively courted China as a growth non-EU market. "Getting Brexit done" and the pandemic put an end to all this.
In 2013, still in the post-financial crisis doldrums, Creative Australia was a policy wonk document with little to set the blood racing.
Revive addresses a cultural sector that feels battered and unloved with grace and aplomb. The arts are essential to a democratic society, and they are for everyone.
First Nations First is the most significant new addition, marking where we have moved even in a decade.
There is money, not transformative but significant, and a set of new agencies. The absence of economic justification stands out, as does the way creative industries has dropped out of the big picture rhetoric.
A story for every place, not jobs and growth.
This too reflects a global trend. Jim Chalmers' essay in The Monthly placed the nation squarely at the heart of a post-neoliberal world.
Investment in health, education and social services, along with the green transition, will require a more active, even entrepreneurial state.
This is of a piece with the post-pandemic centre-left, from US President Joe Biden and his French counterpart Emmanuel Macron, to UK Labour leader Keir Starmer and the German Greens.
In Europe these "green new deals" have come with promises of greater funding for culture, other than in those with a strong right-wing contingent such as Italy, Sweden and many former Eastern bloc countries. In the austerity-headed UK cultural funding is set to be cut, while the US is talking about rejoining UNESCO.
---


Read more:
Humanising capitalism: Jim Chalmers designs a new version of an old Labor project


---
Facing inequalities
In September 2022 UNESCO, the UN's lead body on culture, held a cultural policy conference in Mexico City. They saw a world marked by:
climate change and biodiversity loss, armed conflicts, natural hazards, uncontrolled urbanisation, unsustainable development patterns, as well as the erosion of democratic societies – [leading] to an increase in poverty, inequalities in the exercise of rights and a growing divide in access to digital technologies.
This is no longer the exciting, globalised marketplace in which a dynamic creative economy was going to float all boats. The new vision was "culture as a global public good" and for the UN to pursue a cultural goal in addition to the 17 Sustainable Development Goals adopted in 2015.
The next steps for UNESCO are not clear. "Global public goods" can mean a commitment to a revived and robust public culture, or to the kind of state-led investment in skills, infrastructure and accessible finance that has underpinned the global creative industries policy script for two decades.
Revive's visionary talk is about art and storytelling, connection to country and culture, but the rebranded Australia Council, Creative Australia, is straight out of the neoliberal playbook.
Creative Australia has an expanded remit to engage with the commercial and philanthropic sector, just as Chalmers sees an expanded social services delivered by ethically motivated "impact investors". The grounds on which this enlargement will take place are not addressed, although chief executive Mark Collette was very enthusiastic about creative industries in the post-launch Australia Council seminar.
The first step
The cultural sector long abandoned the utopian promise of creative hubs and Macbook-driven start-ups.
Rather than creative entrepreneurship, workers in the sector are now talking about co-operatives, unionisation, gig worker platforms and other forms of collective organising. The pandemic radically shifted debates on the social function of culture and the welfare of artists in East Asia.
The new Centre for Arts and Entertainment Workplaces looks set to be a site of contest, as the reality of exploitation in both the subsidised and commercial sector is given a new visibility.
The curtain has been drawn on neoliberalism but, as economist John Quiggin made us all aware, its zombie form still lives on.
Revive is the first step into a new global landscape for which we barely have a language. This has to come not from government but from those working in the cultural sector itself.
---


Read more:
Pay, safety and welfare: how the new Centre for Arts and Entertainment Workplaces can strengthen the arts sector


---