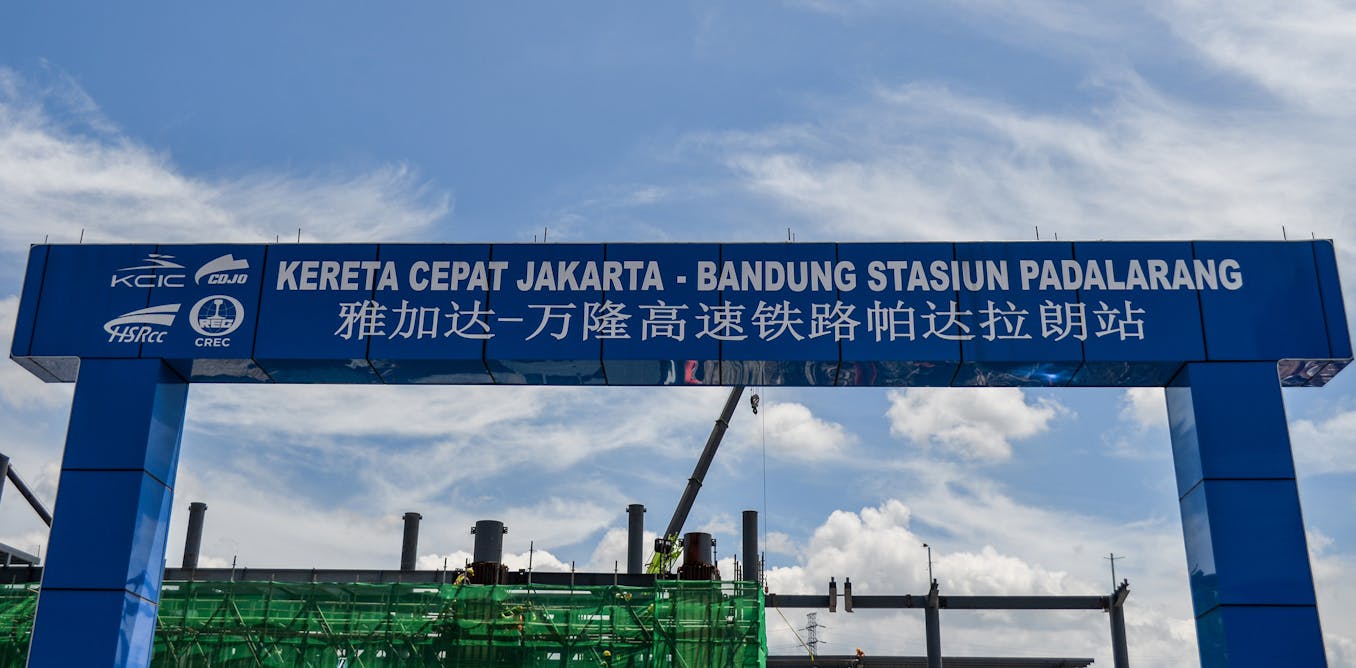 Accidents on Chinese projects are rampant, but why does Indonesia's economy still depend on China?
Chinese investment in Indonesia has been under the spotlight again this year, after a deadly riot at a nickel processing and refining plant of PT Gunbuster Nickel Industry (GNI) in North Morowali, Central Sulawesi. One Chinese and one Indonesian worker died in the incident. The company belongs to China-based Jiangsu Delong Nickel Industry Co. Ltd.
Another China-backed project, the long-awaited Jakarta Bandung High Speed Train, has been making headlines for its rising costs and for a series of accidents between 2019 and December 2022 that have killed three Chinese workers and injured others.
Of course, Chinese-backed investment projects are not alone in causing deadly workplace accidents in Indonesia. In recent years, state-owned companies have had their construction projects suspended following deadly accidents.
But the recent high-profile worker deaths on Chinese projects come against a backdrop of growing public unease about China's rapid rise as the second-largest investor in Indonesia, after Singapore.
The Indonesian government needs to take worker safety on Chinese-backed projects seriously – otherwise it risks adding to worsening anti-China sentiment in Indonesia.
Indonesians' perceptions of Chinese investment
According to a July 2022 survey by the Singapore-based ISEAS-Yusof Ishak Institute, only 30% of respondents believed Indonesia could "benefit greatly" by having close economic ties with China.
The survey showed a decline in Indonesians' positive perceptions of China, with around 66% of respondents saying they admire China, down from almost 77% five years earlier.
In addition, more than 41% of respondents thought China's Belt and Road Initiative mega projects are problematic for other countries, including Indonesia.
A recent survey by the Australian-based Lowy Institute conducted during November-December 2021 also found that people's view of China had worsened since 2011.
Those survey results showed that while 43% of Indonesians agree with the "China's growth is good for Indonesia", 60% strongly agreed with the statement that "Indonesia should join forces with other countries to limit China's influence".
Meanwhile, 49% of Indonesians surveyed in the Lowy poll considered China a threat for the next decade.
China's rise to rival Singapore
In 2022, China's investment in Indonesia – Southeast Asia's largest economy – reached US$5.18 billion, with more than 1,500 projects running across the archipelago.
The total of 1,584 China-sponsored projects last year in Indonesia was lower compared to that in 2021, which recorded up to 1,806 projects.
But the value of Chinese investment in Indonesia in 2022 actually increased 63.92% from the previous year – and was the highest in the past ten years.
Singapore has been Indonesia's largest investor for decades. But in the fourth quarter of 2022 alone, the amount of Chinese investment in Indonesia reached $3 billion, beating Singapore's $2.7 billion.
The Jakarta-Bandung High-Speed Train (KCJB) is one of the most anticipated mega project in Indonesia. It is worth $8 billion.
The 142-kilometre rail line connecting the Indonesian capital Jakarta with Bandung, the capital of West Java province, is currently under construction. It is set to start its commercial operation in July 2023.
The project not only will be the first high-speed railway in Southeast Asia, but is also set to become China's most important Belt and Road Initiative project in Indonesia, if not Southeast Asia.
The Morowali Industrial Park is another important partnership project that can help Indonesia's economy.
---


Read more:
Understanding the benefits of Chinese-Indonesia economic partnerships ahead of Indonesia's presidential election


---
When Indonesia was in a need of huge investment to convert more of its natural resources, including nickel – a raw material for stainless steel – into higher-value products, Chinese firms came offering big capital and a good reputation in the industry.
The $980-million project is expected to help Indonesia increase its stainless steel production and pave the way for Indonesia to become a leading producer of lithium batteries to support the manufacturing of electric vehicles.
Closer ties built under Jokowi
During President Joko "Jokowi" Widodo's second term in office, China and Indonesia have continued to push for investment cooperation.
For Jokowi, China has been an important investor in Indonesia, which has brought competitive offers to the country.
As an example, for the high-speed train project the Chinese government offered a cheaper financing scheme, at $5.5 billion with an interest of 2% for a period of 50 years – much lower than the Indonesian government's estimation and Japan's offer.
Jokowi would not want to miss such opportunities.
Accelerating massive infrastructure development has become Jokowi's ambition since his first term.
The fact that the government has insisted on using the state budget to finance the the high-speed train project, despite initial agreement that it was a business-to-business scheme, has shown the importance of the Chinese project for Indonesia.
Indonesia also sees China's growing potential. China will continue to grow to become the strongest economy in the world, which will also benefit Indonesia as a cooperation partner.
Protecting worker safety is in everyone's interests
Thus, it is understandable why the Indonesian government still prioritises Chinese investment and support to accelerate Indonesia's economic development.
However, even on major projects, safety and health should come first. If not, this kind of infrastructure partnership could further increase the anti-China sentiment in Indonesia, which has worsened lately due to political and social dynamics.
Further accidents and fatalities on major projects could also tarnish the images of both countries in the global community.
Indonesians want to see their government is properly enforcing its own workplace safety regulations and monitoring major projects to keep them on track, on budget, and safe for all workers – regardless of whether it's a state-run project or a foreign-backed project.
Yeta Purnama, a researcher at Center for Economic and Law Studies, contributed to this article.