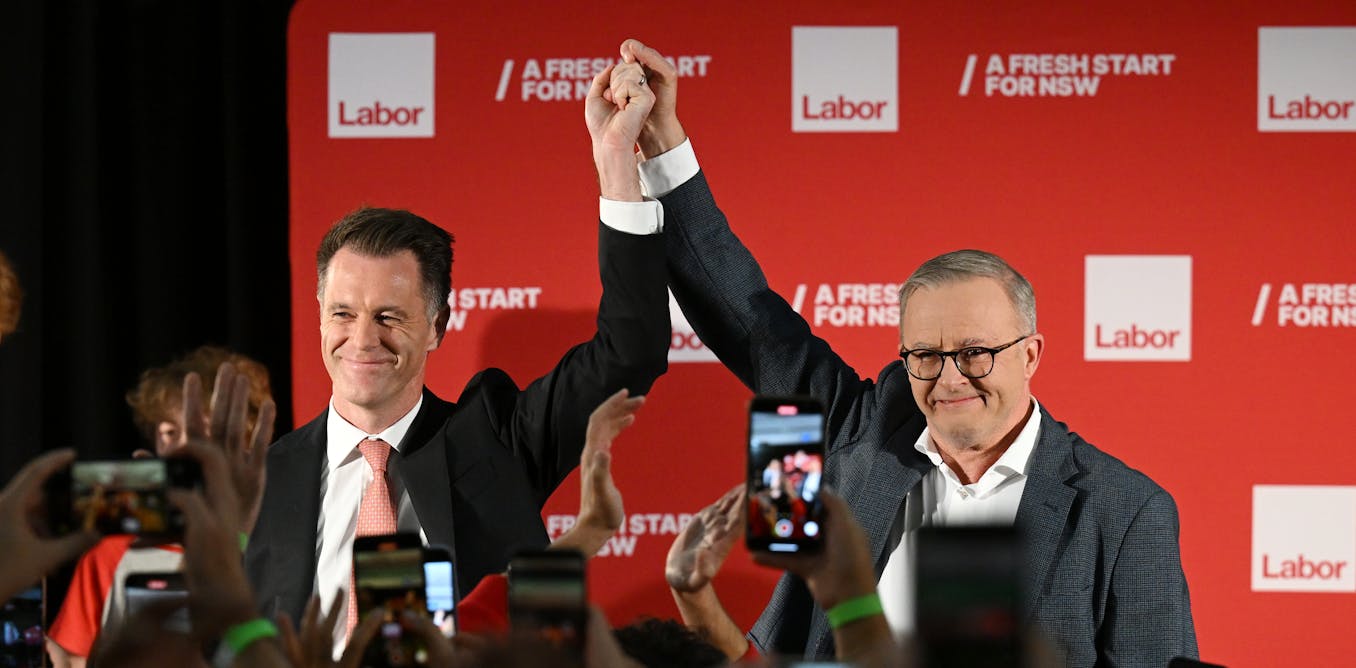 After 12 years in opposition, grassroots politics restores Labor to power in New South Wales
Sometimes defeat can come with small victories. In his NSW election concession speech, defeated Liberal-National Coalition Premier Dominic Perrottet remarked the campaign had been a "race to the top". Voters seemed to agree. Perrottet's opponent, Labor's Chris Minns, brought the conciliatory tone he maintained as opposition leader into the campaign.
Combative politics, in NSW at least, might be a thing of the past. Minns went further, noting this campaign had set a standard against which Australian federal and state politics could be judged. That will largely depend on his ability to maintain a constructive tenor, as premier, in a parliamentary arena dubbed the "bear pit".
While calm prevailed between leaders, the flow of votes was volatile. As counting wound up on Saturday evening, Labor looked assured of the 47 Legislative Assembly seats required to form a majority government. Attracting around a 7% statewide swing, Labor's performance in western Sydney was particularly strong.
There was almost a sense of inevitability about the loss of Parramatta when sitting Liberal Geoff Lee announced his retirement. A protracted preselection battle ensued, with Lee's successor swept aside by a more than 20% swing to Labor's well-known candidate, Parramatta Lord Mayor Donna Davis.
Further west, the seat of Riverstone, vacated by retiring Liberal Kevin Connolly, saw swings eclipsing those of the federal election, propelling Labor's Warren Kirby into the lower house.
High profile retirements led to vulnerabilities for the Coalition in Sydney's east as well. Wakehurst, which has been held by outgoing health Minister Brad Hazzard for over 30 years, fell to independent Michael Regan. It remains to be seen whether Ryde and Pittwater, the former stomping grounds of cabinet members Victor Dominello and Rob Stokes respectively, suffer the same fate.
One of the shocks of the night was the ousting of former deputy Liberal leader, Stuart Ayres. Mentioned as a potential leadership candidate post-election, party insiders were confident of overcoming the challenge from local Labor councillor, Karen McKeown, whom Ayres defeated in 2019. Enlisting former Premier Gladys Berejiklian on the campaign trail, Ayres was seeking to re-enter cabinet after his ousting in the fallout from the trade appointment inquiry.
---


Read more:
Australia is now almost entirely held by Labor – but that doesn't necessarily make life easier for leaders


---
Ayres' exit will complicate the party's efforts to rebuild in western Sydney, given his standing in the region, and his industry and community networks. The retirement of his colleague, David Elliott, the former member for Baulkham Hills and Ayres' successor as Minister for Western Sydney, further depletes the Liberals' base in the electorally critical region.
While privatisation fuelled the delivery of a substantial transport infrastructure pipeline for the Coalition over the past two terms, it struggled to balance service provision with population growth.
Lags and gaps in the construction of critical health, education and transport infrastructure proved a pivotal issue for voters in growth areas in Sydney's outer south-west. Peter Sidgreaves gave up the one-time safe Liberal seat of Camden to Labor's Sally Quinnell, while her colleague, Nathan Hagarty, secured the newly constituted seat of Leppington.
On the peri-urban edges of the city's south west, Wollondilly is shaping as a very tight contest between sitting Liberal Nathaniel Smith and former Liberal Party member now independent challenger, Judy Hannan.
Labor's broadly strong performance in Sydney's west did not come without some contrasts. Party strategists will be hoping that swings towards the Liberals in Liverpool and Cabramatta are down to the retirement of long serving Labor members, rather than the beginnings of a deeper trend.
In rural and regional parts of the state, voter sentiment was more stable. The Nationals retained the seat of Tweed, with Labor and the Greens failing to attract new support. Labor's hopes of turning Upper Hunter look thwarted with the Nationals set to retain the seat. However, nearby Terrigal remains in play with Labor edging ahead on the back of a more than 13% swing.
The nominally Shooters, Fishers and Farmers seats of Barwon and Murray now look firmly in the hands of former SFF members, now independents, Roy Butler and Helen Dalton.
Labor's success overall speaks to the party's ability to tap into voter concerns at the local level. This is unsurprising in areas like western Sydney, where pandemic lockdowns, followed by rising interest rates, housing unaffordability and wage stagnation focussed minds on "everyday" rather than "grand vision" politics.
To consolidate and build in its victory, Labor will need to translate its success at grassroots campaigning to the wider task of governing. Maintaining its commitment to a "dialogue" on priorities such public sector wages, infrastructure funding and affordable housing will be important.
---


Read more:
View from The Hill: Dutton saddles up for Aston race amid Victorian Liberal infighting


---
Labor will be keen to point out that solutions to the challenges the state faces cannot come from government alone. Creating wider channels for community, industry and research-led policy development will mitigate Cabinet inexperience. This inclusive approach will also allow Labor to move on from the command-and-control tendencies the Coalition exhibited in the latter half of its incumbency, when it eschewed its traditional "small government" doctrine to create multiple agencies and statutory bodies to augment portfolio responsibilities.
For the NSW Coalition, the task of rebuilding will begin. With Perrottet relinquishing the leadership, and Liberal moderate, Matt Kean ruling himself out as a contender, the party may revert to a candidate from the right. This would certainly mark a departure from the policy convergence with Labor that characterised the campaign.
It might work. It might also signal an end to peace within the bear pit, and a return to more traditional party politics.