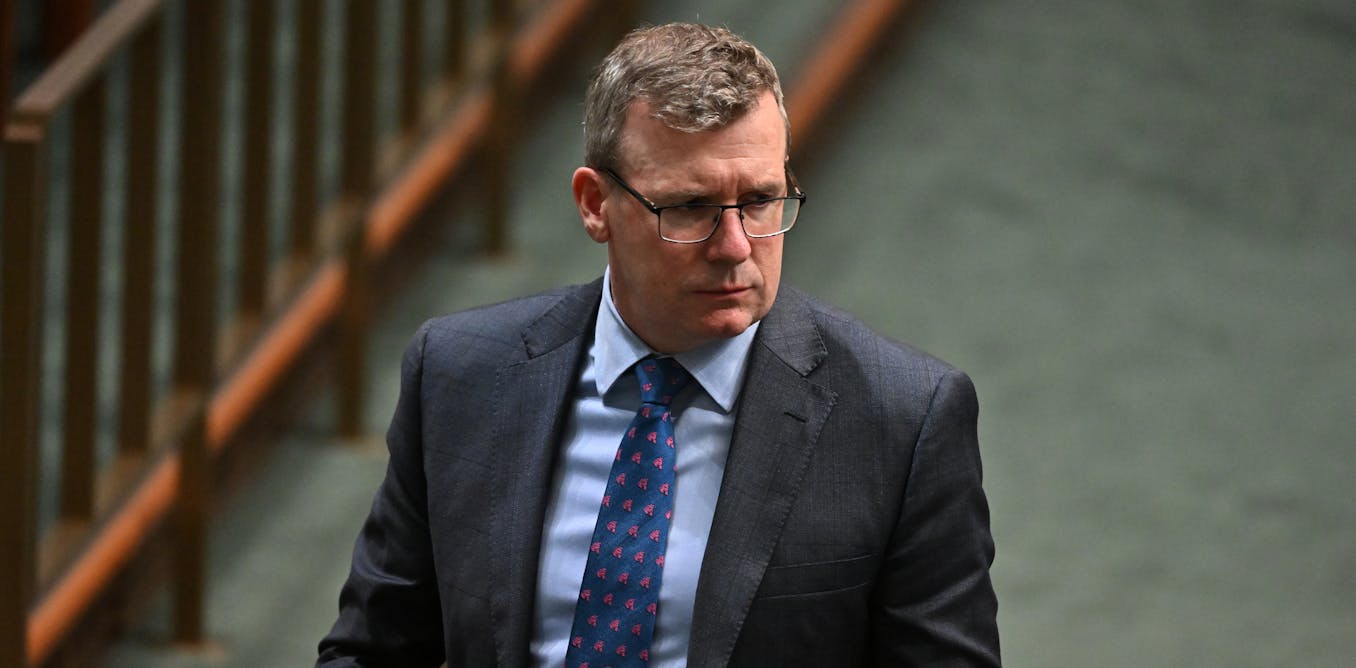 Alan Tudge quits parliament, prompting byelection test for Peter Dutton
Former Coalition minister Alan Tudge has announced he will quit parliament, creating a byelection in the Melbourne seat of Aston.
In a statement to the House of Representives, Tudge said the decision, cemented after his father's recent death, was necessary for his health and for his family, "amongst other reasons".
His teenage daughters had "had to put up with things that no teenager should have to, including death threats. The most recent of which was last week. My son is a bit younger but equally I want to be a good father to him," Tudge said. He broke down at one point during his speech.
The byelection will be a major test for opposition leader Peter Dutton, who is particularly unpopular in Victoria.
Aston, in the outer eastern suburbs of the city, was formerly a rock solid seat for the Liberals. But Tudge in the 2022 election had a two-party swing against him of more than 7%. The seat is now on a margin of 2.8%. Tudge, 51, has held it since 2010.
Former treasurer Josh Frydenberg, who lost the nearby seat of Kooyong at the election to teal independent Monique Ryan, will not seek preselection for Aston. He has yet to decide whether he will contest the next election. If he does, he would run in Kooyong.
Among his posts in the Coalition government, Tudge served as human services minister, minister for citizenship and multicultural affairs, minister for cities, urban infrastructure and population, and education and youth minister. Since the election he has been shadow minister for education.
Most recently he has appeared at the royal commission on Robodebt, when he was quizzed about his involvement as human services minister in the scheme, which was found to be illegal.
He admitted in his evidence he was aware the Robodebt income averaging system "had the potential to create inaccuracies".
During the Coalition government, Tudge was mired in scandal after his former staffer, Rachelle Miller, revealed they had had an affair. She later alleged Tudge had been emotionally, and on one occasion physically, abusive, kicking her out of bed. This led to Tudge, who denied the allegation, standing aside from the ministry in 2021.
---


Read more:
Tudge stands aside while claim of kicking former staffer investigated


---
Miller also gave evidence to the royal commission, telling how when she worked for Tudge, she placed stories with friendly media outlets containing private information about people who had publicly contested Robodebt notices they had received. She said this was to correct the record, and led to fewer stories of people speaking out.
Before Tudge made his announcement to parliament, the Minister for Government Services, Bill Shorten, denounced the illegal scheme. "The architects of Robodebt believe that the ends justified the means," Shorten said in question time. "The only remaining question for me is, when will all of the architects at the top of the Robodebt tree take full accountability and take full culpability and responsibility for the most illegal administrative scheme run by any government in the history of the Commonwealth?"
Tudge told parliament his passion had always been in social policy, rather than the traditional Liberal focal areas of economic and national security.
"I've always believed that while the economy is the foundation of our society, that social policies determine whether individuals are given the opportunity and responsibility to realise their potential."
Both Anthony Albanese and Dutton referred to the pressures on MPs families in their remarks following Tudge's statement.
Aston saw a crucial byelection in 2001 when the Howard government, embattled at the time, held the seat. This was seen as the start of its recovery which culminated in its 2001 election win.