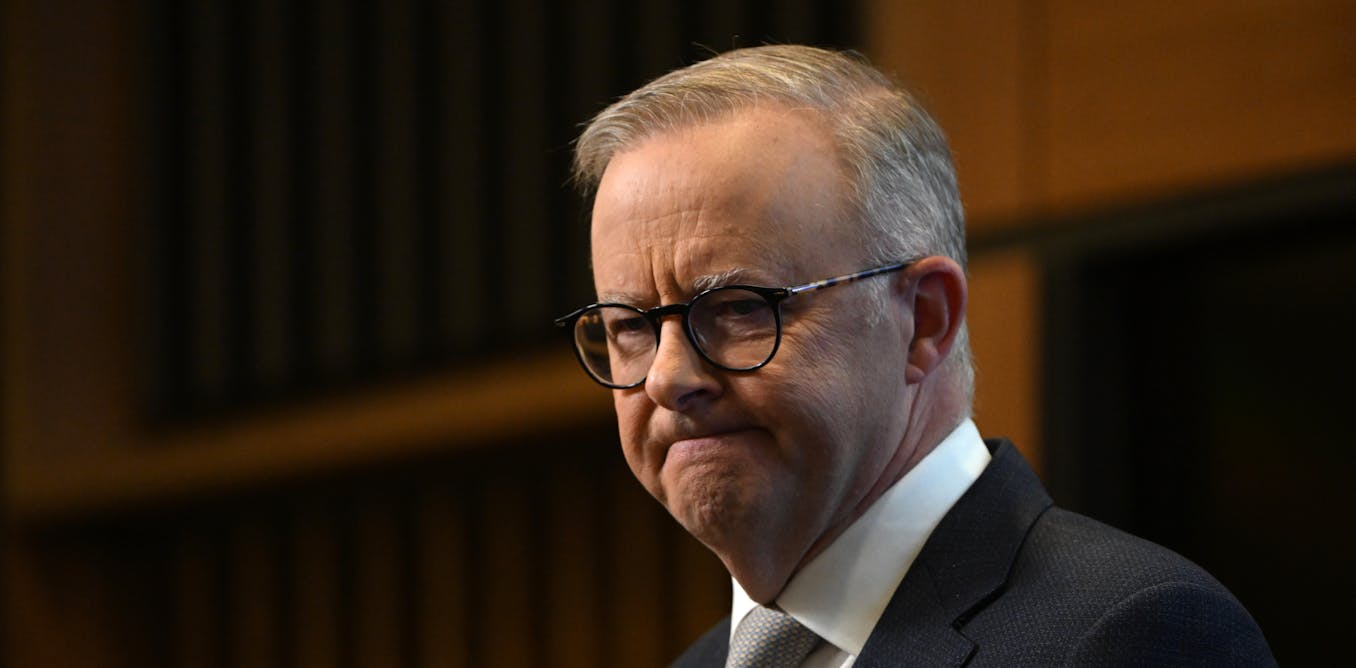 Albanese's Newspoll ratings drop but Labor maintains big lead
A federal Newspoll, conducted February 1-4 from a sample of 1,512, gave Labor a 55-45 lead, unchanged on the previous Newspoll in early December. Primary votes were 38% Labor (down one), 34% Coalition (down one), 11% Greens (steady), 6% One Nation (steady) and 11% for all Others (up two).
While Labor retained a large lead, Prime Minister Anthony Albanese's ratings slumped, with 57% satisfied with his performance (down five since December), while 33% were dissatisfied (up four). Albanese's net approval dropped nine points to +24.
Opposition Leader Peter Dutton's net approval was down one point to -10. Albanese continued to lead Dutton by 56-26 as better PM (59-24 in December). The net approval for Albanese is the lowest in this term so far for Newspoll. Newspoll figures are from The Poll Bludger.
In the first Newspoll that has asked about the Indigenous Voice to parliament, voters supported the Voice by a 56-37 margin with 7% undecided. Greens voters were the strongest supporters (81-10), with Labor voters at 74-18 support. However, Coalition voters were opposed by 59-37 and Other voters, which includes One Nation, were opposed by 53-41.
Labor won government at the May 2022 election, and have now been in office for over eight months. With Australia's inflation rate still high, a softening in Albanese's ratings is to be expected.
Morgan poll: 57-43 to Labor
In last week's weekly federal Morgan poll, Labor led by 57-43, a two-point gain for the Coalition since the previous week. Primary votes were 37.5% Labor, 33.5% Coalition, 11.5% Greens and 17.5% for all Others. This poll was conducted January 23-29.
Resolve additional questions on the republic, Australia Day and bulk billing
I covered the federal Resolve poll in late January. In additional questions
, voters favoured Australia becoming a republic by 39-31 (37-36 opposed after the death of the queen in September).
On all the Harry and Meghan revelations, 62% said they had heard about it, but it had no influence on their view of a republic, 14% said they were more likely to support a republic and 7% less likely. By 31-12, voters thought King Charles III is performing well as Australia's head of state.
By 54-18, voters supported companies allowing their employees to work on Australia Day and swap this with another day. By 47-19, they supported councils offering citizenship ceremonies on days other than Australia Day.
On GP bulk billing, 47% said their GP bulk bills, 18% said their GP used to bulk bill, but doesn't anymore. 22% said their GP charges a gap fee and 10% said they don't have a regular GP. Asked to choose the top priority for additional health funding, 46% chose raising the medicare rebate, 29% increased hospital funding and 16% setting up out-of-hours medical clinics.
Liberals win Victorian Narracan supplementary election
A supplementary election occurred in the Victorian state Liberal-held Narracan on January 28; the election was postponed from the November 26 state election owing to a candidate's death.
The Liberals held Narracan by a 62.9-37.1 margin over independent Tony Wolfe, a 2.9% swing to the Liberals from the Liberal vs Labor margin at the 2018 state election. Labor did not contest the supplementary election.
Primary votes were 45.0% Liberals (down 10.6%), 11.1% Greens (up 5.1%), 11.0% Wolfe (new), 7.1% Labour DLP (new), 6.1% Freedom Party (new) and 6.0% One Nation (new). In 2018, Labor had won 31.9% of the primary vote in Narracan. I expect Wolfe to finish second ahead of the Greens after distribution of preferences.
Lower house seats won at the state election are now final, with Labor winning 56 of the 88 seats (up one since 2018), the Coalition 28 (up one) and the Greens four (up one). Three independents elected in 2018 either retired or were defeated.
Victorian election poll performance
With the November 26 Victorian election complete with Narracan, Labor won 36.6% of the overall lower house primary vote, the Coalition 34.5%, the Greens 11.5% and all Others 17.4%. Labor won the two party vote by 54.9-45.1, with the ABC assuming Wolfe in Narracan is Labor for this purpose.
---


Read more:
Final Victorian election results: how would upper house look using the Senate system?


---
The table below shows how the three final polls – Resolve, Morgan and Newspoll – performed against the election results. Bold in the table indicates a poll estimate within 1% of the actual result.
---
---
Overall the polling was accurate, with Labor's actual two party share very close to what was estimated by both Newspoll and Morgan. Of these three polls, Newspoll performed best with primary votes estimates very near actual for both the Coalition and the Greens.
Old NSW Morgan poll: 55-45 to Labor
The New South Wales state election will be held in under two months, on March 25. A Morgan poll, conducted in December but not released until January 31, gave Labor a 55-45 lead over the Coalition, a three-point gain for Labor since November.
Primary votes were 33.5% Coalition (down 3.5), 33.5% Labor (down 1.5), 12% Greens (up 0.5), 4.5% One Nation (down 0.5), 1% Shooters (down 0.5) and 15.5% for all Others (up 5.5). This poll had a sample of 1,446.
WA changes in National and Liberal leaders
After Labor's massive March 2021 Western Australian election landslide, Labor held 53 of the 59 lower house seats, the Nationals four and the Liberals two. That made the Nationals the official opposition.
The Poll Bludger reported on January 31 that National leader Mia Davies had resigned, and was replaced as opposition leader by Shane Love. For the Liberals, leader David Honey was challenged by Libby Mettam, the only other Liberal in the lower house. This was settled in Mettam's favour by the Liberals' seven upper house MPs. Honey conceded defeat, and Mettam was elected unopposed.