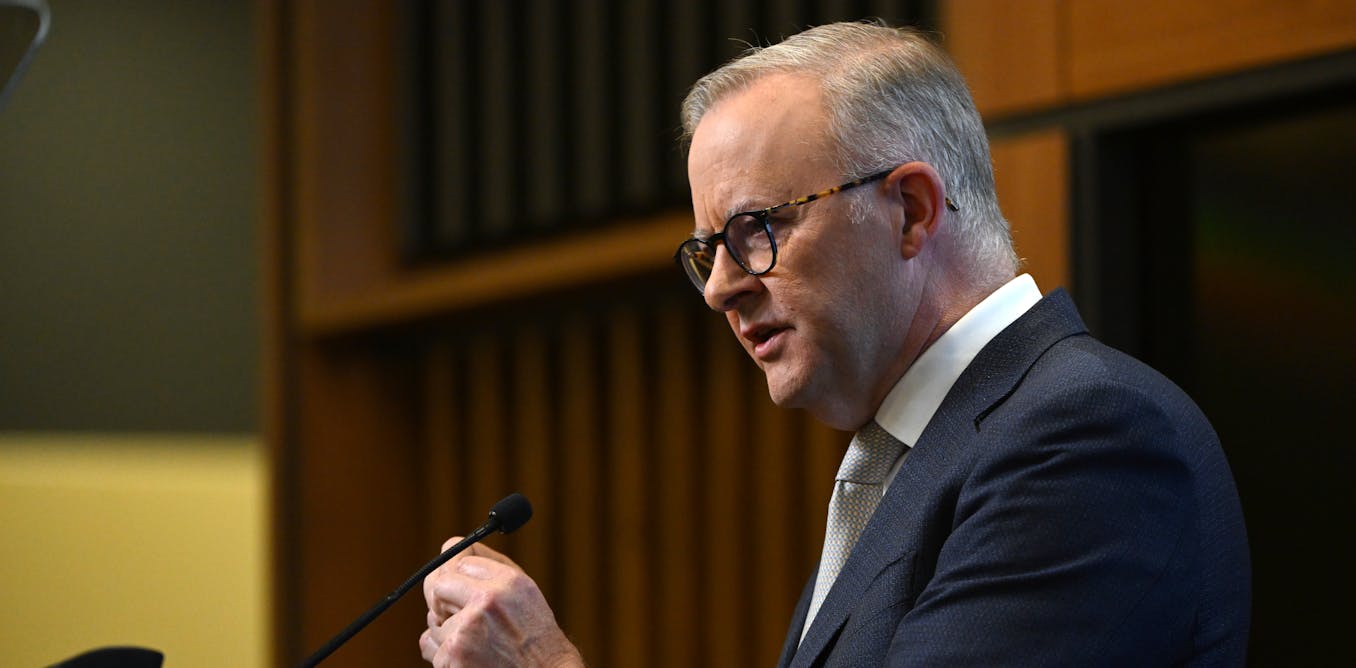 Alcohol bans return to NT Indigenous communities, with $250 million federal assistance
Alcohol bans will be reimposed in Northern Territory communities, in a victory for Anthony Albanese over a reluctant territory government.
The federal government will also provide $250 million in extra funding for a range of initiatives in employment, health and other areas.
The measures follow Albanese's recent visit to Alice Springs after publicity about the spate of lawlessness there, fuelled by the lapsing last July of the federal law banning alcohol in communities.
The NT government did not replace the federal bans last year because it considered them "race based". But Albanese was convinced the communities needed to be dry.
Monday's announcement follows a report prepared in just a week by NT public servant Dorrelle Anderson, appointed by the two governments during the Albanese visit as Central Australian Regional Controller.
---


Read more:
Enshrining the Voice gives best chance for Closing the Gap, Albanese says


---
In her report Anderson recommends the bans as a circuit breaker.
She points to "alarming statistics for domestic violence and alcohol related harm".
"It is clear that action must be taken to address the unacceptable levels of harm being faced by residents in town camps and nearby remote communities."
But the report stresses that alcohol measures "are one part in a much bigger picture that requires significant investment to address the underlying social determinants, including addressing social policy settings, remote service delivery and investment in the social and economic future of the Central Australian Region".
In a joint statement, Albanese and NT Chief Minister Natasha Fyles said the territory would introduce legislation next week for the bans.
Communities that want to opt out would require 60% support, with an alcohol plan that had been developed by the community and approved by the Director of Liquor Licensing.
Albanese and Fyles said their two governments would continue to work on longer term solutions to issues people were facing.
"As experts and community leaders have pointed out, alcohol restrictions alone will not address the underlying causes of antisocial behaviour. The issues are complex and have developed over decades," they said.
The $250 million package is for
improved community safety and cohesion, through more youth engagement and diversion programs

job creation, particularly in the communities that surround Alice Springs

improving health services in surrounding communities, so putting less pressure on Alice Springs

preventing and addressing the issues caused by Foetal Alcohol Spectrum Disorders, including better responses through the health and justice systems

investing in families by better supporting elders and parents, and boosting domestic violence services

on-country learning, improving school attendance and completion through caring for culture and country.
The latest initiatives are in addition to the $48 million for community safety announced by the federal government when Albanese was in Alice Springs.
The Anderson report says there was a 96.7% increase in alcohol-involved, domestic violence-related assaults in Alice Springs in the year ended November 2022, compared with the year ending November 2019. (2019 is used to remove the COVID factor.)
---


Read more:
Grattan on Friday: Response to Alice Springs crisis poses early Indigenous affairs test for Albanese


---
"We cannot continue to accept the levels of domestic and family violence leading to assaults on women who are presenting with horrific facial injuries, broken bones, fractured skulls and in some tragic situations even death," the report says.
"The children who have been spoken to have unanimously voiced their hatred of alcohol and the harm it inflicts on their families.
"We need to listen to the most vulnerable in our community and act with urgency to address the current crisis but also tackle the extreme poverty and social disadvantage causal factors amongst this cohort.
"Health disadvantage for Aboriginal Australians is stark and in the Northern Territory the rates of acute rheumatic fever (ARF) and rheumatic heart disease (RDH) for Aboriginal and Torres Strait Islander people are among the highest in the world.
"This is a shocking statistic in the context of a wealthy nation.
"The disadvantage is complex and challenging and will require targeted policies and programmatic responses particularly in early intervention and prevention, supporting the family unit.
"This will require a substantial investment to achieve progress in the measures outlined in Closing the Gap," the report says.
,