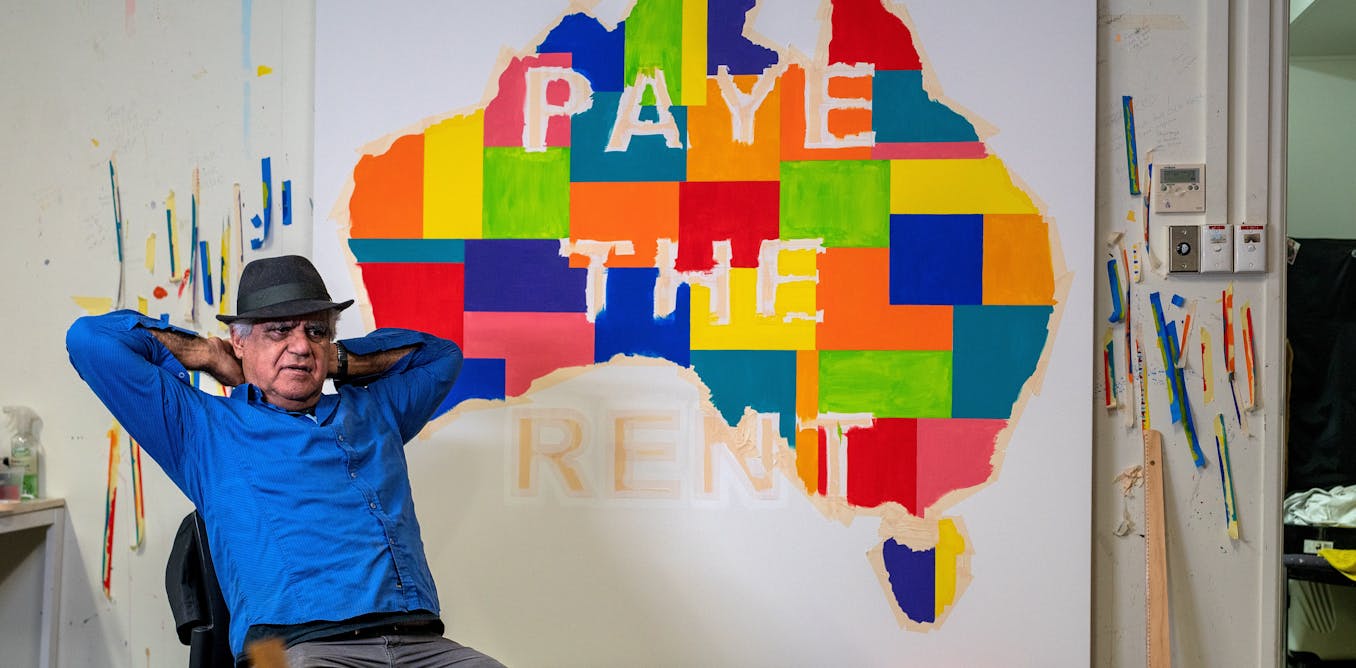 'An activist masquerading as an artist': we should all be talking about Richard Bell
Review: You Can Go Now, directed by Larissa Behrendt.
A new documentary from Larissa Behrendt, You Can Go Now, highlights the life, work and activism of Richard Bell: a self-described "activist masquerading as an artist".
Bell is an internationally renowned artist who works across painting, installation, video and performance, describing himself as "bold, brash and brazen" in his approach to dealing with the art industry in Australia.
An array of Aboriginal and Torres Strait Islander people appear in the documentary and chime in to reflect on their relationship with Bell and his work.
John Maynard muses Bell's work is "just taking the piss: we love taking the piss out of white fellas". He laughs.
Gary Foley speaks of Bell's work as "beautifully subversive" and "satirical". He smirks as he thinks about how Bell's work shocks the straight-laced people in the Australian art scene.
Chelsea Watego describes Bell as someone who "knows no boundaries" and "is unashamedly and unapologetically Blak".
---


Read more:
Aboriginal art: is it a white thing?


---
Bell's early life
Bell is a Kamilaroi, Kooma, Jiman, Gurang Gurang man born in 1953 in Charleville, Queensland. He grew up living in a "shanty" with his family.
In You Can Go Now, he recalls life as a child living in abject poverty. The film includes historical footage of life on missions and reserves, which demonstrates clearly the oppressive and invasive conditions Aboriginal people were forced to endure.
As Aileen Moreton Robinson comments in the documentary, as an Aboriginal person during this era "you understood you were not free".
Indicative of the way Aboriginal people are treated, Bell's family home was bulldozed by the government. His family relocated to the town to live in a house that had been issued with a demolition order and deemed unfit for human habitation.
The land missions and reserves were built on was increasingly being targeted for tourism and bought up by mining companies. Bell shares this experience in
his video work No Tin Shack, which includes a re-enactment of the bulldozing of his family's home to demonstrate the brutality of the act.
Unapologetic Blak activism
Bell is part of a generation of staunch Aboriginal activists. He has remained strong in his commitment to self-determination and to the goal of getting our land back. He claims in the documentary the government should give it all back, then negotiate with us.
In the early 1970s, inspired by the Civil Rights and Black Power movements in the United States, a new era of "unapologetic Blak" activism emerged in Australia – exemplified by the establishment of the Aboriginal Tent Embassy in 1972: the longest continual protest in the world.
---


Read more:
A short history of the Aboriginal Tent Embassy – an indelible reminder of unceded sovereignty


---
In this decade Bell found his political voice in Redfern with the likes of Sol Bellear, Gary Foley, Paul Coe and others. Along with fighting for land rights and self-determination, these activists established the Aboriginal Medical Service and Aboriginal Legal Service to provide much needed services to Aboriginal people.
In his work Pay the Rent (2022), presented at Germany's Documenta, one of the world's most prestigious art exhibitions, a digital counter provides a calculation of what the government owes Aboriginal people.
Also as part of this exhibition, Bell created paintings based on old photographs from the 1970s to bring to attention the work of political activists and the untold story of the Black Liberation movement in Australia.
After the 1967 Referendum it became clear little had changed in regard to the circumstances of Aboriginal and Torres Strait Islander peoples who still suffered under oppressive and racist regimes.
The McMahon government declared it would never grant land rights, quelling any hopes inspired by the referendum.
Reflecting the significance of the Aboriginal Tent Embassy, Bell's Embassy (2013–) has been shown in galleries around the world, showing archival videos and providing a space for the truth to be told via public talks and informal conversations.
A man with two personas
In You Can Go Now, Bell is described as having two personas – Richard and Richie. Richard, the one everyday Blackfullas know, good for a yarn and to hang out with. Then there is his other persona, Richie: the life of the party, an attention seeker. The one who is loud, boisterous and sometimes even obnoxious.
Behrendt captures Richie looking in the mirror as he states "no doubt about it Richie, you're a fucking genius".
Often referred to as a dissident, Richie claims all his paintings are attention seekers – just like him.
In 2019, Bell was shortlisted to represent Australia at the Venice Biennale. He was not ultimately selected. In response, Bell decided to "gatecrash" the biennale, creating a replica of the Australian Pavilion wrapped in chains.
Taking his own advice – "you don't need permission to make it happen" – We Don't Really Need This sailed past the 58th Biennale on a motorised barge.
In the film, musician Bob Weatherall notes Bell "has captivated the world" yet it is a very different story in Australia.
Bell is an internationally renowned artist invited to exhibit his work across the globe. Yet he has not found the same acclaim in Australia. Foley suggests his international standing is a really good slap in the face to the Australian arts establishment who have not recognised Bell in the same way the international market has embraced his work.
The documentary is entertaining and informative. While some may see it as confrontational, Bell's work highlights histories that are unknown to some and should be known to all. Bell is highly critical, funny and fearless. The documentary is a must-see.
You Can Go Now is in Australian cinemas from January 26.
---


Read more:
Protest art: rallying cry or elegy for the black-throated finch?


---