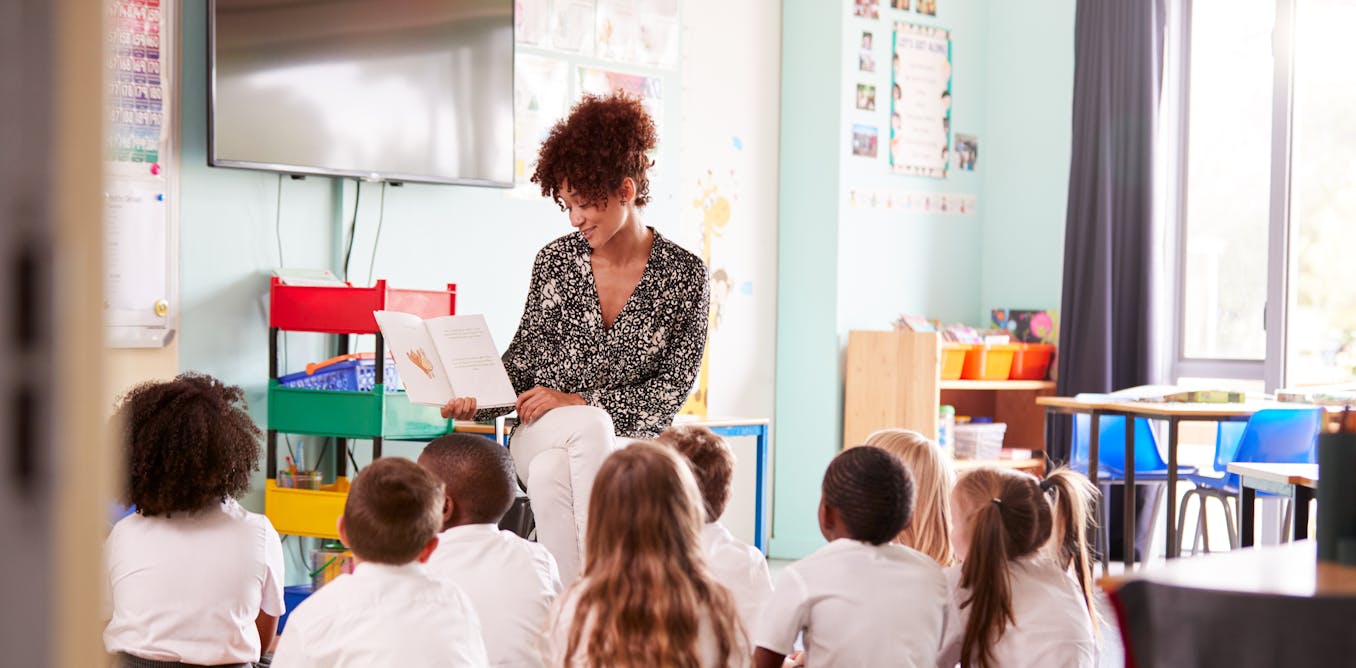 Australian teachers are dissatisfied with their jobs but their sense of professional belonging is strong
Teachers around Australia are preparing to head back to the classroom for 2023. But amid excitement about a new school year, there are ongoing concerns about teacher shortages and headlines saying kids are "falling behind" and education strategies are not working.
We are education researchers who study teachers' perceptions of their work in Australia. Last year, we conducted a national survey of 5,000 teachers, asking them about their careers. We found a growing number of teachers are not satisfied with their jobs and a large majority are planning to leave the profession.
But it was not all bad news. Almost 80% of those we surveyed reported a sense of belonging to teaching.
---


Read more:
Jason Clare has a draft plan to fix the teacher shortage. What needs to stay and what should change?


---
Job satisfaction
We found teachers are increasingly unhappy in their jobs. In our 2019 survey of Australian teachers, 65.6% of respondents said they were satisfied with their work. In 2022, that number dropped to 45.8%.
Teachers tell us this significant drop is because they feel unappreciated. They report a growing workload – in part thanks to increasing administrative demands – and a lack of respect from the community. According to one respondent:
the time taken in keeping records of everything has increased exponentially.
Another teacher told us:
I am burnt out. I cannot do my job well with all the demands placed upon me.
Perhaps then it is no surprise that only 27.6% of respondents said they planned to stay in the profession until they retired. Almost 20% said they would leave within five years.
---


Read more:
'They phone you up during lunch and yell at you' – why teachers say dealing with parents is the worst part of their job


---
The importance of belonging
Against this negative background, our survey results offered a ray of hope. Almost 80% of respondents reported a strong sense of belonging to the teaching profession.
Our survey found several factors contribute to this. The biggest positive influences were teachers' relationships and connections with colleagues and students. Many teachers feel a sense of shared purpose and camaraderie with their colleagues. As one survey respondent said:
Teachers are usually incredibly warm, passionate, positive people who want the best for their workmates and our shared students.
Teachers also valued their relationships with students. Seeing students learn and succeed reaffirmed their sense of purpose. As one teacher told us:
You get emotionally invested in ensuring the students develop.
Another respondent said they were boosted by moments when students "have that 'aha moment'"
and tell you about their day and what they love about coming to school, as well as trusting you with personal matters.
We also found supportive school systems and policies contributed to a sense of belonging. This includes flexibility in the curriculum and opportunities for teachers to be "heard".
On top of this, many teachers pointed to the importance of job security. Permanent teachers tend to feel more belonging than contract teachers, thanks to the security of their positions.
[E]very year, as soon as term 3 started, I would be thinking of applying again and started feeling I don't belong here anymore. My current position is ongoing and it definitely is a big boost.
Barriers to belonging
When we asked teachers what harmed their sense of belonging, common responses included a lack of respect, unrealistic expectations, and a lack of support.
Many teachers felt their profession was not valued or respected by the general public. They pointed to common misconceptions about being a teacher. As one teacher explained:
Non-teachers assume they know what it is like to be a teacher because they have been a student in a school, I do not think I know what it is like to be a dentist because I have been and had my teeth cleaned.
Respondents also felt that negative media coverage about schools and teachers affected their sense of belonging. They said they were often made to feel like "babysitters" rather than professionals.
---


Read more:
No wonder no one wants to be a teacher: world-first study looks at 65,000 news articles about Australian teachers


---
What now?
Some teachers in our study report feelings of being overwhelmed and under-compensated, and are considering leaving the field. But our research also shows how much the profession means to them, which suggests there is an opportunity here.
With better support and more understanding of what their complex roles involve, there is great potential to address the teacher shortage. And make teaching a much more satisfying job.
The authors would like to acknowledge the contribution of Dr Mehdi Moharami to the research presented in this article.