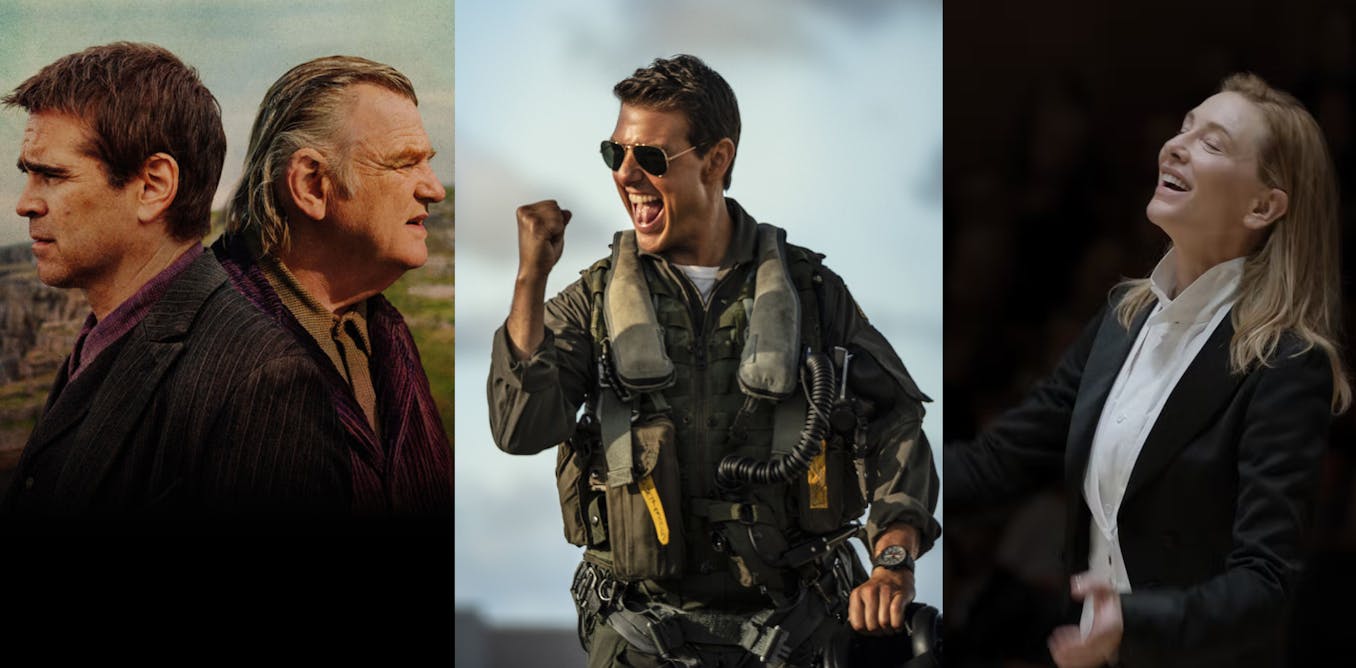 Banshees, wives, women and mavericks: our predictions for the Oscars 2023 best pictures
Of the ten films nominated for the Best Picture Oscar, six are really good. That's a high percentage for a year – 2022 – in which most cinematic offerings seemed drab.
This year sees films that are less moralistic than usual and less pretentious. The worst thing you can say about the worst film is that it's boring. In other words, there are no absolute duds, although there is only one true standout, with over-length continuing to hamstring otherwise excellent films.
It seems like producers, in their desire to differentiate their product from TikTok videos, turn everything into a Ben Hur-scale epic.
The standout: The Banshees of Inisherin
The Banshees of Inisherin is an absolute masterpiece, and my pick for Best Picture (and one of the best films of the year).
Writer-director Martin McDonagh has made a career out of Irish schtick, and his films (like those of his brother) sometimes feel like caricatures of themselves. But The Banshees of Inisherin takes a different turn, moving away from a narrow focus on the Irish character towards the form of drama itself.
The narrative begins from a simple premise: what if your best friend decided, one day, randomly, they never wanted to speak to you again? It opens with begrizzled old fiddler Colm (Brendan Gleeson) cutting off his relationship with the younger, painfully average, Pádraic (Colin Farrell). It's 1923, near the end of the Irish Civil War, on the fictional isle of Inisherin, and Pádraic is at a loss regarding what he should do.
The whole thing begins firmly in the realm of the kind of hokey Irish-banter film that has made the McDonaghs global Irish exports. There are lots of absurd moments and jokes, Farrell in peak form – before slowly progressing into the kind of bloody, weird hallucinogenic fantasy that a Greek tragedian like Aeschylus might have come up with.
Some might decry its deviation from naturalism and realism, but it embodies its point. In the same way Colm decides life on an island in Ireland is boring, the film seems to decide, after the first third, that realism is boring, and livens things up with some garish self-mutilation, arson, a dead dog. The film seems to suggest that the bitterness and permanence of war, of the tragic and tragedic, endows mundane life with the energy to keep going, and forms the basis of all vital art. And, as Colm realises, life isn't worth living without art, without an aesthetic vision overlaying everything. The dialogue is, like the work of the best playwrights, hyper-real, funny, tender and savage.
McDonagh's film is remarkable for its grandness of vision, for its willingness to look at and interrogate its very form and medium in a commercial context that, nonetheless, never feels like an essay or treatise.
Other strong contenders
Women Talking is likewise a cinematic work. Faithful to the title, the narrative follows a group of women having a debate over the course of a day as they decide whether or not they should band together and leave their Mennonite-style community when they realise that the beings who are routinely raping and impregnating them are not, as they've been told by their religious leaders, demons, but the men of the community.
Buoyed along by the voice over of a young witness to the discussion, the tone oscillates effectively between melodrama and fable, and the film works well as an immersive piece of cinema, with points that are genuinely suspenseful – such as when they decide to leave the community and have to prepare before the men, who have gone to the city to post bail for the attackers, return.
---


Read more:
All the cinema (and sequels) we have to look forward to in 2023


---
There are also some strikingly eerie images, and the performers are excellent. It's great seeing Judith Ivey on the big screen again, and Ben Whishaw is exceptional as the sensitive school-teacher scribe who is minuting their discussion. At the same time, it is a film that mainly involves people sitting around and talking, so there are sections that become tedious.
Women Talking is a strong film, and its ambience of fantasy and fable allow us to forgive its sentimentality as captured in the closing image of a baby with the voiceover sounding like a social media post: "Your story will be different from ours."
Two-thirds of writer-director Ruben Östlund's Triangle of Sadness is excellent – it's the kind of misanthropic farce with which he is now associated, joyfully anarchic in its perpetual assault on bourgeois sensibilities.
The narrative follows a young couple, Carl (Harris Dickinson) and Yaya (Charlbi Dean), as they go on a luxury cruise. It's the kind of cruise where Nutella is flown in by helicopter and dropped into the ocean in a Pelican case for retrieval.
Their occupations as models/influencers ensure that, unlike the rest of the supremely affluent people on the boat, they don't have to pay for anything. Their already fragile relationship is further strained as the eccentric characters on board are carefully introduced. There's Vera (Sunnyi Melles), the "egalitarian" passenger who insists the whole crew have a swim, and have fun while doing it, or Dimitry (Zlatko Buric), the obese and excessive Russian oligarch who made his fortune in fertiliser.
The whole thing descends into a vulgar mess during the captain's dinner. The seas become moderately rough and the vomit starts to spray, counterpointed to the haute cuisine being served. Pirates then board the ship, it's blown up and sinks, and the survivors are stranded on a deserted tropical island.
This final third on the island seems interminable. The film painfully overstates all the points already made in the first two-thirds. As with The Banshees of Inisherin, this is a grandly designed film, making no effort to please everyone. Woody Harrelson is sensational as the drunk Marxist captain, as is Zlatko Buric as his anti-communist drinking pal. The film is unwilling to rest on moral cliches or depend on moral pleasures, and this makes it worthwhile in today's media ecology.
Netflix's new production of Eric Maria Remarque's novel, All Quiet on the Western Front, is a very good – if not particularly inspired – war film. The hypnotic music adds a surreal quality to the images of carnage. We see bodies under ash forming macabre shapes, gnarled figures tangled up in barbed wire illuminated by flare light filtered through smoke – and many other striking images.
The film adeptly captures the slaughter and misery of trench warfare in World War I from the perspective of enthusiastic, patriotic, impressionable German youth. It's all very well done, but – given the pantheon of excellent "war is hell" films that have appeared over the past 100 years – seems strangely unnecessary, even anachronistic.
Unusually, two action films have been nominated for Best Picture this year: Top Gun: Maverick and Everything Everywhere All at Once. Both labour to be rousing crowd-pleasers, so their popularity is understandable, and both work as throwbacks to the high adventure films of the 1980s.
In the case of Top Gun this is self-evident – it's a sequel to Tony Scott's fabulously popular film of 1986. But where Scott's film is superbly stylish, including all the signature tropes that made him one of the great action auteurs of the 1980s and '90s – backlit curtains blowing in the wind, an abundance of haze used in most shots, sparse but effective slow motion – Joseph Kosinski's film feels derivative and pointless.
It's thoroughly enjoyable, but also lacks the formal coherence and originality of Scott's film. Its popularity – its nomination for Best Picture(!) – more than anything suggests that audiences are primed for well-made genre films that don't try too hard to be clever.
Everything Everywhere All at Once, directed by Daniel Kwan and Daniel Scheinert, similarly works well as a romp, a comedic action yarn. It's funny but with some touching sequences, has charming cutesy characters, and is overlaid with an air of nostalgia (including featuring Jamie Lee Curtis in a role that fronts up to her younger self in True Lies). But it is similarly derivative as well as overlong and pretentious, with its protestations towards philosophy (like The Matrix) a touch silly (but unlike The Matrix, at least this has a sense of humour about itself).
Both Top Gun and Everything Everywhere All at Once play like full-bodied old-fashioned adventures – enjoyable but also completely unchallenging, lacking the formal inventiveness that made many of these kinds of films striking in the 1980s.
Dull, dull, dull
The narrative of the much-discussed Tàr is sufficiently interesting, but one wonders why so many of the formal choices by both director Todd Fields and Cate Blanchett in the lead are so dull?
Blanchett plays a kind of James Gatz/Jay Gastby-esque self-made woman, Lydia (but really Linda) Tàr, a conductor of international repute, world renowned for her interpretations of Mahler (wink wink, he was "cancelled" by the Nazis).
As the film unfolds, it becomes increasingly clear that, even though she (rightly) espouses a kind of ad hominem philosophy that demands that we void ourselves of ego in engaging with art and with masters of the past, she actually cares more about identity than many of those around her. She makes professional hiring decisions based solely on the person of the applicant (rather than on their artistry), to satisfy her sexual predilections. She can chastise a "bipoc" student for outrightly rejecting Bach because he thinks he was a bad guy (which is, of course, absurd), but then chooses musicians for her orchestra based on sexual appeal.
It becomes increasingly difficult to empathise with her when it's revealed that she has gone so far as to blacklist ingenues who (perhaps) have refused to sleep with her, resulting in a suicide. But by the end of the film we cannot help feeling something for her nonetheless – she has lost her career, her child (with whom she has a wonderful relationship), and her sense of self.
Blanchett is fine in the lead, effectively capturing the character's combination of arrogance and fragility of ego, but also everything about her performance is run of the mill. And this is generally the problem with the film: aside from its annoying topicality, there's nothing formally interesting about it.
It is stylistically dull, and for a film about music there is nothing compelling about its soundtrack or score. It's the kind of film that works almost wholly through exposition, involving discussions of Schopenhauer being a bad dude but his philosophy still being good, for example.
Baz Luhrmann's Elvis has likewise enjoyed immense popularity. Like most of Luhrmann's films, while it has a certain infectious energy in the performances and staging at the beginning, it quickly become tedious.
There's a lot of visual noise in Elvis, and this is the point (showing the relationship between hype and human in the Elvis Presley mythography), but it doesn't make for an engaging film. Tom Hanks' irritating performance as the Colonel – knowing, cynical, wry, doing a hackneyed accent – makes parts of it almost unbearable.
Butler is fine as Elvis, as everyone keeps pointing out, but Elvis Presley was better as Elvis – more charismatic and compelling than Butler's karaoke version. I would prefer Elvis' performance in a bad movie (say, Easy Come Easy Go) over Butler in this movie every day of the week.
The Fabelmans was similarly enjoyable enough – it's charming and sweet – but the whole thing is dependent on our knowledge that it's director Steven Spielberg's virtual autobiography. There's not really any genuine drama (although it probably seems like it for Spielberg, because he lived through it) – the only thing that happens is a middle-class family breaks up because the wife-mother has an affair.
There's just not enough drama to sustain the narrative on its own terms – thus, this depends upon our knowledge extraneous to the film, which seems ironic, given Spielberg's penchant for arresting style and imagery throughout his career. In other words, the thing that has driven his career – his capacity to create immersive standalone worlds – is absent in his new acclaimed film.
Avatar: The Way of Water is similarly a dull and overlong entry in a dull series. Fans of Avatar may disagree, but this film is almost the inverse of The Fabelmans – this seems to depend too much on our investment in James Cameron as a director, and as a kind of cinematic wizard creating an original world, while the actual substance of the narrative is rudimentary.
Best Film of 2022?
My pick for best film of 2022 would be Kirill Serebrennikov's Tchaikovsky's Wife, a hilarious and deeply unnerving examination of the fraught life of the title character in her unreasonable obsession with the composer.
There are a handful of other excellent films that won't see representation in the ceremony, as usual. For horror afficionados it would be hard to beat Parker Finn's sadistic schlocker Smile, a kind of cruel meditation on the social media age.
Likewise, Luca Guadagnino's teen vampire flick Bones and All is a smashing take on the genre, and The Passengers of the Night is a delightful French coming-of-age drama anchored by the unstoppable Charlotte Gainsbourgh.
Sara Dosa's Fire of Love is one of the most striking documentaries in recent years, following the romance between Katia and Maurice Krafft as they travel around the world documenting volcanoes.
Dosa's film has been nominated for Best Documentary but not Best Picture, although there's no rule precluding non-fiction films from this award.
That being said, The Banshees of Inisherin is up there with these films, and most of the other nominees work well as pieces of cinema, which is seldom the case with films nominated for Best Picture these days.