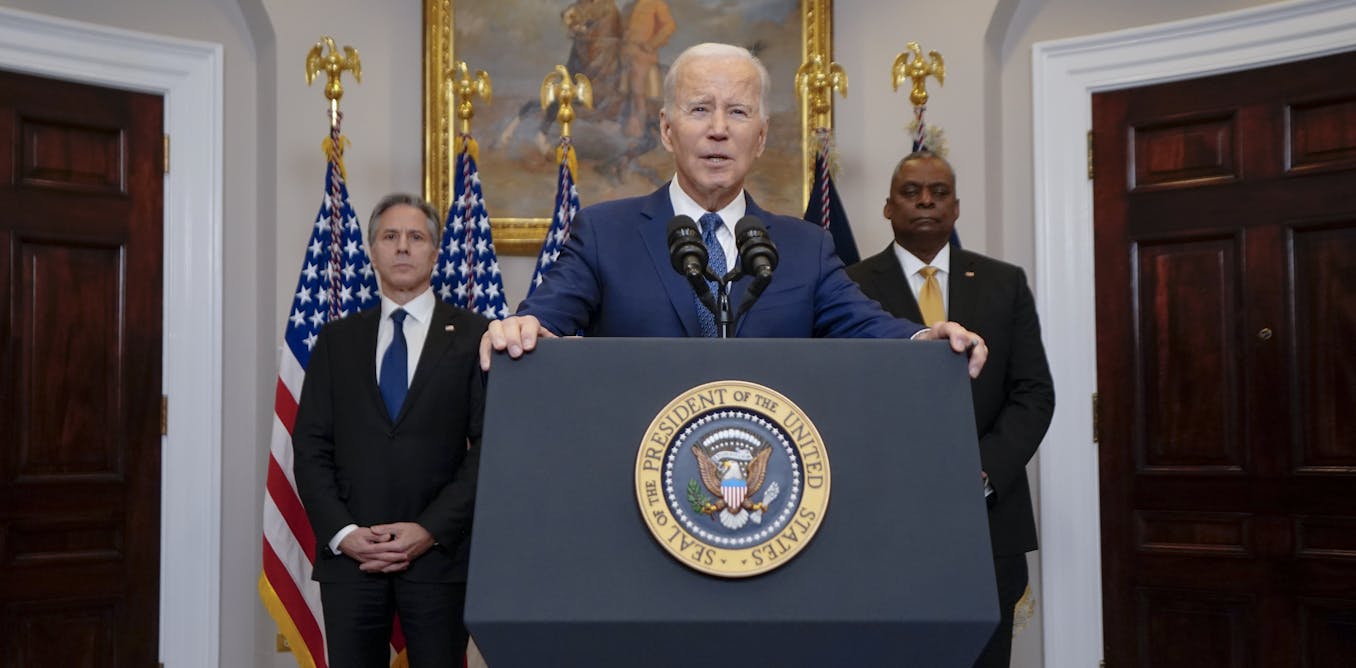 Biden and Trump are both accused of mishandling classified documents – but there are key differences
When the US Department of Justice revealed on January 21 that its investigators had found classified materials in Joe Biden's Delaware home, there was outrage – or, to be more accurate in most cases faux outrage – in Republican party circles. They wasted no time in demanding further investigation into what appeared to be a mishandling of classified documents.
Republicans see a double opportunity in the US president's sloppy handling of what is reported to be a small number of papers from his days as vice-president. It was a God-given opportunity to embarrass a sitting president gearing up to launch his re-election bid. But many in the GOP hoped it would also take the heat off an outwardly similar investigation into former president Donald Trump.
Trump allegedly took thousands of classified documents to his Florida home, Mar a Lago, when he left the White House in January 2021 – a matter that has been under FBI investigation since 2022.
Both the current president and his immediate predecessor have been found in possession of classified materials which should have been passed to the National Archives and Records Administration (Nara). This has been US law since the passage of the Presidential Records Act in 1978, which states that any records created or received by the president as part of his constitutional, statutory or ceremonial duties are the property of the US government, to be managed by Nara at the end of the administration.
As a result, US attorney general Merrick Garland has appointed a special counsel to investigate each president's actions. Jack Smith has been appointed to Trump's case. Smith is a career prosecutor whose CV boasts a range of achievements including convicting gang members of killing New York cops, prosecuting a sitting US senator, and bringing war crimes cases at The Hague.
Robert Hur, the US attorney in Maryland during the Trump administration and now a litigation partner at a top Washington law firm, has been appointed to investigate Biden's case.
While Garland has no power to indict a sitting president, the US Congress could impeach Biden if his actions are found to be a "high crime and misdemeanour". But in Trump's case, if he is found to have broken the Presidential Records Act after leaving office, he could face a fine or even a three-year jail term.
As you'd expect, the US media has been quick to compare Biden's actions with those of Trump. Yet as of now, the cases appear very different.
In Biden's case, investigators have reportedly found a very small number of papers – seemingly from his final year as vice-president – at his home and at the Penn Biden Center, a thinktank that the president founded in Washington DC. It has yet to be revealed how many documents there are or their level of classification.
As soon as they were unearthed, the Biden team handed them over to Nara and has cooperated with the authorities ever since, proactively inviting a search of Biden properties. Interestingly, a cache of similar papers has reportedly been found at the Indiana home of Trump's vice-president, Mike Pence.
The contrast with Trump is stark. He left the White House with thousands of pages of classified documents. Among the first batch recovered by Nara a year after they were discovered were documents described by national archivist Debra Steidel Wall as:
Classified national security information, up to the level of Top Secret and including Sensitive Compartmented Information and Special Access Program materials.
Rather than acquiesce to Nara's demands under the law, Trump refused to return them, had to be raided by the FBI for the state to get them back, and then fought in court for months to keep them.
It's not clear why Trump took these documents. Speculation ranges from covering his back to seeking financial gain by using the materials in post-presidential dealings. It's also possible he may have been trying to preserve his reputation prior to launching his third bid for the presidency.
So far then, two very different actions by the two most recent incumbents of the White House. However, for all Biden's insistence in following the process, he made one crucial political misstep that could dog the remainder of his first term in office.
Biden's misstep
On November 2 2022, Biden's personal lawyers found the first batch of classified documents from the Obama-Biden era locked in an office that Biden had used since leaving office.
They informed Nara the same day, and its officials took possession of the papers the following day. This was five days before the crucial US midterm elections – yet Biden did not go public about the find until January 9 2023, having been tipped off by CBS News that it was running the story.
This was manna from heaven for Republicans. The party had failed to achieve the massive gains it had expected in the midterms, and was disheartened by Trump's lacklustre return to the campaign trail. Biden's approval rating, meanwhile, had ticked up six points from a July 2022 low of 38%. So, with new House speaker Kevin McCarthy in place, it was a chance to raise a stink in Congress at the very least.
Why did Biden wait? Undoubtedly, he recalled the devastation to Hillary Clinton's 2016 presidential bid when the then FBI director, James Comey, announced a week before the election that he had reopened the investigation into Clinton's use of a private server to send classified emails while secretary of state, potentially breaking the Federal Records Act of 1950.
While Comey confirmed to Congress two days before the election that Clinton had no case to answer, the damage was done. Clearly Biden didn't relish his own Clinton moment as a knife-edge midterm approached.
It is unlikely Biden will face charges over the papers found so far. But the discovery of any more caches of documents would be highly damaging for the president. And that's the last thing the Democrats need if he plans to run in what is likely to be a close and rancorous 2024 election.