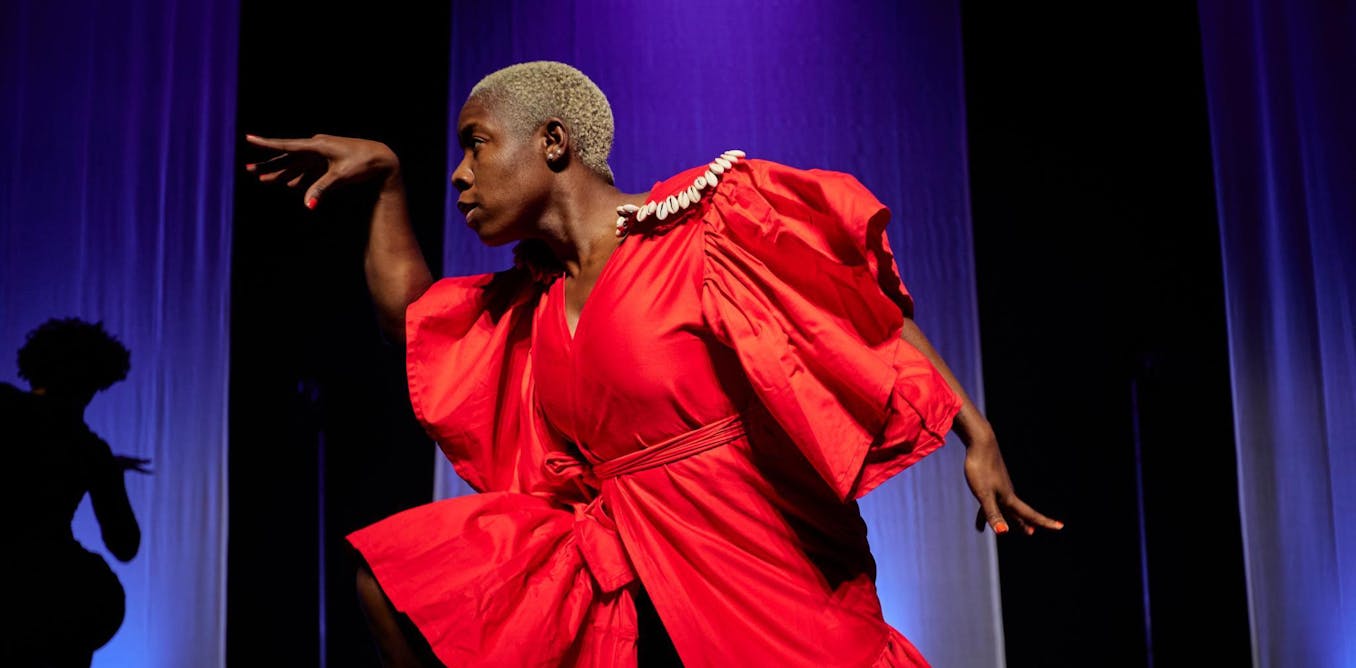 Björk was the big-ticket name – but Perth Festival's heart was found in Bikutsi 3000's afrofuturist musing on African resistance
For the culturally curious, February and March in Perth can be a rich maelstrom, with Perth Fringe and Perth Festival. We have apparently the world's "third largest" fringe festival (after Edinburgh and Adelaide), but I'm not sure why this is good.
Whatever the case, audiences must plan and be focused in navigating such a cornucopia of competing works in two simultaneous festivals.
My Perth Festival was complicated by a jaunt to Adelaide (in the middle of that city's festival and fringe) but I was delighted to be able to follow links between works, including afrofuturism, post-classical music and arts offering haunting examples of post-humanism: that which exceeds, replaces or accompanies the human.
Deep listening
Artistic director Iain Grandage's previous Perth Festivals tended towards light musical programming, both in quantity and emphasis on accessibility – consider the festival obtaining the world record for biggest air guitar ensemble in 2020.
This year, however, had many post-classical music highlights which demanded deep listening.
Anthony Pateras' compositions for prepared piano, amplified vocals, clarinet, contrabass and flute with A Dread of Voids was an uncompromising night of rich sonic assaults and drone, often with cyclic developmental structures.
Pateras' masterful performance, on pianos with strings rendered percussive through the addition of bolts, screws, paper and other materials, was followed by Cédric Tiberghien's performance of John Cage's suite for prepared piano.
Matthias Schack-Arnott crafted a sounding mobile that rotated over Tiberghien. Spun by fans and motors, it gave the performance an air of the inhuman. Tambours and slates were struck above Tiberghien, adding density and counterpoint.
Schack-Arnott also performed in his Everywhen, intimately offered in the Perth Institute of Contemporary Art.
Schack-Arnott circled within a lighter, jewel-like mobile, sometimes dragging along the ground ringing metal tubes, bells, seed-pods and more.
Schack-Arnott animated or removed items, before crouching ritualistically to play stones and other items, again accompanied by mechanically driven devices above.
The music program closed with Gradient from composer/photographer Olivia Davies, performed by Callum G'Froerer on double-bell trumpet. They offered a sort of aggressive chillout room, where G'Froerer's looped, breathy, clattery and sometimes rhythmic sounds were accompanied by abstract distortions of images taken at the dilapidated Liberty Theatre.
Deconstructing cinema and theatre
Grandage has put First Nations art at the heart of his festivals, together with dance and theatre.
Stephanie Lake's dance and drumming Manifesto toured from the east. Sadly, it was too wide for Heath Ledger Theatre, with some spectators unable to see the drummers in the wings.
---


Read more:
'Innovative and thrilling': Stephanie Lake's Manifesto is a joy


---
I missed Australian Dance Theatre's The Tracker and Maatakitj (Clint Bracknell) performing with Kronos Quartet.
Local versions of what Bracknell calls "Noongar-futurism" – inspired by afrofuturism and drawing on electronic dance culture – featured in 2023, with the outdoor opening event of Djoondal offering a fleet of synchronised drones evoking celestial Dreamings.
Choreographer/director Laura Boynes' Equations of a Falling Body offered a beautiful disorder of objects, bodies and things piled and moved about stage in what has become something of a WA tradition, following Emma Fiswick's 2021 Festival production of Slow Burn, Together.
Aside from Equations of a Falling Body, this year's theatre and dance highlights were tours of works from the eastern states.
Cyrano, from the Melbourne Theatre Company in association with Black Swan, was an enormously fun vehicle for writer/performer Virginia Gay. The other characters were thespians, so the performance was a cross between Pirandello's Six Characters in Search of an Author and romantic melodrama, a celebratory post-COVID work, if perhaps ultimately forgettable.
The mobile screens above the stage for The Strange Case of Dr Jekyll and Mr Hyde, from Sydney Theatre Company, produced not so much director Kip Williams' professed "cine-theatre", as a deconstructing of the inhuman cinematic machine itself.
This suited Williams' exploration of distorting mirrors and mediated character doubles, which was so polished as to be all but seamless. In this production, however, Williams lacks any improvisatory fun and sense of exploration in his use of screens. I preferred the take on screen-enhanced theatre from local company The Last Great Hunt, whose exceptional Lé Nør [the rain] in the 2019 festival pointed to the inconsistency between screen image and ludicrous on-stage setups, celebrating cine-theatrical playfulness.
---


Read more:
A production to satisfy Sydney's darkest imaginings: Sydney Theatre Company's Strange Case of Dr Jekyll and Mr Hyde


---
A transcultural museological performance
Black Futurist music was another feature of the 2023 festival.
Franco-Cameroonian Bikutsi 3000 presented an afrofuturist musing on African resistance to Western culture through dance-as-peaceful-combat.
With an African-European cast led by Blick Bassy, Bikutsi 3000 featured selections from the musée du quai Branly's film archives, framed as a faux lecture combined with projected displays of fantastist African couture.
Voiceover text was paired with monumental living portraits of fictional matriarchs representing Cameroon, Namibia, Togo, Tanzania, Rwanda and Burundi.
Accompanied by throbbing house and hip hop, it was punctuated by forceful Afro-fusion dance, mostly performed singly or in pairs, which combined regional forms of voguing, shade, hip hop, krumping and dancehall, alongside Indigenous African dance.
Forceful energies rolled across the dancers' chests while their limbs dropped and weaved. Legs and arms pumped or flew and circled. Bodies close to the ground flowed like liquid or shook vigorously.
Choreographer/dancers Nadeeya Gabrieli Kalati, Audrey Carlita, Martine Mbock and Mwendwa Marchand were exceptional, while Bassy's inventive combination of blaring digital tones and bullhorns with African drumming and vocals recalled the best of South Africa's electronic dance music scene.
As a transcultural museological performance, Bikutsi 3000 was nearly unique. Presented at the Studio Underground in the State Theatre Centre, it is unfortunate it wasn't hosted at a museum. Presenting Bikutsi 3000 in the quai Branly was an implicit rebuke to the Anglo-European institutions still in charge of colonial heritage.
The Romantic sublime
The festival showstopper was Björk's Cornucopia. Björk's recordings are complex, multi-tracked works, and, like Bikutsi 3000, her stadium performance supplemented prerecorded material.
This produced hiccups, as when the on-stage use of bailers in a water tank to make music was inaudible and out of synchronisation.
On the night I saw the performance, Björk was dressed in an unglamorous blue satin blob, which suited her retiring performance persona.
Without a charismatic megastar around which to anchor, Cornucopia became an agglutinated, operatic audiovisual spectacle. It was Björk's flute septet Viibra who bopped away, not Björk.
But when it gelled, it was magic, as when Björk sat inside a giant "circle flute" played by four women, the singer's angst-ridden vocals soaring.
Björk describes the show as representing a futuristic human/nature utopia, but it's a utopia that has little space for humans. Projections for Body Memory showed twisting headless bodies with spines and ridges deforming them, while Cthulhu-like figures ascended as flayed skins.
In Björk's fantasy, something descended from us will survive, but it won't be any more human than Schack-Arnott's mobiles.
Unlike the Black Futurist music theatre of the festival which offers an exuberant critical socio-cultural alternative way of viewing the past and the present, Björk's alt-classicism and Jekyll echo older European models of the Romantic sublime: something appealing or beautiful because it will soon destroy us.
---


Read more:
Sexual exhibitionism, Riot Grrrl and climate change activism: 30 years of raging by Peaches, Bikini Kill and Björk, still going strong


---