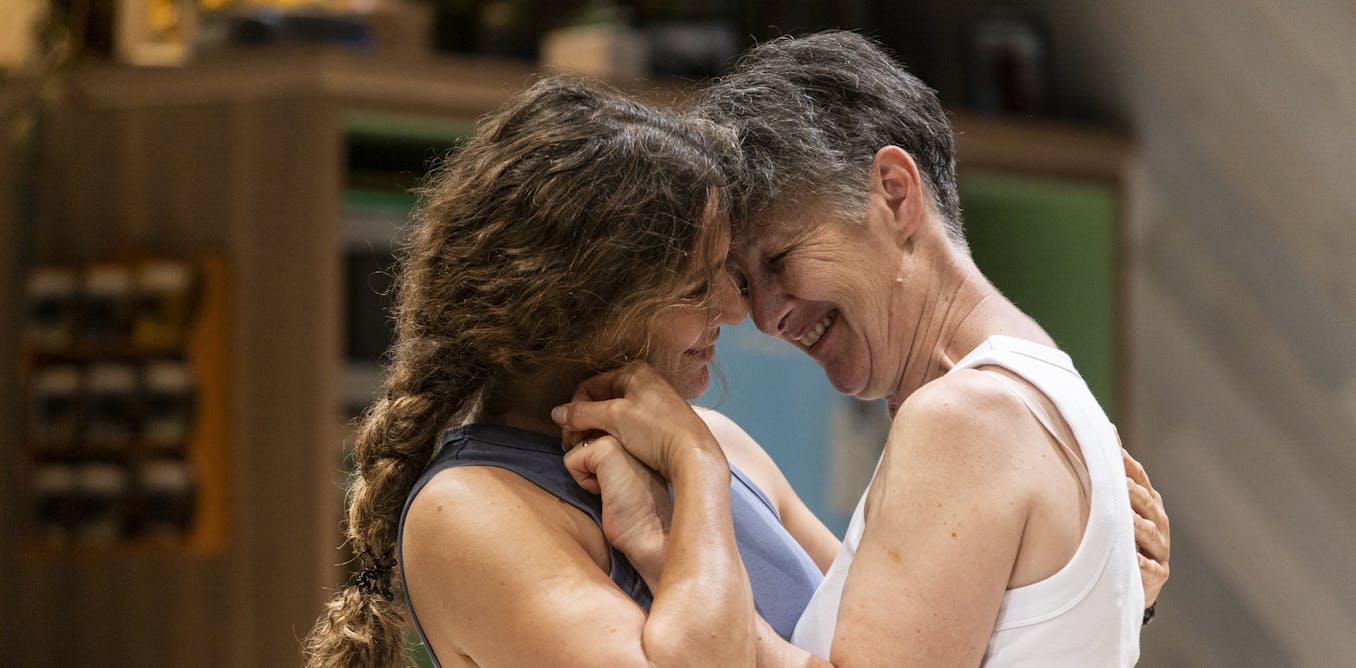 Blessed Union puts queer families centre stage, with hilarity and heartbreak
Review: Blessed Union, directed by Hannah Goodwin, Belvoir.
Billed as "the lesbian break-up comedy you didn't know you needed", Blessed Union is a chaotic joyride, a rapid-fire feast of words, ideas and emotions laying bare what happens when love and family are politicised.
The play is based partly on playwright Maeve Marsden's experiences growing up with two lesbian mothers who eventually separated.
Plays about families have existed since the advent of theatre itself, but queer stories – especially queer family stories – are rarely centre stage.
Marsden and the Belvoir team make two important inroads. They not only show us a new kind of family, but they do this shrewdly via a traditional two-act play on a realistic stage set, with a kitchen at its crux, to reinhabit and reconsider the nuclear family.
Crucially, this piece does not shy away from the messier side of the rainbow family, highlighting all the ambiguities and inconsistencies of humans in relationships.
---


Read more:
Mum, dad and two kids no longer the norm in the changing Australian family


---
Hilarity and heartbreak
The play spans a period of nine months, from Easter to Christmas.
The family have their own rituals which overlay these more overtly institutional ones. Many centre around food: the family always make an egg and mock lamb pie at Easter; they have a pasta-making routine.
Food, an important symbol of ritual and nourishment, is "performed" in this family. Tofu is the substitute for lamb in the Easter pie because the family is vegetarian but when family relations degenerate, bacon makes an appearance, cooking stops and ice-cream is eaten for dinner.
When things go awry, so does the food, with hilarity and heartbreak.
Living in Sydney's inner west, in a home perfectly rendered by designer Isabel Hudson with mid-century furniture, Parker chairs, standard lamps and a "Yes" poster from the marriage equality plebiscite on the kitchen wall, union organiser Ruth (Danielle Cormack) and primary school teacher Judith (Maude Davey) have been together for more than 30 years, having children before the advent of marriage equality.
Ruth and Judith announce their breakup with the return home of their teenage daughter Delilah (Emma Diaz) from her legal studies at a university outside Sydney.
Her brother Asher (Jasper Lee-Lindsay) still lives with his mothers and is attending a Catholic school.
We don't find out why Judith and Ruth are breaking up at first, but we see they are determined to control their breakup: to do it as well as they have tried to do everything in their lives.
They have invested much in being the textbook couple; the stakes of their separation are also high.
They had to fight hard not only for their rights, but to inhabit the institutions and organisations their straight counterparts took for granted. They want to find the perfect way to disentangle themselves from what they once fought hard to occupy.
We watch the hilarious unveiling of a poster – a withdrawal map of sorts – made by Judith's primary school students, which the couple use to structure their breakup, their "untangling", in a logical way. Although Delilah and Asher are shocked by the breakup announcement, they are massaged into accepting the move. Delilah even adds some sections to the poster (legal and financial).
The poster eventually goes the way of a BBQ burn-up, the closing symbol of act one for the eventual direction of their uncoupling: shambolic and full of feelings that logic cannot keep at bay.
A long union
Ruth is, in some ways, a difficult character to like. Her career and her needs appear to be more important to her than her family. Cormack plays this difficult character with extreme sensitivity, presenting the complexities and contradictions of a lesbian woman working in a male-dominated union where, as one of the two family breadwinners, she has had to make many ethical compromises.
Davey's Judith is a wonderfully wrought characterisation of a woman undone by losing her partner. She easily physicalises Judith's torments: there are some uproarious moments with a blender and the preparation of a plate of food for her son.
Lee-Lindsay is paradoxically the voice of normalcy in this family exactly because of his lack of care about how things appear.
Diaz's Delilah, whose smartness and care for Judith threaten to undo her, has a crispness of body and attitude.
Both children are highly articulate, brought up with the onus of having to justify their identities and lives to the straight world.
The issue of their mixed Asian heritage is thrown in as part of the recriminations the children feel towards their mothers. One of the strands of Blessed Union that could have been developed more, it nonetheless points to just another political decision made by this lesbian couple.
Hannah Goodwin's strengths as a director manifest most in the clear sense of the family having been together for many years. Goodwin has guided her actors towards finding the joy and the heartbreak of this family's untangling.
This is an important play. The words left ringing in my ears were Delilah's to Ruth: words to the effect of "stop performing".
Ironic in a play, but crucial to creating meaningful lives. How do you move to the sound of a different drum when those drums are encased in heteronormative forms? Food for thought.
Blessed Union is at Belvoir, Sydney, until March 11.
---


Read more:
Children with same-sex parents do better at school than their peers


---