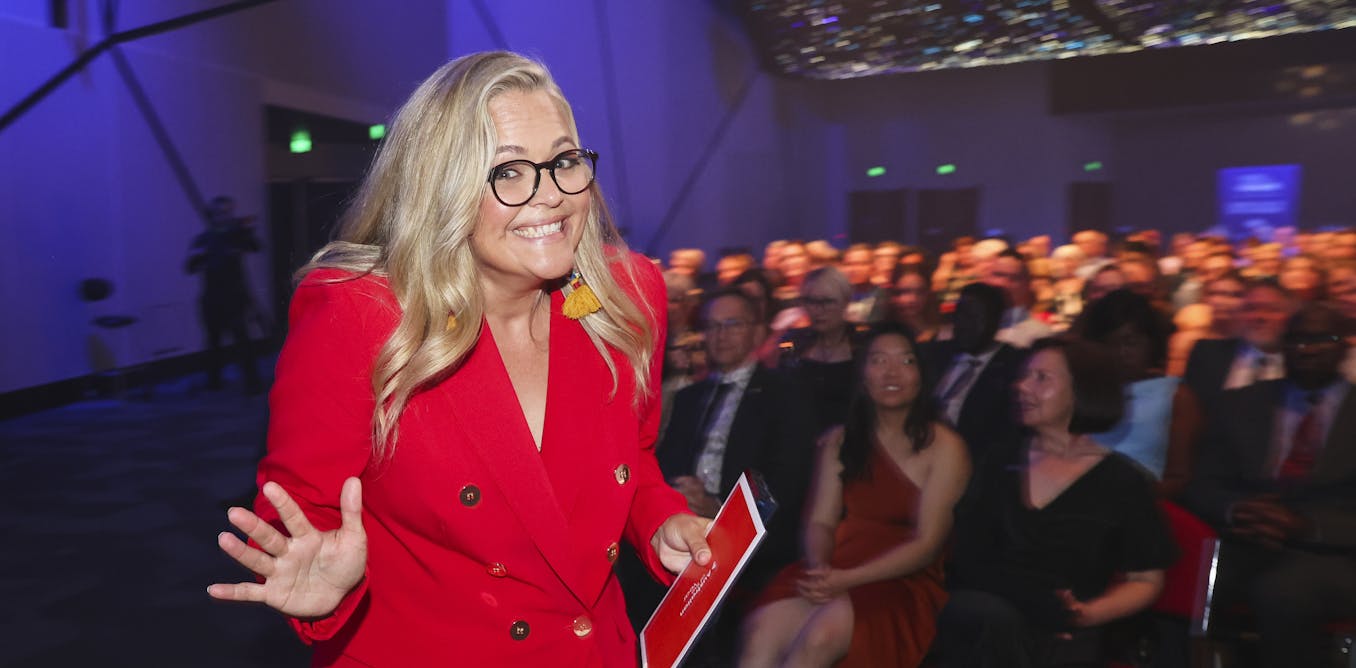 Body image campaigner Taryn Brumfitt is 2023 Australian of the Year
Taryn Brumfitt, a body image campaigner whose work has been recognised internationally, is the 2023 Australian of the Year.
A writer and film maker from Adelaide, Brumfitt's 2016 documentary Embrace, about women's body loathing and her path of accepting her own body, has been seen by millions of people in 190 countries.
She founded the Body Image Movement in 2012, and in 2018 she was named in the Australian Financial Review's 100 Women of Influence, in the global category.
The Body Image Movement describes its mission as being to "educate our global community and provide tools to promote positive body image; celebrate body diversity in shape, size, ethnicity and ability; promote positive physical, mental, emotional and spiritual health, [and] combat toxic messaging in media and advertising".
Last year Brumfitt, who is 45, released Embrace Kids, a documentary aimed at teaching children aged nine to 14 to move, nourish and respect their bodies.
She collaborated with body image expert Dr Zali Yager to produce an Embrace Kids parenting book. They have also created the Embrace Hub, a resource for teachers, parents, children and communities to encourage "body positivity".
"Taryn's work has reached more than 200 million people. She is an internationally-recognised keynote speaker whose work is recognised by UN Women," the announcement of her award said.
The senior Australian of the Year is Tom Calma, 69, Chancellor of the University of Canberra, who has an extensive record as an advocate for human rights and social justice. He was formerly a long-serving public servant, including having postings in India and Vietnam.
He served on the Human Rights Commission as Aboriginal and Torres Strait Islander Social Justice Commissioner and Race Discrimination Commissioner.
A leader in driving Indigenous advancement, Calma has had a particular focus on education, health and reconciliation. He has urged changing Australia Day to "a new date for a truly unifying national day of reflection and celebration".
Calma, from the ACT, co-chaired with Marcia Langton the senior advisory group that produced the report to the former government on an Indigenous Voice.
Prime Minister Anthony Albanese, who presented the Australian of the Year awards in Canberra on Wednesday night, repeatedly refers to the report when pressed about the detail of the proposed Voice referendum.
Albanese used Wednesday night's ceremony to declare the referendum, to be held in the second half of the year, would be "an uplifting moment of national unity".
The Young Australian of the Year is Australian Socceroo and co-founder of Barefoot to Boots Awer Mabil, from South Australia. Barefoot to Boots is a not-for-profit organisation promoting better health, education, policies and gender equality for refugees. Mabil, 27, grew up in a Kenyan refugee camp after his family fled the civil war in Sudan; he was 10 when he came to Australia.
The Local Hero award has gone to Amar Singh, 41, from NSW, who founded Turbans 4 Australia after suffering racial slurs because of his Sikh turban and beard.
Turbans 4 Australia delivered hay to drought-striken farmers; supplies to Lismore flood victims and to those hit by bushfires on the NSW south coast; food to vulnerable people during COVID lockdowns, and supplies to the Salvation Army in central Queensland after Cyclone Marcia. It regularly delivers hampers to people in need in western Sydney.
Chair of the National Australia Day Council, Danielle Roche, said the four recipients "share a common bond – using their life experience as a power for good, helping others around them and making the world a better place.
"Taryn has inspired millions of women around the world to be more comfortable in their own skin.
"Tom has dedicated his life and career to being a champion of equality for Aboriginal and Torres Strait Islander peoples, lighting the path towards reconciliation.
"Awer fled conflict and went on to represent Australia at the highest level as a Socceroo – an extraordinary achievement. He has used his success to co-found Barefoot for Boots, a not-for-profit that supports and advocates for other refugees.
"Amar has turned his own experience of discrimination into a positive, and sparked a movement that helps thousands of people put food on the table."