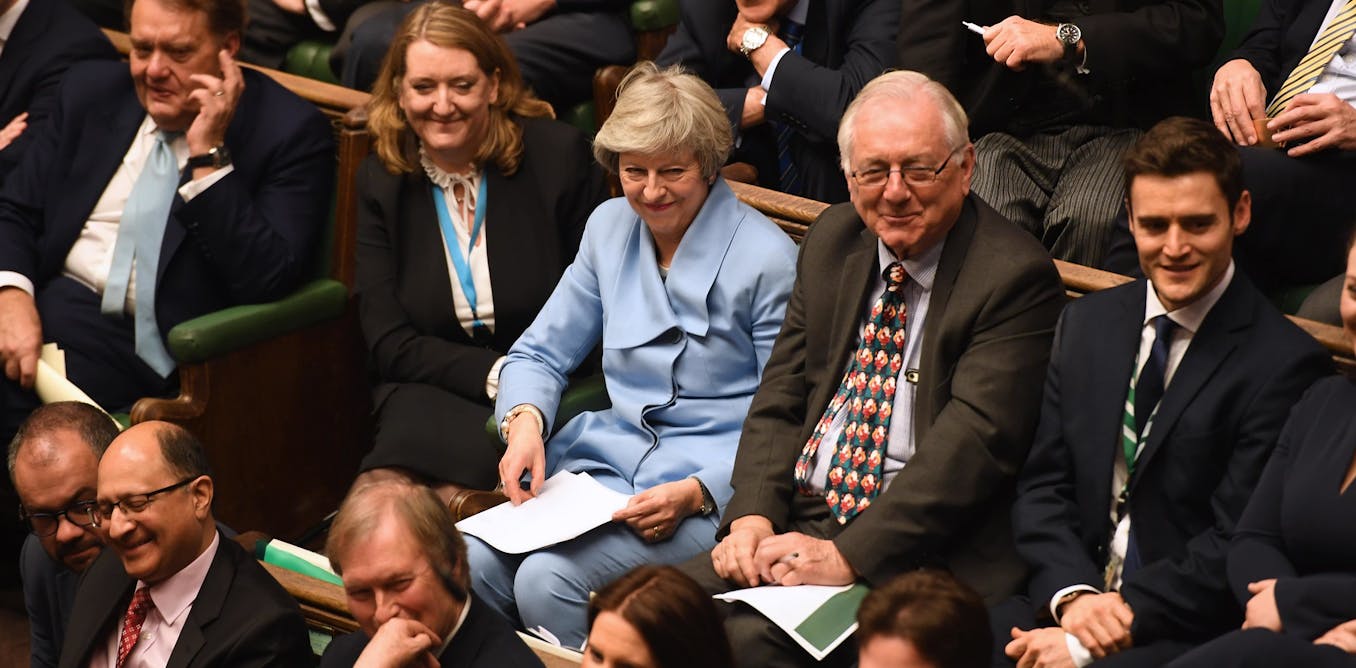 Boris Johnson, Liz Truss, Theresa May (and soon Nicola Sturgeon): the strange backbench lives of former national leaders
Former prime ministers are currently making a habit of intervening in government policy. Boris Johnson deployed sources to urge current prime minister Rishi Sunak not to abandon his Brexit policies and to send fighter jets to Ukraine. Liz Truss also used her first speech on the backbenches since leaving Downing Street last October, to press Sunak's government on Ukraine.
In Scotland, departing first minister Nicola Sturgeon took mere days to break her promise not to interfere in the race to replace her as SNP leader by criticising one of the contenders for her position on same-sex marriage.
Most former British prime ministers have continued to be a feature of national political life, both within and outside political institutions. David Cameron and Tony Blair aside, it is common for prime ministers to continue to serve as MPs after leaving Downing Street. But, with Truss, Johnson and Theresa May all still serving as MPs, there hasn't been such a gaggle of former prime ministers on the backbenches since 1983.
In Scottish politics, Henry McLeish, Jack McConnell and Alex Salmond all continued to serve as MSPs after their time as first minister. Sturgeon has made it very clear that she intends to remain as the constituency MSP for Glasgow Southside, at least until the next election.
Local or national?
Sturgeon, like her counterparts, may find herself pulled between pursuing her own constituency interests and commenting on matters of national importance. Gordon Brown, for example, did occasionally speak on constituency matters, particularly the need for radioactive decontamination at Dalgety Bay. But during his final year in parliament he moved away from this and raised only national policy matters.
May has been a much more active parliamentarian and took part in some very heavily constituency-related parliamentary work in her first couple of years out of Downing Street, such as her work on rail services in Maidenhead. This was often carried out away from the political limelight. More recently, she too has moved away from this constituency service to a focus on bigger issues of national importance.
Truss and Johnson have both focused on matters of national and international significance in their interventions.
When they speak, who listens?
Former leaders bring considerable gravitas with them when they return to the backbenches. Delving into parliamentary transcripts, we've found that their former role is emphasised repeatedly when they are called to speak, leading to considerable deference from colleagues across all political parties. Political institutions want to hear from them.
Gordon Brown's first contribution as a former prime minister in November 2010 was accompanied by cheers of "hear hear" from MPs of all political persuasions, and government ministers would later encourage him to speak "more often", emphasising the value of his contribution.
In the House of Commons, we found that former leaders usually receive a primetime speaking slot right at the start of debates and a far larger allocation of speaking time than their colleagues as a result.
But the repeated flattery from others about their previous political position can lead to frustration both with and for our former leaders. At Westminster this frustration has come from other backbench MPs who are disgruntled about the privileged position and preferential treatment they seem to receive from the House of Commons Speaker. Take the SNP MP Pete Wishart, for example, who asked in 2014 why Brown had been selected to speak first in a debate about Scottish devolution.
Although deference from colleagues can be flattering for former leaders, it is often deployed as a tactic by government ministers to deflect accountability and avoid answering questions from these big political figures.
For instance, when May quizzed Matt Hancock on mental health services during the COVID-19 pandemic, he largely ignored the question and simply thanked her for being the one to actually appoint him in the first place. This type of response is much more common when a former leader faces their own party colleagues in parliament.
There could also be another strategy at the heart of this flattery.
Political leaders often leave office under a cloud, following election defeats, unwelcome policy decisions or embarrassing mistakes which may make them feel isolated among party colleagues. All three former Conservative prime ministers currently in Westminster are now working with many colleagues who wrote letters of no-confidence in their leadership.
Having political heavyweights fighting your corner is much better than when they act as a thorn in the government's side. Johnson used the media rather than parliament to put pressure on Sunak over Brexit.
Shouting criticisms in the House of Commons chamber with your colleagues sitting around you is a whole different ball game and doesn't happen very often. May for instance has been openly critical of government on only a handful of occasions in the chamber, such as during the Owen Paterson lobbying scandal.
If we start to see Truss and Johnson being overtly hostile to government in the chamber, we'll know that Sunak is in trouble.