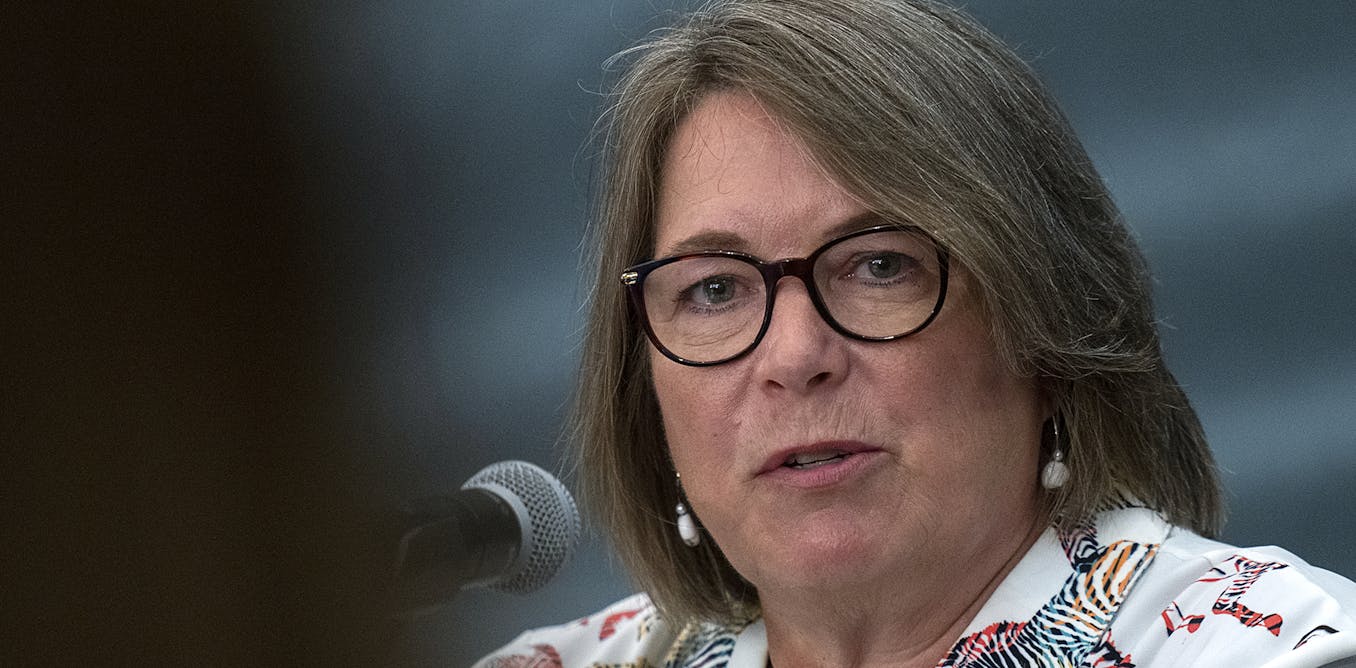 Brenda Lucki's retirement will not fix the RCMP's structural problems
RCMP Commissioner Brenda Lucki announced her retirement on Feb. 15. It is easy to make Lucki the scapegoat for almost five years of RCMP crises, debacles, collapsing public support and allegations of systemic racism and employee harassment. After all, the buck stopped at her desk. But there's no point replacing the driver when the vehicle itself is rusted out, out of fuel and mechanically unsound.
We shouldn't have hopes for an RCMP renaissance with Lucki's retirement. The problems with RCMP leadership are not about the gender or identity of the person in charge.
The national RCMP structure is clearly befuddling. It has a multi-billion-dollar annual budget and about 30,000 police officer and civilian employees spread across Canada. It includes six levels of policing (rural, municipal, provincial, national, First Nations and international) and is subject to hundreds of federal statutes and agreements.
But the problem is not its spread and focus so much as its organization. The RCMP is a police service run according to the administrative rules and culture of a federal government bureaucracy. It is essentially a ministry of the federal government.
A challenging tenure
The RCMP's challenges are also not about the gender of the commissioner. In 2007, the federal government appointed William Elliott, a federal civilian public servant, to run the RCMP. It was, by all accounts and personal experiences, a very uneven experiment based in part on having someone with zero policing experience and a less than stellar personality.
I have spent close to 20 years at the civilian executive level of the RCMP, at both the divisional and national level. I have reported to and closely observed women in major leadership roles — including the career of now Senator Beverley Busson, former commander of Canada's largest RCMP Division in British Columbia and her fill-in role as national RCMP Commissioner. And a succession of women Divisional commanders in British Columbia, Alberta and across Canada.
Lucki is not solely responsible for many debacles and crises facing the RCMP, but she does have to take some responsibility for accepting the job in the first place.
The fact is Lucki was not the best qualified to replace the hardcore RCMP commissioner Bob Paulson, a tough major crime investigator and former military fighter pilot.
The reality is Lucki's appointment was a political decision by Trudeau, trying to change the image of a macho national police force beset by widespread allegations of bullying, intimidation and harassment, from both men and women.
The series of sudden and major changes and reputation-threatening events under Lucki's watch are widely publicized: Dealing with pipeline construction protests, managing a pandemic with the controversial actions of her own force, managing the first unionization of RCMP sworn police officers and the federal court's 2022 approval for a $1.1 billion class-action lawsuit against the RCMP over allegations of bullying, intimidation and harassment.
There were also accusations of political interference in the chaotic deployment of RCMP officers during the Nova Scotia mass shooting. And then there was the controversy over the RCMP's handling of the so-called "freedom convoy."
---


Read more:
Alleged political interference in the N.S. mass shootings means the RCMP must be restructured


---
In 2009, the national RCMP Change Management project provided a 168-page review of the culture, structure and workplace climate of the RCMP. The review offered dozens of recommendations — none of which were followed up on.
The review highlighted how RCMP culture is split between policing culture and the bureaucratic culture. The centralized model of bureaucratic administration is often at odds with the needs of operational policing. That has resulted in many of the RCMP's governance difficulties.
To think that Lucki's replacement will be able to wave a magic wand and bring order to chaos is to be blind not only to history, but to the trajectory of the RCMP's organizational nature.
A change in culture
In 2007, the Task Force on Governance and Cultural Change in the RCMP was mandated by the federal government to review the governance and culture of the RCMP. In its report, the task force said:
"We heard more than once that the culture is one of fear and intimidation and that some who are in a position of command use their authority to intimidate others."
The RCMP also commissioned management professor Linda Duxbury to write an independent report in 2007. The report, titled The RCMP Yesterday, Today and Tomorrow, found that RCMP culture was resistant to change and did not promote a healthy workplace environment. A more recent report by Duxbury also found that a significant majority of RCMP officers reported high levels of job stress.
In my research into RCMP leadership, I've found that the RCMP's hierarchical command and control leadership model would be far better served through a boundary-spanning leadership model. Such a model encompasses many successful traits and actions of various leadership approaches including collaboration, communication, self-awareness, fairness, honesty, trustworthiness, empathy and accountability.
While many salute Lucki's departure, the RCMP's history suggests that it's stuck in a feedback loop, repeating mistakes and expecting something new to emerge. In a statement announcing her retirement, Lucki said she did her best.
Probably so. But Canada needs better.