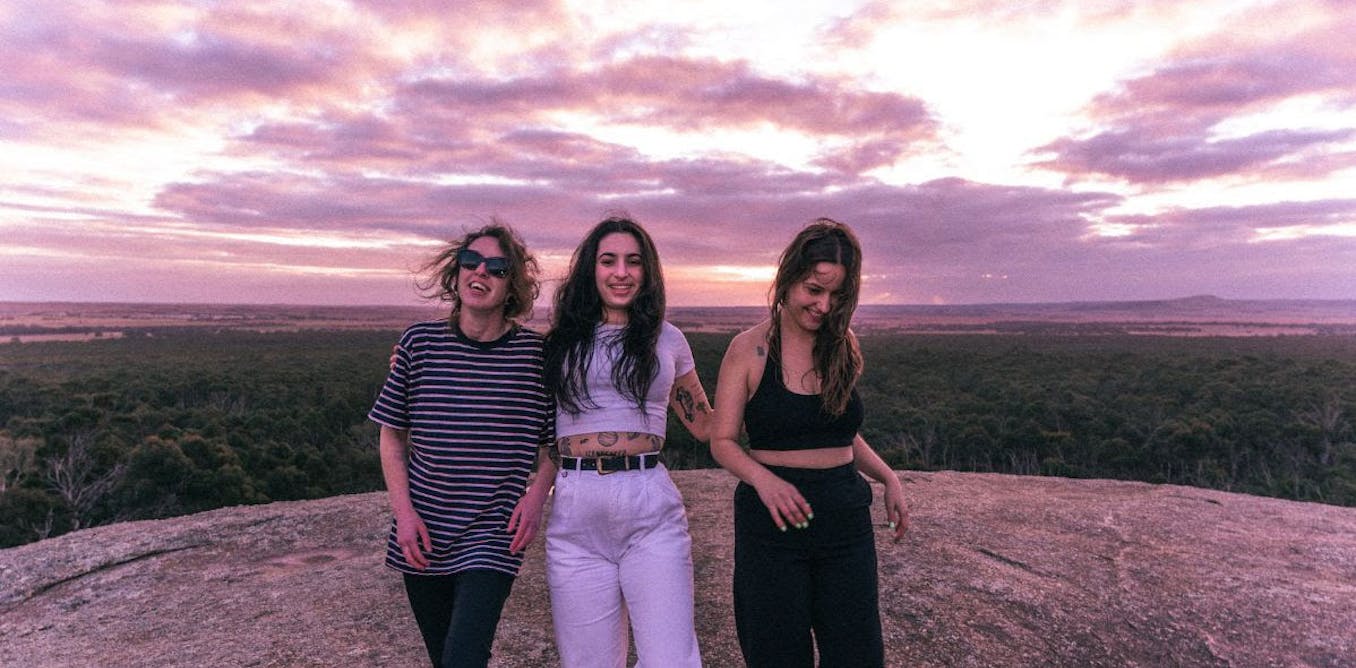 Camp Cope leaves the Australian music industry forever changed by their fearless feminist activism
Australian indie-rock trio Camp Cope announced yesterday they are splitting up. They leave behind an industry forever changed by their fearless feminist activism, and a legacy of empowered young fans.
Over the past few years, the issue of the Australian music industry's "chronic gender inequality" has gained prominence. Public call-outs, grassroots initiatives and numerous reports show the significant disadvantage women are faced with, on and off stage.
Sexual harassment, violence and discrimination are rife across the industry – for audiences and musicians alike. Its prevalence, according to academic Rosemary Hill, is "a catastrophe for women's musical participation".
This lack of representation is inextricably linked to broader issues of sexual harassment, abuse and discrimination. These inequalities are, of course, far greater for Aboriginal women, women of colour, and LGBTIQ+ and gender-diverse cohorts.
As the industry reckons with its #MeToo moment, Camp Cope, along with other musicians like Jaguar Jonze, have been at the forefront of hundreds of women tirelessly working for safer, more equitable conditions.
Despite music scenes having a reputation for being progressive, inclusive and tolerant, they remain male-dominated and masculine-coded spaces, and women who do participate in these spaces, as musicians, creative workers or audiences, are faced with significant systemic risks.
The findings of the 2022 Raising their Voices Report are bleak, but not surprising: pay disparity, high rates of sexual harassment, harm and bullying, and a culture that facilitates abuse and protects perpetrators.
The report emphasised that "Entrenched industry norms, culture, systems and behaviours which disadvantage and discriminate against women underpin their low representation in the music industry…" and that "..Women's overall lack of power and influence in the music industry has broad ramifications for their experiences and treatment"
It is this culture that Camp Cope have tirelessly stood up to (often to their own personal and professional detriment), and in so doing, helped change the trajectory of an Australian music industry that has for too long been male, pale, and stale.
Who are Camp Cope?
Formed in 2015, Camp Cope is comprised of three women, Georgia "Maq" McDonald (guitar/vocals), Kelly-Dawn Hellmrich (bass) and Sarah "Thomo" Thompson (drums).
Their music is honest and heartfelt, with leading basslines and a distinctly Australian punk-rock twang. Nominated for a slew of awards, including the ARIA Best Rock Album in 2018, the group has been known as much for their outspoken resistance to sexism and discrimination in the industry as they have for their music.
---


Read more:
Is sexual abuse and exploitation rife in the music industry?


---
Camp Cope made headlines across the Australian music scene when they called out the popular Falls Festival, held across multiple locations on the East Coast of Australia, for the lack of women in the lineup while on stage.
From spearheading the #ItTakesOne campaign for increased safety at gigs and festivals, and demanding equal representation on festival lineups, to publicly calling out sexism, Camp Cope has done significant work to fight entrenched sexism in the industry, and broader society.
At least, they have raised public awareness, which has helped to prioritise women's safety and equal participation in government cultural policy, as well as in local music scenes. At most, they have equipped a generation of fans with the strength and vocabulary to do the same.
Following the unexpected announcement of the split, obituaries poured out on Twitter from industry peers and fans expressing sadness and celebrating the profound and lasting impact Camp Cope had on the industry and their lives.
They're just a band though, right?
Wrong. The impact of Camp Cope on their audience cannot be understated. My 2020 study on the impact of Camp Cope on young women's idea and identity formation highlights the real and lasting significance on these participants' lives. The response to Camp Cope's split from fans on Twitter yesterday further demonstrates this.
Over the course of eight years and three albums, Camp Cope defined a feminist agenda for a generation of female music fans who seldom saw themselves, their stories and values articulated in the mainstream.
My research interviewed fans of Camp Cope on their experiential and emotional connection to the band. The findings show a real and lasting impact on young women's understanding of themselves and their worlds. Through engaging with Camp Cope, fans forged and activated self and collective feminist identities, becoming empowered to challenge sexism in their everyday lives.
Camp Cope's music imbued messages of rage, love and solidarity. Their message inspired fans to speak out against injustices, to be angry, to take up space, and to even start their own bands.
Their song The Opener became a battle cry for fans. The scathing, irony-drenched song calling out self-proclaimed progressive men in the scene who reinforce inequality through everyday sexism and only booking women as the opening act – if at all. When Camp Cope shouted, their audience shouted back in unity.
Encouragement and visibility are key to engaging and empowering other women to participate in music. Fans saw confidence, outspokenness and strength in Camp Cope and that helped them to become more confident, outspoken and strong in their own personal identities. Through shared emotional and experiential connections, fans also established collective identities, aligning themselves with Camp Cope's feminist beliefs and feminism within the #MeToo era more broadly.
Beyond confidence and inspiration, Camp Cope represents a safe space for fans to heal from sexual harm. Songs like The Face of God assure fans that "yes, that was abuse", and that "sexual assault was never your fault".
Camp Cope's split may well leave a hole in the hearts of fans, but their legacy is an industry on notice and the promise that maybe, someday soon, it will be different.