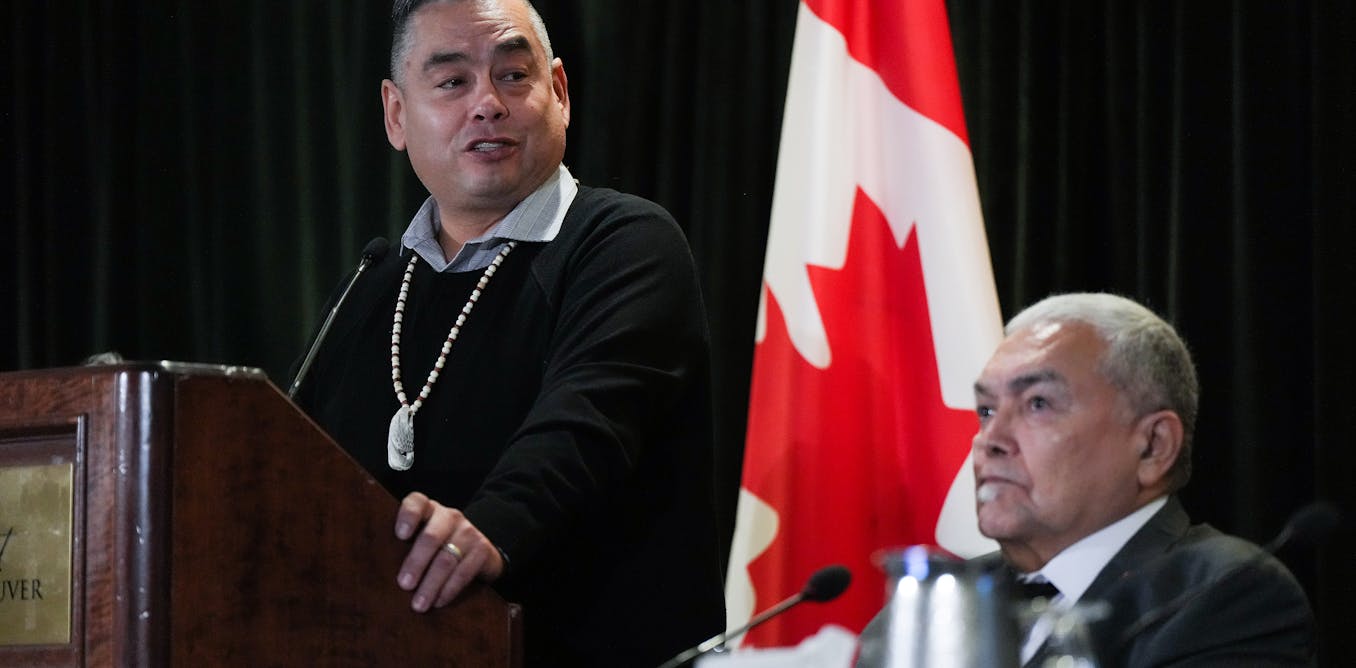 Canada's $2.8 billion settlement with Indigenous Day Scholars is a long-time coming
Eleven years. That's how long it took the federal government to agree with 325 First Nations over the collective loss of language and culture suffered by Day Scholars in the Residential School system in Canada that existed between the mid 1800s until 1996.
Day Scholars were forced to live in Residential Schools but attended school during the day in nearby white communities.
While Day Scholars settled an individual compensation package for just $10,000 each earlier in 2022, this new agreement is specifically aimed at rectifying the systematic and forced removal of language and culture through these institutions.
Left out of original agreement
In 2012, members of the Tk'emlúps te Secwépemc and shíshálh Nation led by Shane Gottfriedson and Garry Feschuk launched a national class-action lawsuit for Day Scholars who were left out of the original Indian Residential School (IRS) Settlement Agreement (2006).
The Truth and Reconciliation Commission had already determined that abuse was suffered by students who were forced to attend Residential Schools at night, but nearby public schools during the day.
In "The Survivors Speak" section of the report, Emily Kematch who attended the Residential School in Dauphin, Man., which operated under this Day Scholars model at the time explained:
"It wasn't a good experience. 'Cause this was my first time too, going to the white system with the white kids and we weren't treated very well there. We got called down quite a bit. They use to call us squ-ws and neechies, and dirty Indian, you know. They'd drive by in their cars and say awful things to us. Even the girls
didn't associate with us, the white girls, they didn't associate with us."
This institution was also where, the "one recorded prosecution for the abuse of Residential School students in Manitoba" occurred. The TRC noted: "In 2005, Ernest Constant who had attended the Dauphin school in the early 1960s and worked there in the late 1960 as a supervisor was convicted of indecently assaulting seven Dauphin students." Day Scholars experienced similar types of abuse as people whose experiences were included under earlier agreements, but it has taken over 16 years to receive some form of justice.
Decade-long court battles
Each one of the subsequent class-action settlement agreements has taken roughly a decade to unfold through the legal process:
Together these agreements represent the largest reparations paid to Indigenous people as a direct result of colonialism. However, each agreement has been earned through the dedication of survivors to fight these battles through court, not the generosity of the Canadian state.
325 First Nations
Unlike the previous two agreements, this agreement finally allows for all 325 First Nations to decide themselves how the funding will revitalize their language and culture independently of the government.
Direct ownership of the funding will not funnel through law firms, or government bodies, but rather through the First Nations themselves. If officially settled at the end of February, communities will be provided an initial $200,000 followed by sustained payments over the course of the next two decades to support this revitalization through the hiring of staff, creation of learning centres or in any other way they see fit.
---


Read more:
Canada's reckoning with colonialism and education must include Indian Day Schools


---
While this provides an opportunity to protect critically endangered languages, it only provides a small one-time compensation payment of $10,000 for eligible members.
Last January, these one-time-payments were opened, but the Gottfriedson class-action continued to fight for a separate band of funding for language revitalization efforts which was announced last week.
Defining moment
On one hand, this prevents the re-victimization of students who suffered through the Indian Residential School Settlement Independent Assessment Process. But on the other, it does not provide greater compensation to those who suffered the most.
This agreement also signals a defining moment for the Trudeau government to settle all outstanding claims against the Canadian state. The agreement's wording suggests that the government will be "Fully, finally and forever" released from collective harms suffered in Residential Schools.
It is not immediately clear if that same condition also falls on the churches in Canada who operated the schools and perpetuated the loss of culture and language along with other horrendous abuses. Last summer, The Canadian Press reported details of a 2015 agreement in which Canada agreed to "forever discharge" Catholic entities from their promise to raise $25 million for Residential School survivors. The discharge happened after Catholic entities raised less than $4 million.
In September 2021, in the wake of criticism, Canadian bishops pledged to raise $30 million by January 2027. In Nov. 2022, APTN reported $5.5 million has been raised to date and that the Canadian Catholic Church spent $18.6 million on the papal visit.
---


Read more:
Reparations to Indigenous Peoples are critical after Pope's apology for residential schools


---
Apologize for all colonial schooling
Former Prime Minister Stephen Harper's apology for Residential Schools in 2008 came before two of the three settlements against Canada.
With this settlement's ending of all outstanding agreements clause, it is crucial for the federal government to also apologize for all these types of schooling that damaged Indigenous languages.
Unfortunately, with this announcement there will also be a wave of Residential School denialism and criticism over the amount of money spent on this settlement.
For some perspective, Canada has committed over $3 billion for the war in Ukraine which has so far lasted 11 months. It will be paying slightly less for the over 150 years of targeted colonization that devastated Indigenous communities and has left 75 per cent of Indigenous languages endangered in this country.