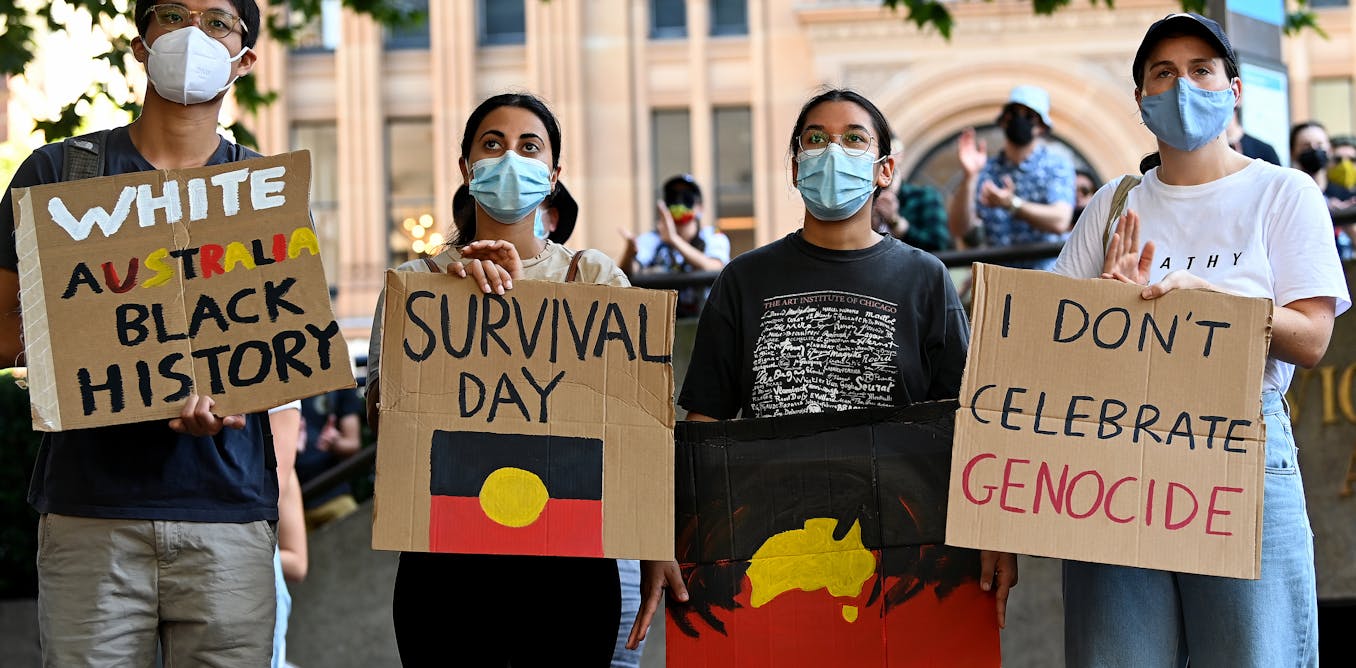 'Change the date' debates about January 26 distract from the truth telling Australia needs to do
"Australia Day", January 26, brings an annual debate of whether celebrations should continue or be moved to a different date. This clash of views means Aboriginal and Torres Strait Islander people have to brace themselves every year for the annual influx of racism and hate on the streets, online and in the media. And we're tired of it.
Australia knows this is a Day of Mourning for Aboriginal and Torres Strait Islander people because it is the day the attempted genocide of Indigenous peoples began.
However we still see a number of opinions get rolled out to defend "Australia Day", some even saying Aboriginal people need to "get over it".
Despite this, every year more and more individuals, organisations, and local councils are joining the growing dissatisfaction with celebrating Australia Day on January 26, and choosing not to celebrate or not acknowledging it as a public holiday.
This encourages conflict about a date, as opposed to engaging in truth-telling about the arrival of the First Fleet and the conflict and violence that followed.
'Bread and circuses'
The (largely white) mainstream media began early this year, publishing articles likely to drive the usual pro-Australia Day conversations and encourage conflict.
The Roman poet Juvenal said all that was needed to distract attention away from a problem was to offer people food or entertainment, "bread and circuses". The Australia Day debate is a circus that attempts to distract from the truth telling this country really needs.
A common diversion tactic is to attack Aboriginal and Torres Strait Islander people for daring to protest against Australia Day when we have so many other "more important" concerns we should be worrying about. As if Aboriginal and Torres Strait Islander people can't think about what Australia Day represents while also addressing other issues we face.
By this logic, non-Indigenous people should not be discussing the Australia Day debate either, until they have addressed the horrific violence against women in their own communities.
It is a privilege only offered to non-Indigenous people to air concerns about matters of their choosing and not be criticised for ignoring other concerns.
Another tactic is to find an Indigenous person willing to publicly agree and frame them as a leader speaking for all Indigenous peoples.
Conservative commentators Andrew Bolt and Alan Jones have used their columns and shows to fight against a date change and any critique of Australia Day. Bolt has suggested we should stop "nursing resentment" because from his position "this society is so rich, free and equal".
Telling us we need to stop being "stuck in the past" infers our issue is just with what happened in 1788. This completely ignores the ongoing suffering many Aboriginal and Torres Strait Islander peoples still endure.
---


Read more:
60% of Australians want to keep Australia Day on January 26, but those under 35 disagree


---
The violence of invasion is not in the past
On any given day there are stories about racism and violence towards Aboriginal and Torres Strait Islander peoples. Deaths in custody, punitive policing, barriers within employment and education systems, cultures that tolerate racism and early deaths.
As I reflect on 2022 I am devastated by the violent death of Cassius Turvey, aged only 15, who died on October 23 as a result of injuries received in an attack while walking after school with friends in a Perth suburb.
The boys who were with Cassius allege they were approached by a group of men in a car who racially abused them and set upon them with weapons including a metal pole. Turvey sadly sustained serious injuries and later died.
A 21-year-old man was charged with Turvey's murder, however the WA Police Commissioner stated: "We are not operating on any principles of racism or motivation at this point". Three further people have since been charged with Cassius' murder.
This is what lies behind the Australia Day debate for Indigenous people all over the country. Not just the historic violence associated with January 26, but the ongoing violence.
If you are finding it hard to understand why Aboriginal and Torres Strait Islander people have a problem with Australia Day, I suggest you read more opinion pieces from Aboriginal and Torres Strait Islander authors, pick up a book, or even enrol in a unit of study.
Is not celebrating January 26 being 'UnAustralian'?
We are told Australia Day is about reflecting on our past, respecting all Australians and celebrating our unique Australian identity. However reflecting on our past should include a past that involves Indigenous peoples.
People who don't consider the anniversary of invasion as a time to celebrate are often labelled as being "unAustralian".
The term un-Australian emerged around 1855 as a tool to ostracise non-whites, the Irish, Chinese migrants and other foreigners, as well as communism, radicalism, pacifism and trade unions.
It has its roots in the White Australia policy era. It re-emerged again in the 1990s and has remained in popular use, particularly by politicians, often attempting to avoid having to explain themselves or their actions, or to shift blame.
It's even the topic for the new lamb ad, which humourously takes the piss out of this ridiculous and ultimately meaningless notion.
---


Read more:
For an Indigenous perspective on 'Australia Day', here's a quick guide to First Nations media platforms


---
Changing the date isn't enough
Changing the date won't necessarily make a difference as a stand-alone gesture. To truly have something to celebrate we need to firstly address the past, engage in truth-telling and make reparations. Treaty or treaties need to be negotiated and then a shared vision can be established. As Aboriginal researcher and epidemiologist Joanne Luke writes,
We know that truth-telling has the potential to provide Aboriginal people who experience injustices a voice, as evidenced by the Royal commissions into Aboriginal deaths in custody and the National Enquiry into the Separation of Aboriginal and Torres Strait Islander Children from Their Families. But we also know that without political leadership that listens to these truths, the nation does not learn from these injustices, and trauma continues to be inflicted upon Aboriginal people and communities.
In the meantime, if you're looking for something to celebrate on January 26, head on over to the Yabun Festival on Gadigal Country in Sydney. There are also a range of Invasion/Survival Day events across the continent.
Every year Yabun recognises the truly amazing accomplishment of Aboriginal and Torres Strait Islander people caring for each other and this continent for over 60,000 years despite the concerted efforts of violent racist policies and practices that continue to harm us.
Now that's something worth celebrating.