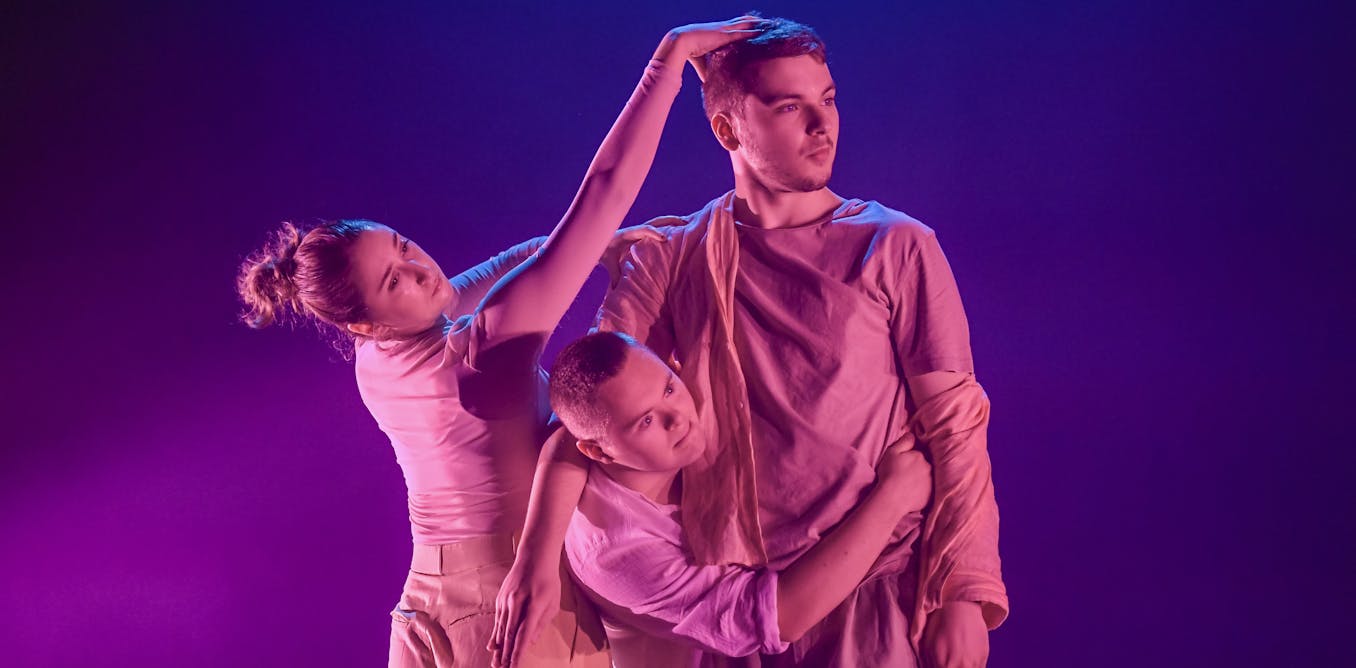 Choreographic legacies, human connectivity, and a psychedelic rainbow celebration: FRAME is a joyous festival of dance
Staying true to its objectives of representing dance artists from across practices and lineages, the inaugural FRAME Dance Festival offered a diversity of performance styles and forms in locations around Melbourne and beyond.
The program included shows, films and workshops in venues ranging from courtyards to galleries to dance studios.
Some offerings were political and academic, some were celebratory. Some told us personal or cultural stories; some had 100 dancers, some had one.
FRAME felt like a community coming together after three very difficult pandemic years for dance and dancers in Melbourne. Here are my highlights of the festival.
---


Read more:
5 Australian women choreographers you should know (and where to see them in 2023)


---
Mohini
In a mesmerising queer retelling of Lord Vishnu's transformation into the enchantress Mohini, Raina Peterson – a Fiji-Indian and English dancer/choreographer – draws us into their sensual, visceral world where they shift from transgender storyteller to demon to Hindu goddess.
True to the classical Indian idiom, their wide-open unblinking eyes, bouncing brows and long articulate fingers lead the narrative, which begins on a dimly lit stage covered in low billowing clouds.
Peterson is joined by Marco Cher-Gibard, who hits long, loud notes on electric guitar to a background of tinkling chimes.
As the story climaxes with Mohini's recovery of the elixir of life, there is a visual metamorphosis on stage from quiet monochrome intimacy to explosive psychedelic rainbow celebration with the projection of a spinning vortex around Peterson's ecstatic silhouetted form.
It is an intense and captivating experience.
Slip
In Slip, dancer Rebecca Jensen, dressed as the enigmatic Girl with a Pearl Earring, exposes the illusions created by technology in our everyday lives.
The bare stage appears like a workspace with only a sound desk and a scattering of quotidian objects. The performance begins with a demonstration of the sound-effect technique Foley from Jensen's collaborator Aviva Endean.
Upon entering, Jensen sits centre stage and eats, drinks and reads a newspaper while Endean creates sounds to match her actions. When Jensen eats chips, live and synchronised Endean amusingly crunches on a celery stalk.
This measured synchronicity creates a comforting rhythm – until it gradually begins to slip.
The sound and action become out of sync. The crunching accompanies walking. The walking sounds like water being poured. The artificiality of the sound's relationship to the action is disturbingly laid bare.
The pace picks up as Jensen and Endean interact with the objects, each other and as animated dancers projected on the back screen.
An energetic and intellectual work, Slip keeps the audience holding on by a thread, never letting up or settling in.
---


Read more:
Ballet dancers in sensor suits: new research explores how dance is used as a form of communication


---
Us and All of This
In our era of social dysfunction, environmental disasters, pandemics and war, Us and All of This is choreographer Liesel Zink's meditation on human connectivity.
The sound of loud humming white noise accompanies the 100 very slow-moving quiet bodies as one by one they fill the Arts Centre Melbourne forecourt.
They stand separate, motionless, facing different directions and gazing to the distance. They represent the breadth of our society: all ages, races, genders and abilities.
A few begin to breathe their arms gently and slowly up and down like wings. They are joined by a few more until everyone is breathing together. Changes to the movement starts with a few and gradually ripples through the whole 100 dancers.
As momentum builds, the synchronicity breaks down.
Different intense movements are now distributed randomly through the crowd: a highly energetic arm winding, a desperate curling in, a spinning with arms fully stretched and a pushing down hard towards the ground. The dancers are engrossed.
Sometimes they move closer to each other, sometimes further apart. And while they do not acknowledge each other until the very end, in this immersive experience we as the audience are drawn in from the start with a sense we are all in this together.
Exposed
Directed by Michelle Ryan, Restless Dance Theatre's diverse dancers take us on an exploration of the physical, mental and emotional vulnerability exposed in the face of global upheaval.
A huge screen becomes translucent and we make out the seven dancers beyond it scattered across the stage slowly getting dressed.
They begin to look up as if there is something there they cannot see but are afraid of; something invisible but menacing. They start slowly turning. The screen transforms into a lung breathing over their heads. Only now do they start seeing each other.
They are jumpy, afraid of each other and of other things we cannot see. This fear develops into an emotional desperation in some. Others become violent. Still others show signs of physical suffering.
They begin to attempt to help each other.
The screen moves once more to become a backdrop. The dancers now move with each other, connecting, smiling, learning to give and accept care. The motifs of the breath and physical turning and rolling throughout the work, together with a serene and repetitive score, create a sense of continuation and inevitability, of a human condition that insists on struggling on, that has no choice.
This tender work closes as it began, the dancers separate and turn inward once more as they slowly and quietly undress.
---


Read more:
Guttered: a joyful immersion and subversion of expectations between the bowling lanes


---
Somewhere at the Beginning
Known as the mother of modern African dance, Senegalese French dancer Germaine Acogny moves us through the continual returns of inescapable pasts in a haunting post-colonial epic.
With direction by Mikael Serre, this multimedia bricolage shifts from the intimate corporeality of the weight of a stone on a foot to the museum-like objective formality of 20th century film footage and documentary voice over.
A beaded curtain which divides the stage into back and front is traversed throughout, representing the movement between different worlds, past and present, African and European.
In a long, grey dress, Acogny moves deliberately and heavily with only a book, a stone, a pillow and a chair to accompany her. We are confronted with a variety of stories: some deeply personal, some culturally shared and some highly academic.
Themes around identity relentlessly recur throughout the work imitating the insistence of the colonial legacy they illustrate. The same story of powder used to whiten faces manifests at different times in projection, voice and in its sprinkling around the stage.
Without lightness or relief, Somewhere at the Beginning demands we bear witness to its account of the tragedy and persistence of cultural and colonial trauma.
NEWRETRO
Lucy Guerin's three-hour marathon 21st-birthday celebration is a director's cut of 21 works reenacted by 21 dancers who, along with their audience, move in and out of all four galleries of the Australian Centre for Contemporary Art.
In this shift from blacked-out theatre to white cube, Guerin shows us a version of her works we have not seen before. We encounter the dancers on and off stage: close-up, sweaty and raw. As the audience we not only see, but are also seen.
The larger main gallery exhibits a built-up remix of vocabularies with different groups of dancers simultaneously performing excerpts clearly drawn from different Guerin works. The movement is at times hyper-energetic, pounding with unexpected grunts and screams, and at other times minimal, quiet and pedestrian.
The more intimate and darker corner gallery has a schedule of five duets, while the other two galleries show original footage of all 21 works and a demonstration of the process undertaken by the dancers working with footage to learn the choreography.
With a cast of some of Melbourne's most beloved dancers including Lilian Steiner, Deanne Butterworth and Melanie Lane, NEWRETRO is a landmark event in its memorialisation of a local woman choreographer who has not only produced 21 works in 21 years but has also supported and mentored many others as both dancers and choreographers.
It felt like a very satisfying way to end my FRAME journey.
---


Read more:
In Motion Picture, dancers drive a cinematic story onstage


---