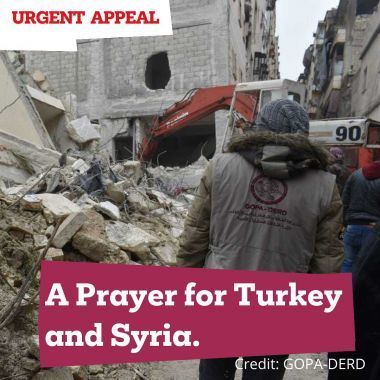 Christians support survivors of devastating Turkey earthquake
Christian development agencies are appealing for prayer and donations to provide support and practical assistance to people impacted by a devastating earthquake in Turkey and Syria that has killed over 9,000 people.
Rescuers have been working round the clock to dig survivors from the rubble since the 7.8 magnitude earthquake struck in the early hours of Monday. 
Turkish President Recep Tayyip Erdogan has declared a three-month state of emergency in the worst affected provinces. He is to visit Kahramanmaras, Hatay and Pazarcik later.
Christian Aid, Tearfund and CAFOD are among the development agencies that have launched emergency appeals for Turkey and Syria, where local partners are already on the ground. 
Patrick Watt, CEO of Christian Aid, said: "The scenes from this disaster are heartbreaking. And even before this devastating earthquake, we knew over four million people needed aid in north-west Syria alone.
"We are hopeful that the British public will show the same spirit of solidarity and compassion that we saw in the aftermath of the invasion of Ukraine a year ago.
"Every prayer, every gift, every action brings hope to people hit by disaster. By joining us, you can help people in need rebuild their lives."
Catholic development agency CAFOD said, "For Syrians, this is yet another devastating crisis they need to face.
"Even before the earthquake, the situation in the region was already bad with 80% of people living in poverty. The results of the conflict are still felt today with a collapsing economy and millions who have been forced to leave their homes.
"The people of Syria and neighbouring countries continue to need your donations and prayers."
Tearfund said: "Every minute counts in the desperate race to help people affected by Monday's deadly earthquake. The church is rising up to respond – and you can make a difference right now."
Christian Aid has produced this prayer for Turkey and Syria:
God of time and space, we cry to you for your children – our neighbours – in southern Turkey and northern Syria, following the earthquake that has devastated hundreds of lives. Only they and you know what it is like to experience such trauma in the middle of the night.
We give thanks for the aid that is already being given and for the promises of help that have been made by many nations.
Comfort, we pray,
those who are trapped in collapsed buildings;
those who have lost loved ones;
those who wait for news and
those digging through rubble to save others.
Grant the gift of hope so that those caught between life and death know that you are with them and that others are ready to support them as they seek a future that overshadows the experiences of today.
We ask this in the Name of Jesus, who endured so much for love of them.
Amen!