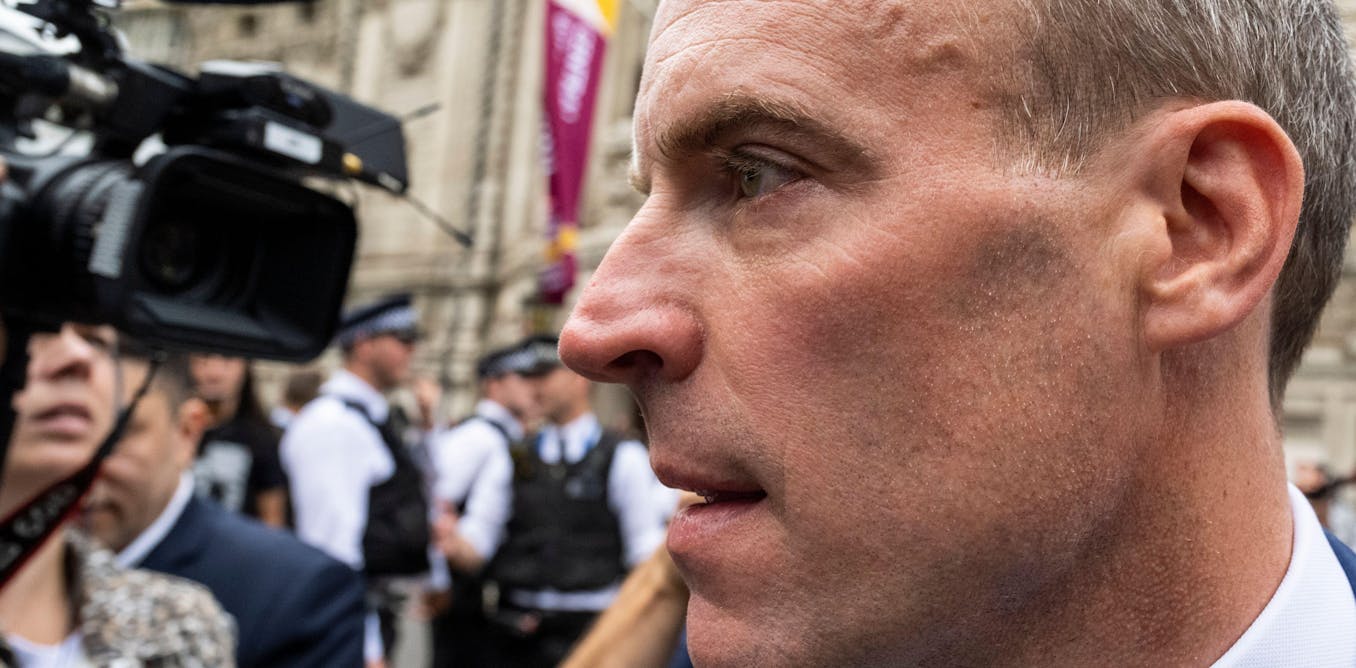 Dominic Raab claims are more akin to 'abusive supervision' than bullying
Prime Minister Rishi Sunak continues to refuse to suspend the deputy prime minister, Dominic Raab, from office while accusations that he has behaved inappropriately towards staff are investigated. The government has confirmed that lawyer Adam Tolley is leading an investigation into two complaints made about Raab's conduct while at the Foreign Office and the Ministry of Justice.
However, there are reports of many more accusations being made against him. The BBC reports there are eight formal complaints currently standing against Raab, while the Guardian has reported that one complaint concerned 27 members of his staff.
Raab has denied the accusations, and there is no formal mechanism for a deputy prime minister to be suspended. But allowing him to stay on in power, while receiving tacit support from high-ranking Tory politicians, nevertheless risks sending the signal that such behaviour is tolerated.
Sunak has indicated that Raab would be sacked if the investigation finds that he did behave inappropriately but insists he won't move against him before then, stating on February 7:
The independent adviser is conducting his investigation, I can't prejudge the outcome of that investigation, it's right that it concludes. But as people have seen from how I've acted in the past, when I'm presented with conclusive independent findings that someone in my government has not acted with the integrity or standards that I would expect of them, I won't hesitate to take swift and decisive action. That's what I've done in the past. But with regard to this situation, it's right that we let the independent process continue.
It would be possible for Sunak to sack Raab and then reappoint him were he cleared by the investigation. It has been suggested that Sunak does not do so partly to reward his loyalty. If that is the case, it would suggest that those in power are prioritising their pre-existing social connections over the wellbeing of their staff. Those who have made complaints may also feel their experiences are being invalidated.
Jake Berry, the former chairman of the Conservative Party has said that action should be taken against Raab immediately, telling the BBC: "It would be very bizarre if you had someone in any other workplace who wasn't suspended pending that investigation."
The situation unfolding around Raab is routinely described as "bullying" but he literature around workplace mistreatment points to something else. Workplace bullying can describe what happens between colleagues of relatively equal position, but negative behaviours wear victims down so that they feel "powerles" compared to their bullies. Given that Raab is a senior minister and the deputy prime minister, if the accusations are true we are potentially dealing with something different here.
Abusive supervision
Raab holds significant formal and informal power over his staff. His formal power stems from his very high position in the organisational hierarchy. He is the minister and the people accusing him are, as far as we know, civil servants (it is not clear whether any of the complaints come from people other than civil servants).
Raab's informal power comes from the social power he has over staff. He has the ability to influence their careers and experience in the workplace. A government minister is at the centre of a government department. Power is very much centralised towards them – that includes people's career trajectory.
Even without direct power to hire and fire, as someone whose voice matters in Whitehall, Raab can informally influence people's career paths – for example, telling someone not to hire a certain person.
With all this in mind, what Raab is being accused of is akin to abusive supervision. This term describes interactions in which followers perceive their supervisors to engage in hostile verbal and non-verbal behaviours, such as hurtful remarks, public humiliation or scapegoating.
While abusive supervision can be classed as a type of workplace bullying, one can argue that abusive supervision can be even more detrimental because supervisors often have formal power to influence an employee's life at work.
Abusive supervision can also affect more than one target, so you may have whole teams of employees who feel victimised. Academic research establishes that abusive supervision can lead to worse employee performance, worse mental health, and can even affect employees' family lives.
A recent study suggests that abusive supervision undermines "public service motivation", which is an employee's motivation to work in public institutions and "for the greater good". This is surely a detrimental sign for civil servants.
---


Read more:
Why bullying in politics is a matter of democracy


---
This kind of behaviour can be very detrimental to the people on the receiving end of it, and it can also harm organisations. If these behaviours become prevalent, abusive supervision is normalised and can even end up being promoted within an organisation's culture. That is, people do not find such behaviours "out of the ordinary" or come to expect them as part of the job.
Employees may feel they have to emulate, or model, abusive behaviours to get ahead, as they have observed other senior figures behaving that way.
Whatever the investigation into Raab concludes, failing to send a signal that these issues are being taken seriously from the outset sends precisely the wrong signal.