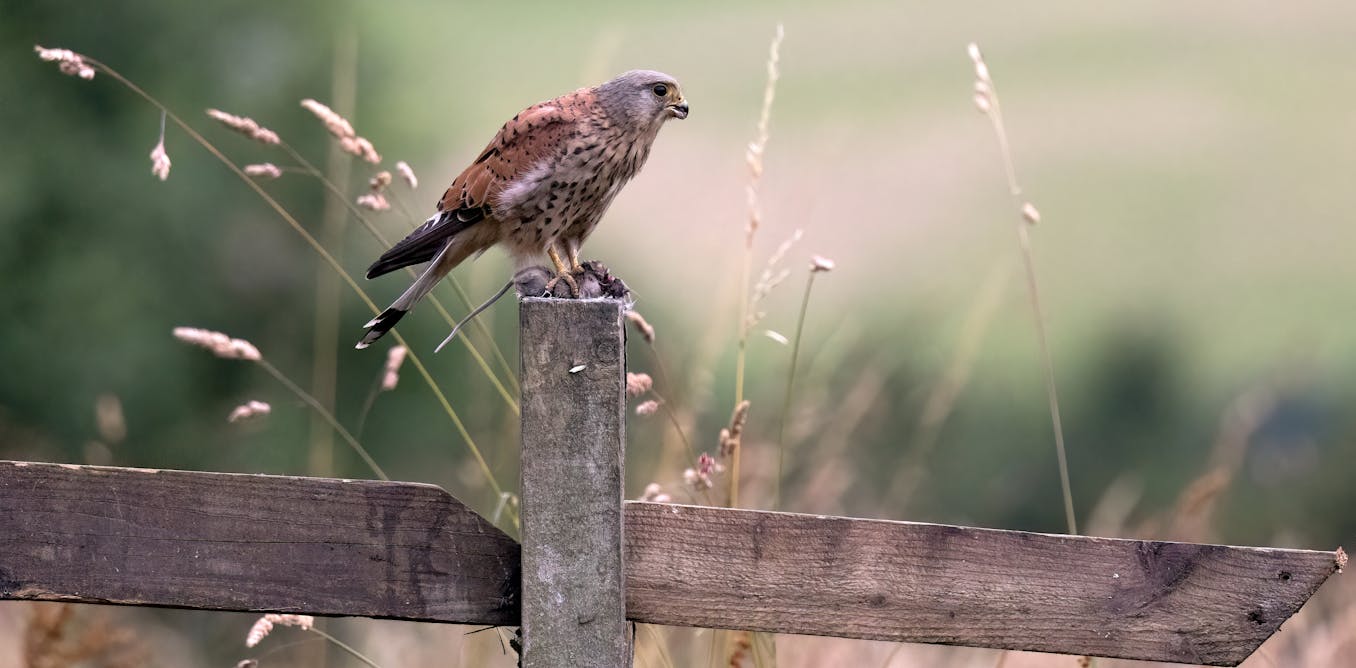 Environment plan for England asks farmers to restore nature – but changes are likely to be superficial
The UK government's environment improvement plan pledges to restore 500,000 hectares (1.2 million acres) of wildlife-rich habitat, create or expand 25 national parks, invest in the recovery of hedgehogs and red squirrels, tackle rising sewage pollution and improve access to green spaces in England over the next five years.
Since 69% of land in England is farmed, much of the plan's success in improving nature will hinge on its reform of the country's agricultural sector. Farming is implicated in the extinction risk of 86% of threatened species globally, and accounts for roughly one-third of all greenhouse gas emissions driving climate change, not to mention soil erosion and river pollution.
The government has described the plan as an "ambitious road map" to a cleaner, greener country. Some of the targets certainly are ambitious. For example, the plan aims to bring 40% of farmland soils into sustainable management by 2028.
This would be a monumental shift in how soil is cared for in England. Intensive agriculture has slashed the amount of carbon soils store by 60% and put 6 million hectares across England and Wales at risk of erosion or compaction, costing an estimated £1.2 billion a year.
But the plan doesn't actually explain how sustainable management will be expanded. The only action proposed is to create a "baseline map" of soil health in England by 2028.
The plan also aims for 65%-80% of landowners and farmers to adopt nature-friendly farming by 2030. "Nature-friendly farming" is not defined, nor is it based on any internationally recognised principles, making it impossible to assess the government's progress.
The plan only aims for this to be adopted on 10%-15% of farmers' land too, which would amount to a mere 6%–12% of England's farmland overall. Research shows that protecting small pockets of land won't benefit biodiversity if the majority of farming in the surrounding landscape is ecologically destructive.
All carrots, no sticks
The main instrument the government has chosen to shake up agriculture is the Sustainable Farming Incentive (SFI) scheme. SFIs are payments to farmers based on actions which benefit the environment. For example, a farmer could receive up to £40 a hectare for their efforts to improve soils on arable fields.
An integrated strategy for converting farmland to more sustainable management would mean increasing the diversity of crops grown, helping healthy soils regenerate and eliminating pesticides, all at the same time. Instead, SFI payments reward farmers for making standalone changes.
This might mean putting out seeds for birds in winter or leaving a grassy strip on an unused section of land to provide habitat for insects, though it could also mean significantly cutting down on pesticides. This system offers flexibility for landowners, but research shows that farmers are more likely to choose environmental improvements which don't require significant changes to how they farm.
This is the fatal flaw in the government's flagship farming reform. Farmers can continue doing things which harm soils and wildlife on the (majority) productive parts of their land while receiving benefits for sprinkling pro-environment measures around the edges.
Wildflower margins which are planted around pesticide-soaked crops under the pretence of supporting pollinators offer a common example. Not only is the continued use of pesticide on the crop harmful in itself, the wildflowers actually accumulate the chemical residue, sometimes in higher concentrations than in the crops themselves. This renders the wildflower pollen harmful, rather than beneficial, to bees, butterflies and other bugs.
The environment improvement plan heavily relies on voluntary participation in lieu of regulation, not only through SFIs but quality assurance schemes such as Red Tractor. For example, fertilisers and slurries (semi-liquid manures) emit ammonia, a greenhouse gas which is bad for human health. Rather than regulate this, the plan favours an "industry led" approach with Red Tractor certifications.
Red Tractor is yet another voluntary scheme, and has been criticised as ineffectual for encouraging improvements to the environment and animal welfare on farms. The plan has only suggested that it will consider regulating dairy and intensive beef farms in the same way that it regulates intensive poultry and pig farms.
Even if regulations were to be expanded, environmental regulators visit farms so rarely and superficially that it might not make a difference. On average, it is estimated that English farms can expect an environmental inspection once every 263 years. Despite being regulated, intensive poultry and pig operations are a major cause of river pollution.
Beyond England's borders
In post-Brexit policy discussions, some landowners and consumers worried that payments for environmental improvements would outweigh income from food production, meaning less homegrown fare. Government discourse has since emphasised that farmers will receive support to deliver on environmental outcomes "alongside" food production. Nothing in the plan ensures this.
Other countries have a food strategy which guides farmers to grow produce necessary for healthy diets and determines how much should be imported or exported. Responsibility for food in England is divided between 16 different departments, with no overarching framework or body.
SFIs and the new plan do very little to stem the environmental consequences of food produced beyond England's borders. The aggregate ammonia emissions from crops and livestock imported into England are significantly higher than those stemming from domestic production.
And despite its favourable growing conditions, the majority of fruit and vegetables eaten in England are imported, contributing to water scarcity and pollution in other countries. Preserving the environment at home while polluting and degrading environments abroad is nonsensical, as all ecosystems are interconnected. But it is also shameful to shift the environmental burden of English diets onto other people.
If the government and citizens are serious about improving the environment, then policies must require that ecological principles are integrated into food production. At present, voluntary measures and weak regulation are all that is offered.