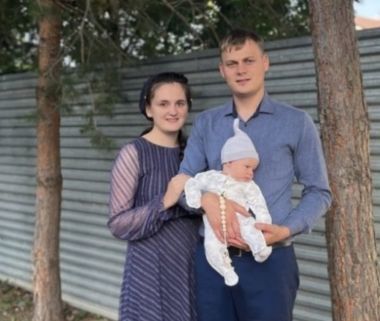 Evangelical Christian imprisoned in Russia for refusing to fight in Ukraine
An evangelical Christian has been imprisoned in Russia because of his refusal to fight in Ukraine on religious grounds. 
Vyacheslav Reznichenko, from Zarubino, eastern Russia, has been sentenced to two years and six months in a penal colony, reports CNE. 
Several attempts to appeal the sentence have been rejected. 
The plight of the married father was shared by the International Union of Evangelical Churches on Telegram. 
In July, another Christian pacifist, Andrey Kapatsyna, was sentenced by a Vladivostok court to two years and 10 months in prison for refusing to fight in Ukraine.
It was reported in June that the Russian Orthodox Church opposes pacifism and regards it as heretical and incompatible with the Church's teachings.
Its position was outlined in documents submitted for a church court hearing in the case of Russian Orthodox priest Fr John Burdin, who criticised the Russian invasion of Ukraine in a sermon and public statement.
In March last year he was arrested, charged and fined by a civil court for "public actions aimed at discrediting the use of the Russian Federation armed forces to defend the interests of the Russian Federation and its citizens".
This year, a church court found against him and he was banned from the priesthood until he publicly repented, which he has refused to do.
"The court saw significant ecclesiological errors in his writings — including a denial of the holiness and saving powers of the Russian Orthodox Church," the judgment said.
"His activities sowed distrust of the Church and were aimed at alienating believers — all of which was regarded by the court as violating the priestly oath."
In August, Forum 18 reported penalties against another Christian pacifist. Musician and teacher Anna Chagina was fined and banned from posting on the internet after she criticised Russia's invasion of Ukraine.
In the same month, 55-year-old priest, Fr Ioann Kurmoyarov, was sentenced to three years in prison and banned him from posting on the internet for two years.
In March, 63-year-old Christian, Mikhail Simonov, was sentenced to seven years in prison for publishing anti-war comments on the Russian social network VKontakte. His appeal was rejected and Forum 18 reported that by early September he was on his way to a labour camp.
Republished from Christian Today UK.