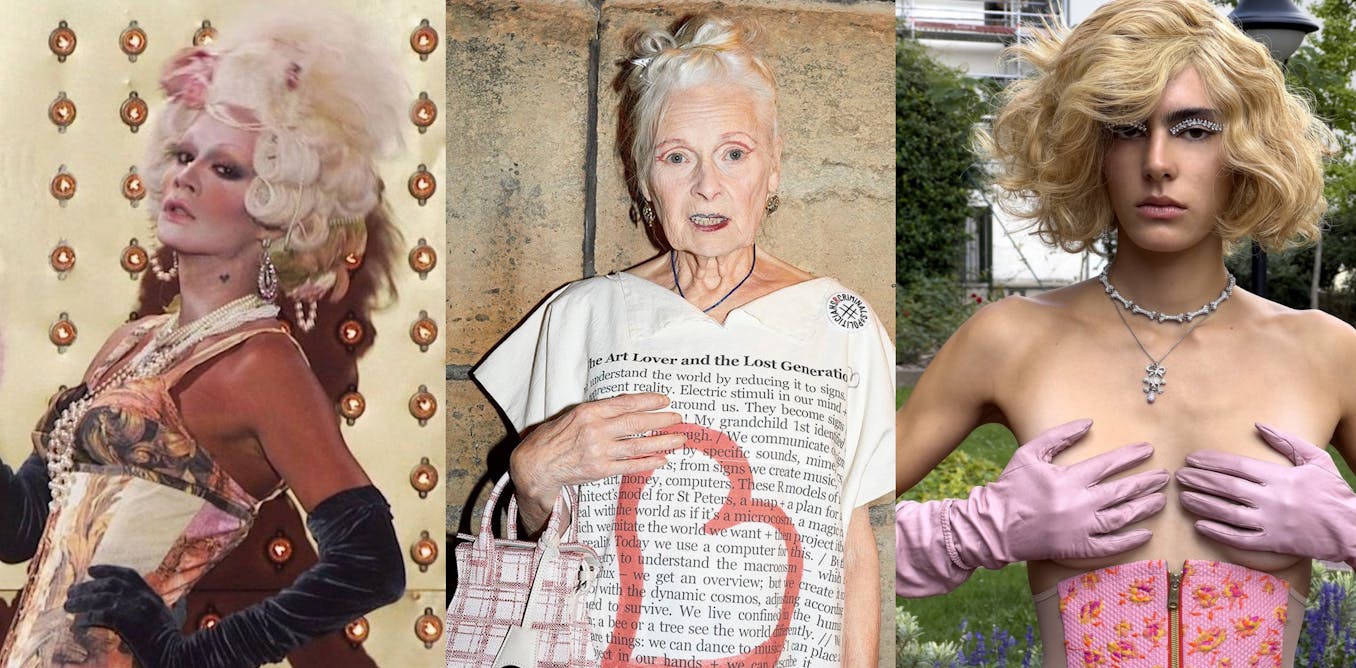 Fashion, sex and drag: Vivienne Westwood's queer legacy
I was 13 years old when I discovered Vivienne Westwood. The music came first. From the moment I heard the album Never Mind the Bollocks, Here's the Sex Pistols, I was hooked. Within a few months, I was spending my pocket money on a knock-off Westwood design – tartan bondage trousers. My punk look was completed with ripped t-shirts held together with safety pins, a denim jacket customised with bullet holes in the back, and Doc Martens boots.
It's only recently that I've come to understand that what appealed to me most about the punk aesthetic, pioneered by Vivienne Westwood in the mid-to-late 1970s, was its queerness. From the start of her career in design, Westwood's clothes challenged and undermined gender norms, and it's probably for that reason why she is so revered by the LGBTQI+ community.
Westwood began selling clothes at a shop at 430 Kings Road, Chelsea with her then boyfriend, Malcolm McLaren in 1971. The third and most radical incarnation of that shop SEX, sold rubber and leather fetish gear alongside designs by McLaren and Westwood, including the original bondage trousers that I coveted as a teen.
This is where the queer, S&M aesthetic of punk came from.
Queer aesthetic
Queerness as a theoretical and cultural idea was brought into prominence in the 1980s by the French philosopher Michel Foucault. Simply put, queer theory is study of everything that sit outside of the heteronormative.
Heteronormativity places heterosexual desire as the normative (how things ought to be) system of society. This includes the belief in binary gender, and presupposes defined male/female, masculine/feminine behaviour. Anything else, including sexual behaviours perceived as deviant such as sadomasochism, is aberrant (queer).
It was at the shop SEX in 1975 that McLaren and Westwood first sold the iconic gay cowboys T-shirt. A subject chosen more for its shock value than for reason of allyship. It features a design appropriated from American artist Jim French with two men in cowboy clothes without pants, penises almost touching, while one arranges the handkerchief around the neck of his friend.
The text below: "Ello Joe. Been anywhere lately? Nah, it's all played aht, Bill. Gettin' too straight", ironically, mourns the loss of queer spaces. It's prophetic of the once hidden world of gay subculture that is now exposed to the mainstream.
That t-shirt led to prosecutions for indecency for shop assistant, Alan Jones, and for Westwood and McLaren too. It became a staple of punk uniform worn by Siouxsie Sioux, Sid Vicious, and many others besides.
Challenging the gender binary
Queerness and the challenge to binary gender in fashion have been a part of Westwood's designs since she moved her clothes from the high street to the high fashion runway.
For her Pirate collection in 1981 the designer let the models, male and female, choose the clothes themselves regardless of gender. It was a style sold at Worlds End the final incarnation of 430 Kings Road, remodelled to suggest a pirate ship. The shop remains a mecca for Westwood devotees today. The pirate look was worn by Malcolm McLaren's music protégés Adam Ant, Boy George, and Bow Wow Wow: New Romantic dandies who played with gender and androgyny.
Vivienne Westwood runways featured men in skirts and dresses long before, Harry Styles, Sam Smith, and Jaden Smith were wearing non-binary fashions to red-carpet events.
The recent fashion for men wearing pearl necklaces and pearl drop earrings was equally foreshadowed by Westwood who had men in pearls on the runway from the early 1990s. Westwood pearl jewellery has never been more in fashion. Timothée Chalamet cemented his "pretty boy" reputation when he wore a Vivienne Westwood pearl choker to the premier of the film Bones and All in Rome last year.
Westwood and drag culture
When Westwood died on 29 December 2022, tributes flowed from the fashion and entertainment community. Among them were many of the stars of the global reality television hit RuPaul's Drag Race. This year, RuPaul's Drag Race launched its 15th season in North America. Its move to MTV (remaining on Stan in Australia) has secured a place in the mainstream for the subversive queer culture of drag.
British drag star Bimini Bom Boulash took to Instagram, posting:
Heartbroken at the news. If only the world was more like Vivienne Westwood. Rest in Power Vivienne. My Inspiration forever.
Winner of the first season of RuPaul's Drag Race UK, The Vivienne, who takes her name from the designer, posted:
Vivienne Westwood is the woman that showed me I could do anything, I could wear what I wanted, she was an ICON and I lived my life through hers in some sort of way.
Raja Gemini who took the Crown of season three of Drag Race is widely regarded as first and foremost among the fashion queens. Her runway look of episode five: a high-piled powered wig, corset, and trousers printed with pastel forms reminiscent of French Rococo paintings strongly recalls Westwood's 1991 Portrait collection. If you listen carefully, you can even hear the show's judge Michelle Visage say "there's Westwood" as Raja walks out on the mainstage.
Under the creative direction of Westwood's husband, Andreas Kronthaler, the brand has become a leader in non-binary fashion. Skirts, dresses, and heels are worn by models regardless of their gender identity.
It is under Kronthaler that the former contests and noted fashion queens of Drag Race have become part of the Westwood family. Drag queen Milk was photographed for a Westwood SS2018 campaign by Jurgen Teller to coincide with the opening of a new boutique in New York City in 2018. Queens Miss Fame and Symone sat front row at Vivienne Westwood shows for Paris Fashion Week dressed in the designer's clothes in 2021.
Now, some 30 years after I first found out about her work, I'm lucky enough own Westwood clothes. Wearing one of her kilts, a billowing toga shirt, wonky "alcoholic trousers", and pirate boots raises eyebrows and admiration in equal measure. Westwood once said: "you have a more interesting life if you wear impressive clothes".
I can attest to that. Her clothes make me feel more authentically myself as a queer person.