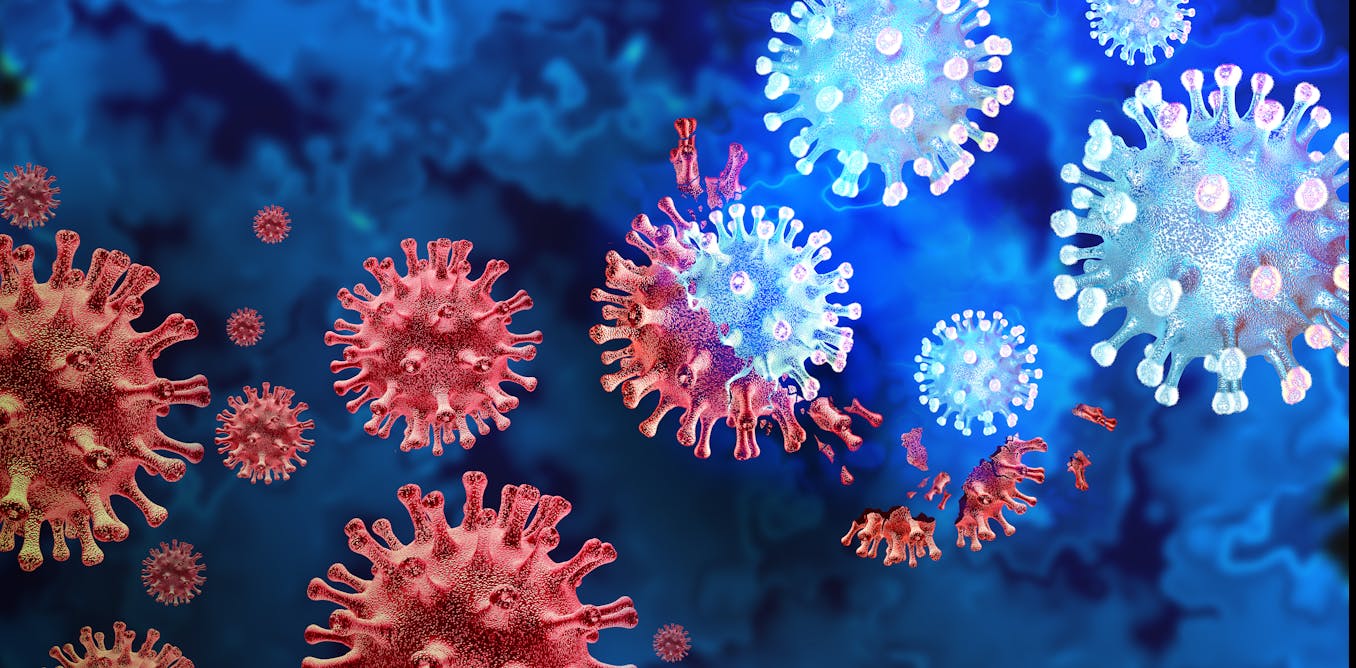 FDA advisory committee votes unanimously in favor of a one-shot COVID-19 vaccine approach – 5 questions answered
The U.S. Food and Drug Administration's key science advisory panel, the Vaccines and Related Biological Products Advisory Committee, met on Jan. 26, 2023, to chart a path forward for COVID-19 vaccine policy. During the all-day meeting, the 21-member committee discussed an array of weighty issues including the efficacy of existing vaccines, the composition of future vaccine strains and the need to match them to the circulating variants of SARS-CoV-2, the possibility of moving to an annual-shot model, the potential seasonality of the virus and much more.
But the key question at hand, and the only formal question that was voted on, following a proposal from the FDA earlier in the week, had to do with how to simplify the path to getting people vaccinated.
The Conversation asked immunologist Matthew Woodruff, who has been on the front lines of studying immune responses to COVID-19 since the early days of the pandemic, to walk us through the big questions of the day and what they mean for future COVID-19 vaccine strategies.
What exactly did the advisory committee vote on?
The question put before the committee for a vote was whether to move to one COVID-19 vaccine consisting of a single composition for all people – whether currently vaccinated or not – and away from the current model that includes one formulation given as a primary series and a separate formulation administered as a booster. Importantly, approved formulations could come from any number of vaccine manufacturers, not just those that have currently authorized vaccines.
The U.S. Centers for Disease Control and Prevention currently requires that the primary series of shots, or the first two doses of the vaccine that a patient receives, consist of the first generation of vaccine against the original strain of SARS-CoV-2, known as the "Wuhan" strain of the virus. These shots are given weeks apart, followed months later by a booster shot that was updated in August 2022 to contain a bivalent formulation of vaccine that targets both the original viral strain and newer subvariants of omicron.
The committee's endorsement simplifies those recommendations. In a 21-to-0 vote, the advisory board recommended fully replacing, or "harmonizing," the original formulation of the vaccine with a single shot that would consist of – at least for now – the current bivalent vaccine.
In doing so, it has signaled its belief that these new second-generation vaccines are an upgrade over their predecessors in protecting from infection and severe illness at this point in the pandemic.
Will the single shot remain a mixed-strain, or bivalent, vaccine?
For now, the single shot will be bivalent. But this may not always be the case.
There was a general agreement that the current bivalent shot is preferable to the original vaccine targeted at the Wuhan strain of the virus by itself. But committee members debated whether that original Wuhan vaccine strain should continue to be a part of updated vaccine formulations.
There is no current data comparing a monovalent, or single-strain, vaccine that targets omicron and its subvariants against the current bivalent shot. As a result, it's unclear how a monovalent shot against recent omicron subvariants would perform in comparison to the bivalent version.
What is immune imprinting, and how does it apply here?
A main reason for the debate over monovalent versus bivalent – or, for that matter, trivalent or tetravalent – vaccines is a lack of understanding around how best to sharpen an immune response to a slightly altered threat. This has long been a debate surrounding annual influenza vaccination strategies, where studies have shown that the immune "memory" that forms in response to a prior vaccine can actively repress a robust immune response to the next.
This phenomenon of immune imprinting, originally coined in 1960 as "original antigenic sin," has been a topic of debate both within the advisory committee and within the broader immunological community.
Although innovative strategies are being developed to overcome potential problems with routinely updated vaccines, they are not yet ready to be tested in humans. In the meantime, it is unclear how bivalent versus monovalent vaccine choices might alter this phenomenon, and it is very clear that more study is needed.
Is the committee considering only mRNA vaccines?
While a significant portion of the discussion focused on the mRNA vaccine platform used by both Pfizer and Moderna, several committee members emphasized the need for new technologies that could provide broader immunological protection. Dr. Pamela McInnes, a now-retired longtime deputy director of the National Center for Advancing Translational Sciences, highlighted this point, saying, "I would make a plea for ongoing research on broader protection, maybe different platforms, maybe a different approach."
A good deal of attention was also directed toward Novavax, a protein-based formulation that relies on a more traditional approach to vaccination than the mRNA-based vaccines. Although the Novavax vaccine has been authorized by the FDA for use since July 2022, it has received much less national attention – largely because of its latecomer status. Nonetheless, Novavax has boasted efficacy rates on par with its mRNA cousins, with good safety profiles and less demanding long-term storage requirements than the mRNA shots.
By simplifying the vaccine schedule to include only a single vaccine formulation, the committee reasoned, it might be easier for competing vaccination platforms to break into the market. In other words, newer vaccine contenders would not have to rely on patients' having already received their primary series before using their products. Companies seemed ready to take advantage of that future flexibility, with researchers from Pfizer, Moderna and Novavax all revealing their companies' exploration of a hybrid COVID-19 and flu shot at various stages of clinical trials and testing.
Would the single shot resemble flu vaccine development?
Not necessarily. Currently, the influenza vaccine is decided by committee through the World Health Organization. Because of its seasonal nature, the strains to be included in each season's flu vaccine for the Southern and Northern hemispheres, with their opposing winters, are selected independently. The Northern Hemisphere's selection is made in February for the following winter based on a vast network of flu monitoring stations around the globe.
Although there was broad consensus among panelists that the shots against SARS-CoV-2 should be updated regularly to more closely match the most current circulating viral strain, there was less agreement on how frequent that would be.
For instance, rapidly mutating strains of the virus in both summer and winter surges might necessitate two updated shots a year instead of just one. As Dr. Eric Rubin, an infectious disease expert from the Harvard T.H. Chan School of Public Health, noted, "It's hard to say that it's going to be annual at this point."