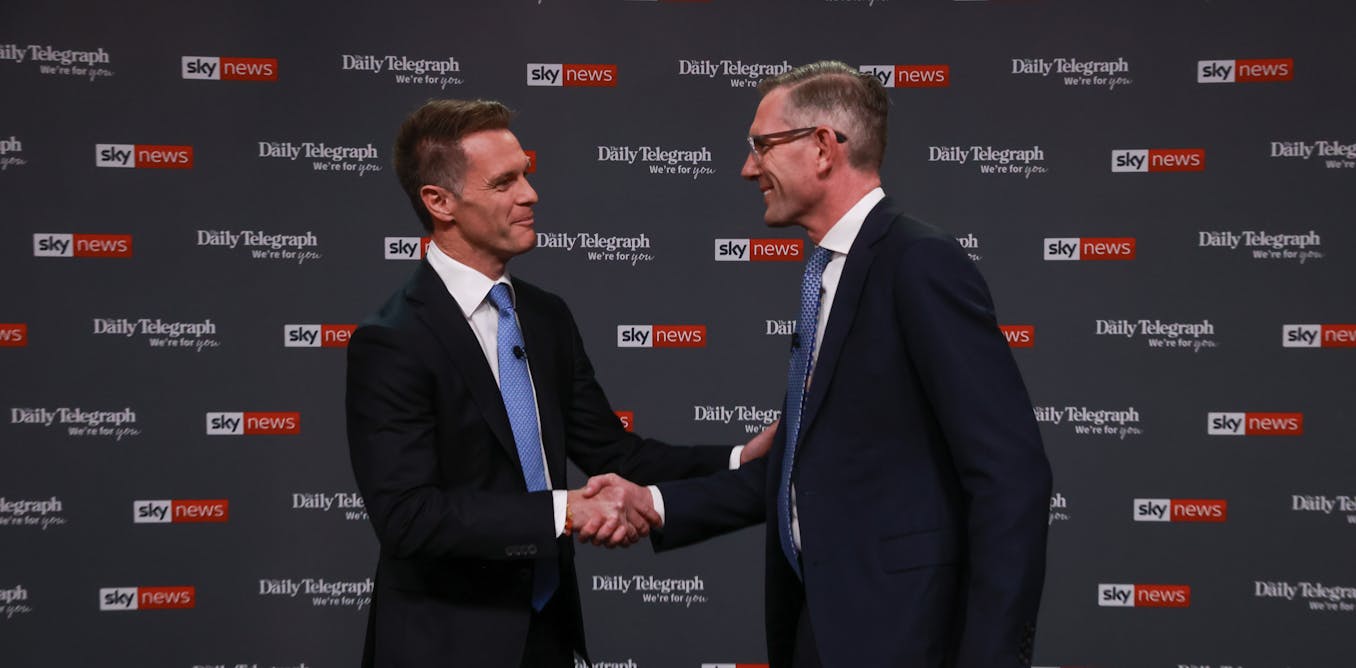 Final NSW Newspoll gives Labor a thumping lead; federal Labor's lead widens
The New South Wales state election is today. Polls close at 6pm AEDT. Votes cast on election day should be counted quickly, but large pre-poll booths are likely to take until late at night or next week.
ABC elections analyst Antony Green said that as of Friday, 28% of enrolled voters had voted early in-person and a further 10% had applied for a postal vote. All election day votes, some postals and some early votes will be counted by the 10:30pm close of counting on Saturday night. Counting will not resume until Monday.
The final NSW Newspoll, conducted March 18-23 from a sample of 1,205, gave Labor a 54.5-45.5 lead, a 2.5-point gain for Labor since the late February NSW Newspoll. Primary votes were 38% Labor (up two), 35% Coalition (down two), 11% Greens (down one) and 16% for all Others (up one).
Liberal Premier Dominic Perrottet's net approval slumped 12 points to -3, while Labor leader Chris Minns' net approval improved six points to +14. Minns led Perrottet as better premier by 41-39, reversing a Perrottet lead of 43-33 in February. Newspoll figures are from The Poll Bludger.
In Monday's Resolve poll and two polls from Freshwater and Morgan (below), Labor had between 52.5% and 53.5% on a two party count – this would probably not be enough for a Labor majority in the lower house. But analyst Kevin Bonham's model gives Labor just enough for a one-seat majority (47 of the 93 seats) if Newspoll is right.
---


Read more:
NSW election preview: Labor likely to fall short of a majority, which could result in hung parliament


---
Cost of living has been rated the most important issue in polls, and The Poll Bludger reported that last Monday's NSW Resolve poll gave Labor a 35-29 lead over the Coalition on this issue.
Under optional preferential voting that is used in NSW, a single "1" vote is formal. The Liberals are urging people to just vote 1 Liberal. I am sceptical of this strategy, because those who listen to this message are more likely to be voters for other right-wing minor parties than the Greens, and at the 2019 election the exhaust rate among right-wing minors was far higher than for the Greens.
NSW Freshwater poll: Labor retains 53-47 lead
The Poll Bludger reported that a NSW Freshwater poll for The Financial Review, conducted March 19-21 from a sample of 1,100, gave Labor a 53-47 lead, unchanged since late February. Primary votes were 37% Coalition (steady), 37% Labor (down two), 10% Greens (steady) and 16% for all Others (up two). Perrottet's lead as preferred premier narrowed from 46-34 to 45-40.
NSW Morgan poll: Labor had 53.5-46.5 lead in mid-March
A NSW Morgan SMS poll, conducted March 10-14 from a sample of 1,013, gave Labor a 53.5-46.5 lead, a one-point gain for Labor since late February. Primary votes were 34% Coalition (up 1.5), 34% Labor (up 0.5), 13% Greens (up two), 2% One Nation (down 6.5) and 17% for all Others (up 2.5).
Previous Morgan NSW polls had assumed that One Nation would contest all 93 lower house seats, and so their slump in this poll is explained by them only contesting 17 seats.
In forced choice questions, Minns' lead over Perrottet as better premier narrowed from 54-46 to 52-48, while Perrottet had a 51-49 disapproval rating, a reversal of a 53-47 approval in late February.
Federal Resolve poll: Labor increases massive lead
A federal Resolve poll for Nine newspapers, conducted March 12-16 from a sample of 1,600, gave Labor 39% of the primary vote (down one since February), the Coalition 30% (down one), the Greens 13% (up three), One Nation 5% (steady), the UAP 1% (steady), independents 9% (steady) and others 2% (steady).
No two party estimate was provided, but applying 2022 election preference flows to this poll gives Labor about a 59-41 lead, a one-point gain for Labor since February. Resolve has been the most pro-Labor pollster since the 2022 election.
By 55-31, voters gave Anthony Albanese a good rating (56-30 in February). Peter Dutton's ratings were 43-32 poor (44-29 previously). Albanese led Dutton as preferred PM by 51-22 (55-23 previously).
In the wake of the AUKUS deal, Labor gained a 35-32 lead over the Liberals on national security, after the Liberals led by 35-32 in February. But Labor's lead on economic management slid to 33-32 from 36-32, and their lead on keeping the cost of living low dropped to 29-22 from 33-24.
Asked about uses of super other than for retirement, 68% supported life-saving medical treatment, 67% palliative care and 58% serious financial distress, but only 37% a deposit for a first home. By 45-24, voters agreed with defining super as for retirement, although it could be accessed in extreme circumstances.
Labor also extends lead in federal Essential and Morgan polls
In Essential's two party measure that includes undecided, Labor led by 52-43 in a poll conducted before March 21 from a sample of 1,124; they led by 49-44 two weeks ago. Primary votes were 34% Labor (up two), 31% Coalition (down one), 14% Greens (up two), 5% One Nation (down two), 2% UAP (steady), 9% for all Others (up one) and 5% undecided (down two).
Support for the Indigenous Voice to parliament dropped to 59-41 from 65-35 in February.
On the AUKUS deal, 40% said it would make Australia more secure (down four since November 2022), 39% no difference (steady) and 21% less secure (up five). When told the purchase cost of the nuclear submarines, 26% said they were worth it, 27% would like the subs but didn't think they were worth the money, and 28% did not want the subs.
Morgan's weekly federal poll gave Labor a 58-42 lead (56.5-43.5 last week, 54.5-45.5 two weeks ago). Primary votes were 37.5% Labor, 32% Coalition, 13% Greens and 17.5% for all Others. This poll was conducted March 13-19.