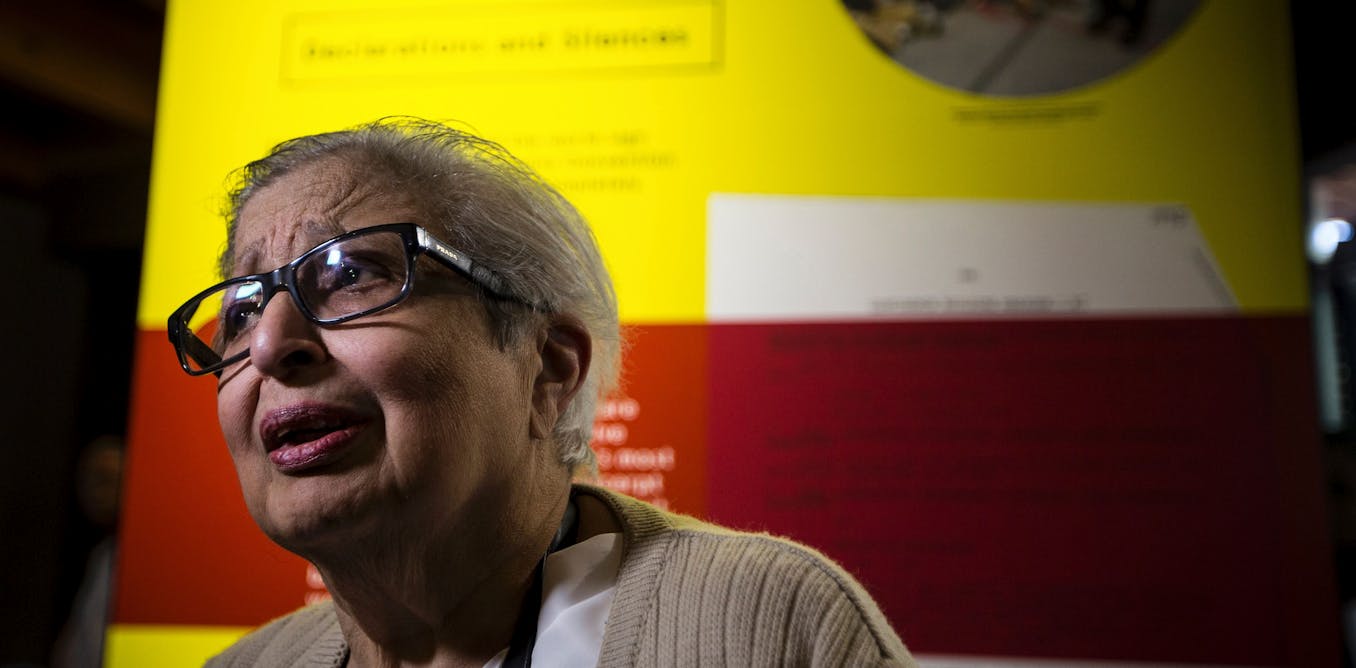 Frene Ginwala remembered: trailblazing feminist and first speaker of South Africa's democratic parliament
Frene Ginwala, feisty feminist, astute political tactician and committed cadre of South Africa's governing party, the African National Congress (ANC), has died at the age of 90. In a country blessed with exceptional leaders, Ginwala must surely count among the best. Typically for her, but unusually for the ANC leadership, she will be laid to rest in a private ceremony. While she was modest about her achievements, she has left an indelible mark on South Africa's constitution and democratic institutions.
Frene Noshir Ginwala was born in 1932 in Johannesburg. Her Parsee grandparents immigrated from Mumbai in India in the 1800s and made a life for the family in Johannesburg. Ginwala left South Africa after high school, to pursue an LLB degree at the University of London. She qualified as a barrister at the Inner Temple. Around this time her parent moved to Lourenço Marques (now Maputo) in Mozambique. She returned to South Africa after graduating and moved to Durban where her sister, a medical doctor, had settled.
Although she supported the ANC, she was not politically active in any significant way until 1960, when the Sharpeville Massacre set off a crisis for the ANC, and the Pan Africanist Congress of Azania, both of which were banned and many of whose members went into exile. Ginwala's family links to east Africa suddenly became a valuable resource, as did her political obscurity.
Life in exile
She was asked by ANC leader Walter Sisulu to go to Mozambique to facilitate the exit of ANC members and supporters into exile. One of those exiles was Oliver Tambo president of the ANC. Ginwala helped him get across the border into Rhodesia (Zimbabwe) and into a safe house. It was the beginning of a long and important comradeship. Ginwala became assistant to Tambo, who went on to lead the exiled ANC for 30 years. She was instrumental in setting up the ANC office in Tanzania.
Ginwala's work in creating a politically effective ANC in exile – arguably the most powerful exiled liberation movement in the world – was invaluable. She loved to point out the ANC had more missions abroad than the apartheid government had embassies.
In the early 1960s, she created a newspaper, (Spearhead), wrote articles for a variety of international media outlets, wrote speeches for Tambo and gave speeches herself. Her time in Tanzania was interrupted when she was suddenly banned herself by the government of Tanzania for her critical commentary, and she left for the UK. President Julius Nyerere lifted her ban in 1967 and asked her to return to Dar es Salaam to establish a new national newspaper, The Standard.
But her independent and forthright views – a hallmark for all of her life – got her into hot water and once again she was banned. This time she returned to the UK, where she registered for a PhD at Oxford University. Her doctorate, awarded in 1976, was a sharp reading of the relationship between class, race and identity among Indian South Africans. She continued to build the ANC's external profile. Her writing on the South African situation was prodigious, well-informed and hard to ignore. She was soon sought after by the United Nations to advise on peace-building globally.
Return from exile
When the ANC was unbanned in 1990, Ginwala returned after an absence of 31 years. She became the first speaker in the National Assembly in 1994, creating the office as a democratic institution and ruling parliament with a firm, authoritative and fair hand for a decade. Later, she was the prime mover behind the formation of the Pan-African Parliament and one of the most prominent supporters of the Jubilee 2000 Campaign, which successfully lobbied for the scrapping of the onerous debt incurred by the world's poorest countries.
Others will write about her many contributions to the ANC and to her status within the liberation movement. My generation of feminists will remember her, above all, for her remarkable championing of the struggle against patriarchy. This began when she was in exile, when she worked with ANC Women's Section to ensure that ANC principles included non-sexism. It was a long and conflictual process, but by the mid-1980s all ANC documents carried the commitment to a "nonracial, nonsexist democracy". This was so much more than a linguistic shift; it enabled feminists within the ANC to demand that the commitment be followed through in programmes and policies.
Ginwala was always somewhat impatient and to the left of the ANC Women's League. She feared that there was a conservative streak in the league that caved in to the patriarchal assumptions of the movement's leaders. She was worried this made it ineffective in pushing for gender equality. She worked from the side – cajoling comrades (ANC activists), and when that did not work badgering them, into action. She set up the ANC's Emancipation Commission in 1991, dedicated to advancing gender equality and combatting sexism in the movement. Although not intended to compete with the Women's League, it did have strategic status that was ensured by placing it under the authority of then-ANC president Tambo. It was a base from which Ginwala could drive the demand for gender equality unconstrained by the Women's League.
During the multiparty negotiations to end apartheid in the 1990s, when it became apparent that gender concerns would sink to the bottom of the ANC's list of priorities, she led the process of forming an independent women's organisation – the Women's National Coalition – that would unite women across political parties and ideological lines. She described it as a "conspiracy of women". It was a remarkable body that coalesced around two key demands: the inclusion of women in all decision-making about the shape of the post-apartheid state and constitution, and an end to violence against women.
Impatience and integrity
Ginwala understood power and politics better than most ANC leaders; her analysis of the balance of forces on any given issue was rapier-like. She knew that the transition process offered an opening to insert feminist principles into the new state, but understood that the window of time was fleeting. This made her impatient at times with other feminist leaders who wanted to build the Women's National Coalition from the bottom up.
She was clear in her views and at times obstinate, but there was never any doubt about her integrity. Inevitably, there were bitter struggles over the pace of development of the flagship document of the Women's National Coalition, the Charter for Women's Equality. Ginwala was concerned that the slow consultative processes preferred by the leaders of the charter process, Pregs Govender and Debbie Budlender, would mean the charter would not be ready to be included alongside the Bill of Rights in the constitution, and that the moment for greatest impact would lapse without any long-term gains.
Although the charter was only adopted after the main constitutional debates were concluded, the Women's National Coalition ensured that gender equality was firmly embedded in the country's final 1996 constitution. The contestations that took place in the drafting of the charter about the meaning of gender equality offer a rich and long-lasting archival resource for political activists as well as researchers.
Ginwala was passionately concerned about economic transformation and set up numerous study sessions on issues such as unpaid care. She wrote a hard-hitting challenge to the 50 male economists who crafted the ANC's key economic policies as it took power. In conversations and seminars among feminists, she was insistent that political representation was only a lever for feminism, not its end goal. As Speaker of the National Assembly, she took responsibility for establishing training programmes for women parliamentarians, drawing on her vast global network for funding and educational materials.
Hamba kahle, lala ngoxolo Comrade Frene. (Go well, rest in peace.)
When great souls die,
the air around us becomes
light, rare, sterile.
We breathe, briefly.
Our eyes, briefly,
see with a hurtful clarity. (Maya Angelou)