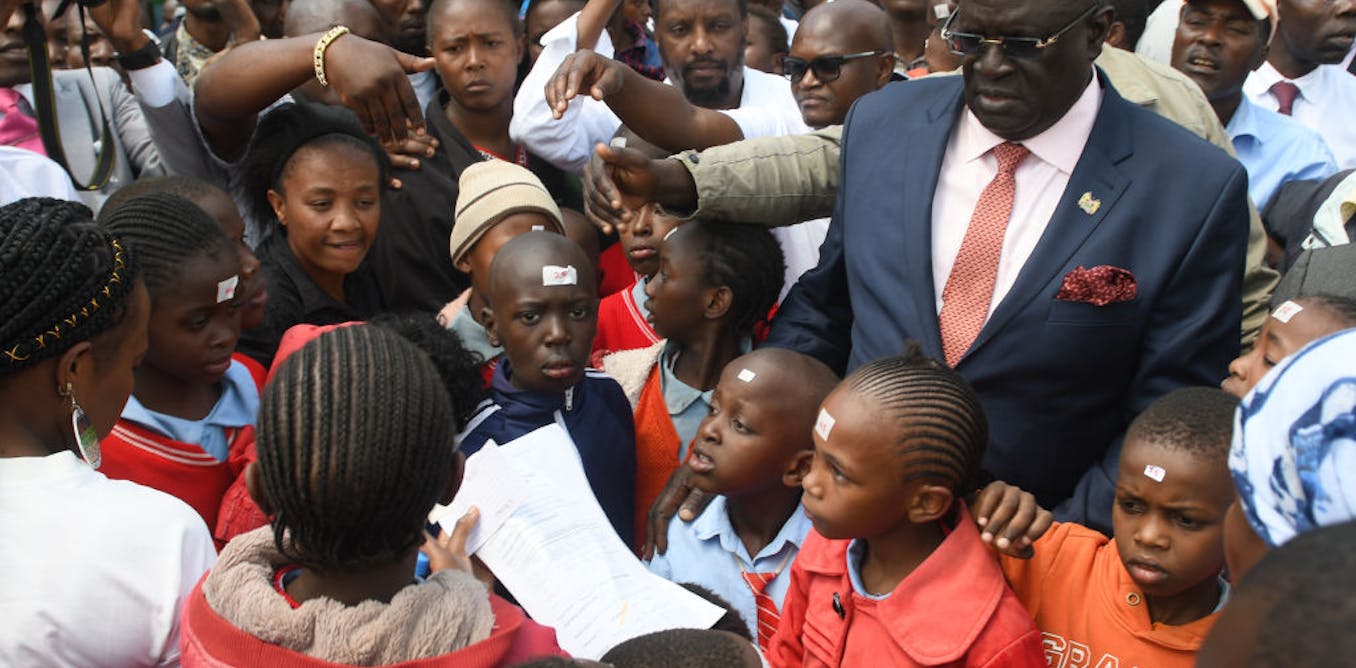 George Magoha was a force for better education in Kenya. But he had his flaws
The death of former Kenyan education minister Professor George Magoha, 71, closes a vibrant chapter in education policymaking and leadership. It was a chapter marked by unmatched commitment to educational reforms, but equally coloured by controversy and missteps.
Magoha was the cabinet secretary for education from 2019 to 2022. He also served as the chairman of the Kenya National Examinations Council from 2016 to 2019.
He was forceful and uncompromising, both under President Uhuru Kenyatta and during the transition to William Ruto.
His impact is unmistakable in higher education, basic education, and in national examinations in Kenya.
For example, Magoha captured the public imagination when he took over the helm of the Kenya National Examination Council in 2016. This followed massive examination fraud. Sophisticated syndicates involving examination officials, school heads and teachers had taken over the conduct of examinations. This had led to massive exam leakages, to the detriment of disadvantaged schools and students.
Magoha replaced the top officials of the council, and ensured their acolytes in the field and schools were dismissed. He and his diverse team visited examination centres on inspection and invigilation sessions, often excluding council officials. At the end of his three-year tenure the examination cartels had been vanquished and exam credibility restored.
However, Magoha's hands-on management style, while laudable, veered into micromanagement. This left many field education officers hamstrung in the execution of their duties. Rather than focus on policy initiatives and oversight, the purview of cabinet secretaries, his visit to schools on inspection and implementation tours left field officers with little to do.
In addition, he attempted to micromanage the University of Nairobi by usurping the role of the university council in reforms and appointments. His efforts were only thwarted by the judiciary following a mutual settlement.
Magoha's public service embodied contradictions. He showed Kenyans what commitment to educational leadership was. And what it was not.
University of Nairobi
Magoha's long career in education included teaching at the University of Nairobi's Medical School. Trained in Nigeria, Ghana, Ireland and the UK, he rose rapidly through the ranks from an assistant lecturer to professor. He held a number of administrative appointments. These included chair of the surgery department, dean of the school of medicine, principal of the college of health sciences, deputy vice-chancellor of finance and administration (2002-2005), and finally, vice-chancellor from 2005 to 2015.
Internal efficiency was his mantra. As the vice-chancellor, he transformed the institution from an inefficient, fully state-funded university to an efficient state-owned university largely funded by private sources.
When he took over as the deputy vice-chancellor (finance and administration) and as vice-chancellor, the university was in a financial crisis. State grants had continued to decline even as student enrolment increased. At the same time income-generating activities remained weak.
He oversaw the growth of private revenues and the creation of the University of Nairobi Enterprise and Services to manage all income-generating activities.
By 2003 the highly successful self-sponsored programme had 22,000 students and generated Ksh. 3 billion (US$130 million).
His efficiency-oriented management style saw him introduce performance targets for both teaching and non-teaching staff. Prior to this staff had worked without performance contracts and the attendant evaluations. As a vice-chancellor he introduced a system of contract renewal based on performance, the right-sizing of units (departmental mergers and letting go of redundant staff) and the rapid result initiatives (where services were delivered at the agreed timeline).
He was also deeply concerned by the rising tide of student strikes. To govern student affairs, he devised a consultative leadership style under which student leaders had direct access to his office. He invested in a system of direct consultation with students to discuss issues of immediate concern. As a result the university experienced the lowest levels of student disruptions during the 10 years of his leadership.
Overseeing change
Magoha oversaw the implementation of Kenya's new competence-based curriculum learning in 2017. In the midst of criticism and concerns, he was unyielding as its chief advocate, declaring the new system was there to stay.
His messianic approach saw him travel to schools to inspect the construction of facilities to show progress. It also included addressing stakeholders to soften resistance.
Magoha will also be remembered for efficiently spearheading school reopening and reforms amid a devastating COVID-19 pandemic. Almost one year after closure, he ordered the reopening of schools on the recommendation of a task force he had established. He personally supervised their reopening despite protests and concern. He never second guessed his decision, stating:
We are confident that we will remain on the right trajectory to finding the winning formula that will ensure our learning institutions are safe for learners and teachers.
Achilles heel
Notwithstanding his successes, Magoha had vulnerabilities. His extensive commercialisation of the University of Nairobi elicited questions about the quality of academic learning in self-sponsored programmes.
Early 2016, the state moved to shut down the programmes and abolish branch campuses in the university and in all public universities.
Magoha also lacked the moderate temperament required for high profile public office. In a fit of anger he publicly humiliated a county director of education, calling him a "fool" and kicking him out of his entourage.
This resulted in his being stripped of his human resource powers by the public service commission.