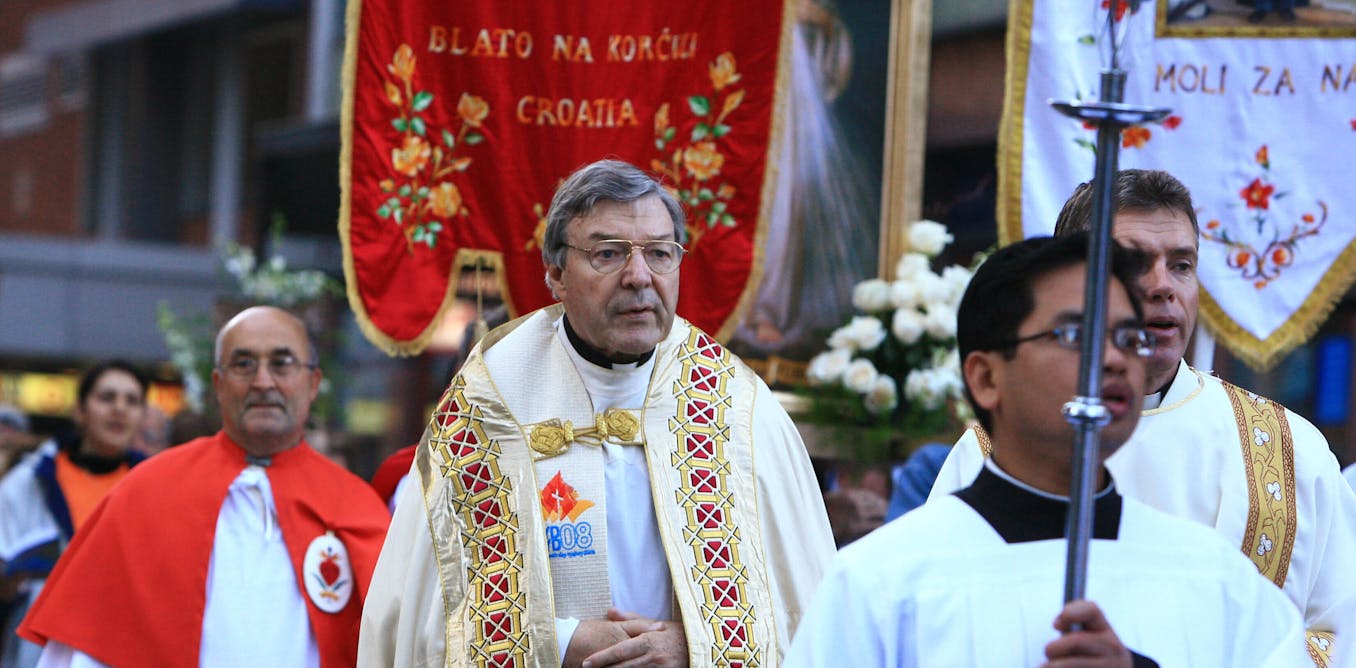 George Pell: a 'political bruiser' whose church legacy will be overshadowed by child abuse allegations
Former senior Vatican figure George Pell has died in Rome from complications following hip surgery. He was 81.
Pell, often described as a conservative Catholic, was jailed for 13 months for child sexual abuse in Australia in 2019 but maintained his innocence and was acquitted the following year.
Once a top official in charge of reforming the Vatican finances, and also Australia's highest-ranked Catholic figure, Pell leaves behind a complex legacy.
His death will be sad for the Catholics who held him in high regard but less so for the many critics he attracted in Australia and elsewhere over the course of his career.
It's hard to believe he will not be remembered most vividly for the trial in 2019 and 2020, when he was accused and then convicted of several counts of sexual abuse of children within the St Patrick's Cathedral complex itself. His conviction was later overturned.
---


Read more:
How George Pell won in the High Court on a legal technicality


---
Heavily criticised
Though his conviction was overturned by the High Court, there are many in Australian society who still felt Pell didn't do enough when he was Archbishop of Melbourne and Sydney to act against abuse by priests in the dioceses he controlled.
He was heavily criticised by the Royal Commission into Institutional Responses to Child Sexual Abuse. When its report was released after Pell's conviction was quashed in 2020, it condemned him for his failures to take action against abusive priests – particularly against serial paedophile priest Gerald Ridsdale.
One thing I think Pell's own court case highlighted is a particular absurdity about legal reporting in Australia, in that everyone outside Australia knew he had been convicted but no one in Australia could report it.
That's part of his legacy; this case exposed the difficulty in legal reporting. It's actually quite important.
A political bruiser
Pell was, without a doubt, the most powerful Australian ever to rise through the ranks of the Catholic church. He put Australia on the map in the Vatican in a way it had not been at any other time in history.
It's testament to how well he was regarded as an administrator in the church that even though he was one of the most staunch conservatives of his generation, the comparatively liberal Pope Francis still turned to him to ask him to regain control of Vatican finances. In other words, his talents were recognised even by liberals within the church.
He was an outsider to the nexus of Italian cardinals who usually controlled that aspect of Vatican activity.
When you talk to people who knew him, they say that in private Pell could be quite charming. But his public personality was as a political bruiser who was simply able to sweep aside opposition, which is what allowed him to ascend the hierarchy so quickly.
He was an ideological fellow traveller with Pope Benedict in many ways, but their style and personality couldn't have been more different. Benedict was the softly spoken professor type, whereas Pell learned how to do politics in the boxing ring and on the footy field. That shaped his response to any given problem.
Before and after the court cases
Pell came from Ballarat, and had, in many ways, a difficult childhood where he wasn't always physically well.
But he came through it and channelled a lot of his energy into physical pursuits. He signed for Richmond Football Club in 1959 and was on the verge of becoming a professional player. Yet he decided instead to give it all up to go into the seminary. I don't think anyone but he could explain exactly why he made that choice.
His talent to cut to the heart of the problem and impose his solution is what got him noticed by his superiors in Australia and the Vatican and helped his rise though the ranks.
After the court case, Pell quietly returned to Rome, where he has been living in semi-retirement since. He's only made a handful of public statements and he also published some writing he did during his time in prison.
In Easter last year he urged the Vatican to intervene to stop German priests who were advocating that homosexuality might be OK.
All in all, Pell had an important impact on making Australia central to the church but that will be overshadowed by the accusation he didn't do enough to stop abuse by priests and by his own court cases.
This period will no doubt be triggering for survivors and it's important to remember that. Many adults in the Catholic church and other institutions failed children in a lot of ways and it's important we remember survivors of abuse and the profound effect public discussion of this case will have on them.
---


Read more:
Why have media outlets been fined more than $1 million for their Pell reporting?


---