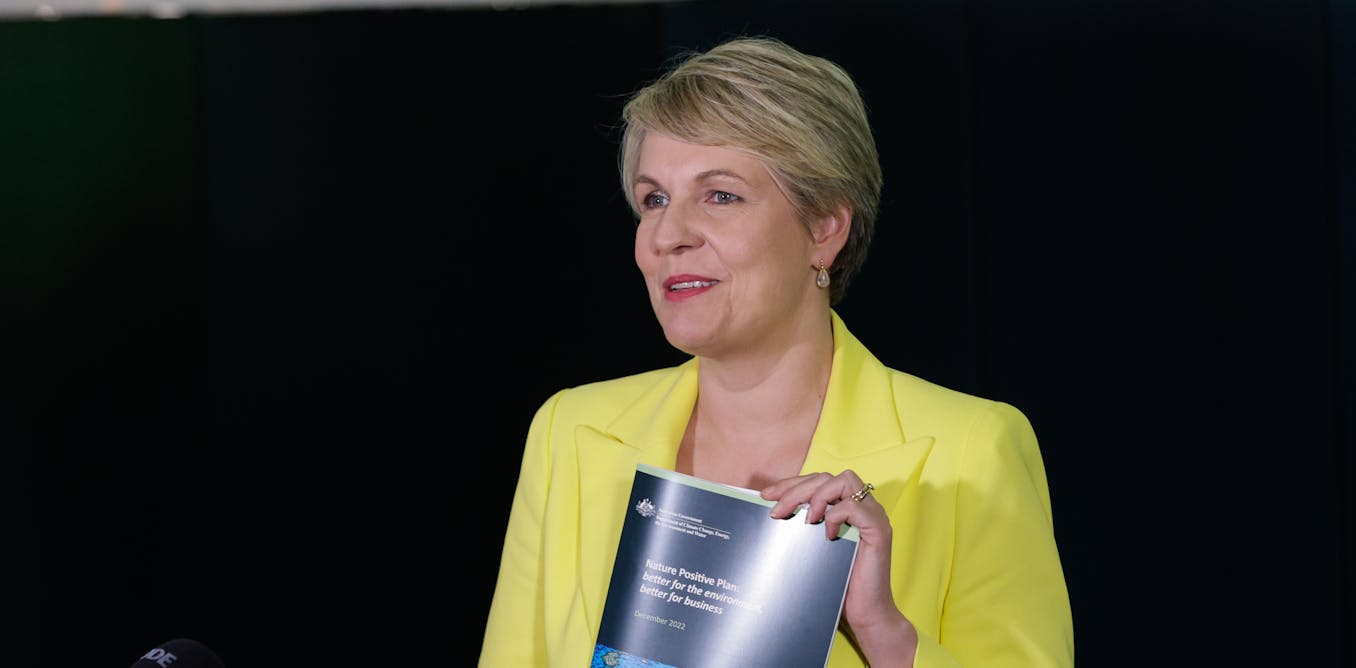 Get the basics right for National Environmental Standards to ensure truly sustainable development
Federal Treasurer Jim Chalmers has attracted controversy by proposing to update 30-year-old superannuation laws with a definition of the purpose of superannuation as being to fund a dignified retirement. There is a clear lesson here for other reforms to make policy objectives clear, even when they seem obvious. One important example is Environment Minister Tanya Plibersek's Nature Positive Plan.
Plibersek's department began consulting last week on new National Environmental Standards. She will table these later in the year, along with a bill to replace Australia's most significant environmental law, the Environment Protection and Biodiversity Conservation (EPBC) Act.
The standards will be the "beating heart" of the reforms. They will set out in some detail just what has to be protected and the circumstances in which development can be approved. It is essential these standards rest on solid foundations, including a clear statement of purpose.
You may be surprised to hear mandatory standards are new territory for environmental laws regulating development. Existing federal and state laws are mostly built around regulatory process and ministerial discretion. Typically, they tell ministers to consider ill-defined principles like "ecologically sustainable development", but lack any real "bottom line".
This leads to "black box" decision-making, in which decisions are unpredictable beforehand and opaque afterwards. This lack of transparency does little for the environment, which continues to deteriorate due to increasing pressures from climate change, habitat loss, invasive species, pollution and resource extraction.
---


Read more:
Our laws fail nature. The government's plan to overhaul them looks good, but crucial detail is yet to come


---
Tough calls ahead
Plibersek faces some tough calls in developing the standards. If strong and clear, they will protect nature and make it harder to get developments approved. But if the standards lack a clear statement of purpose and carry over rubbery phrases and weak offset requirements, then it will be business as usual, freshly wrapped.
For these new standards, we must get the basics right. One basic is to gather enough environmental information to make properly informed decisions.
The government is acting on this need with its plan to set up an independent environment protection agency (EPA), including a dedicated data division. However, it has yet to put serious money on the table. Making up for lost decades of patchy data gathering will be expensive and time-consuming.
---


Read more:
'Complete elation' greeted Plibersek's big plans to protect nature – but hurdles litter the path


---
Lack of clarity makes for ineffective law
Another one of the basics is to properly define ecologically sustainable development (ESD) as the foundation of environmental policy. The existing words on ESD in the EPBC Act are hard to divine. They trace their roots to the early 1990s and reflect the state of knowledge, and the compromises, of that era.
In fact, the EPBC Act does not even attempt to define "ecologically sustainable development". Instead, it requires the environment minister to take into account five "principles of ecologically sustainable development".
This disaggregation is part of the problem. Among other things, it forces the minister, in deciding whether to approve the clearing of koala habitat, for example, to consider an obscure principle that "improved valuation, pricing and incentive mechanisms should be promoted".
This is a high-level policy principle advocating "market-based instruments", such as a carbon price. It does not belong in a decision about clearing native vegetation.
I am now a researcher but in a former life (2007-12) was responsible for the administration of the EPBC Act. I have gone back over several hundred statutory EPBC Act "recommendation reports". In these reports, environment officials provide formal advice to the minister about whether to approve a development.
I found very few instances where ESD principles made a substantive difference to the advice. It's not surprising, given the obtuse approach of the legislation to ecologically sustainable development.
---


Read more:
Environment laws have failed to tackle the extinction emergency. Here's the proof


---
How to breathe new life into ESD
That is not to say we should abandon ecologically sustainable development. Properly defined, it can provide an overarching statement as to what environmental laws are designed to achieve and what development can be approved.
In the broad, ecologically sustainable development should mean keeping the environment healthy, so future generations can enjoy the same quality of life as we do. It would follow that development should not harm anything essential to a healthy environment.
It is important that we not simply roll the current principles into the National Environmental Standards without reflection.
One of the principles, the precautionary principle, can stand alone. It's about risk management, to be applied when environmental knowledge is limited, which is often. It means, in context, that if a development risks serious or irreversible environmental damage, don't approve it.
---


Read more:
This is Australia's most important report on the environment's deteriorating health. We present its grim findings


---
With that done, the central intent of ecologically sustainable development can be met by having the standards require that each decision maintain the diversity of life and the integrity of ecosystems affected by development. Ecological advice would be needed on how to do this in each case.
The gist of such a rule is to keep nature in good working order. That means maintaining viable populations of species and the essentials of ecosystems – their composition, structure and function.
The other three ESD principles deal with policy integration, intergenerational equity and market-based instruments. These principles are important but do not belong in the standards. They should be rehoused in a major policy statement, such as an environmental white paper.
It is often said with regulatory reforms such as the Nature Positive Plan that the devil is in the detail. That can be true, but in this case the devil is more in the basics. Get the basics right, and the rest is just detail.