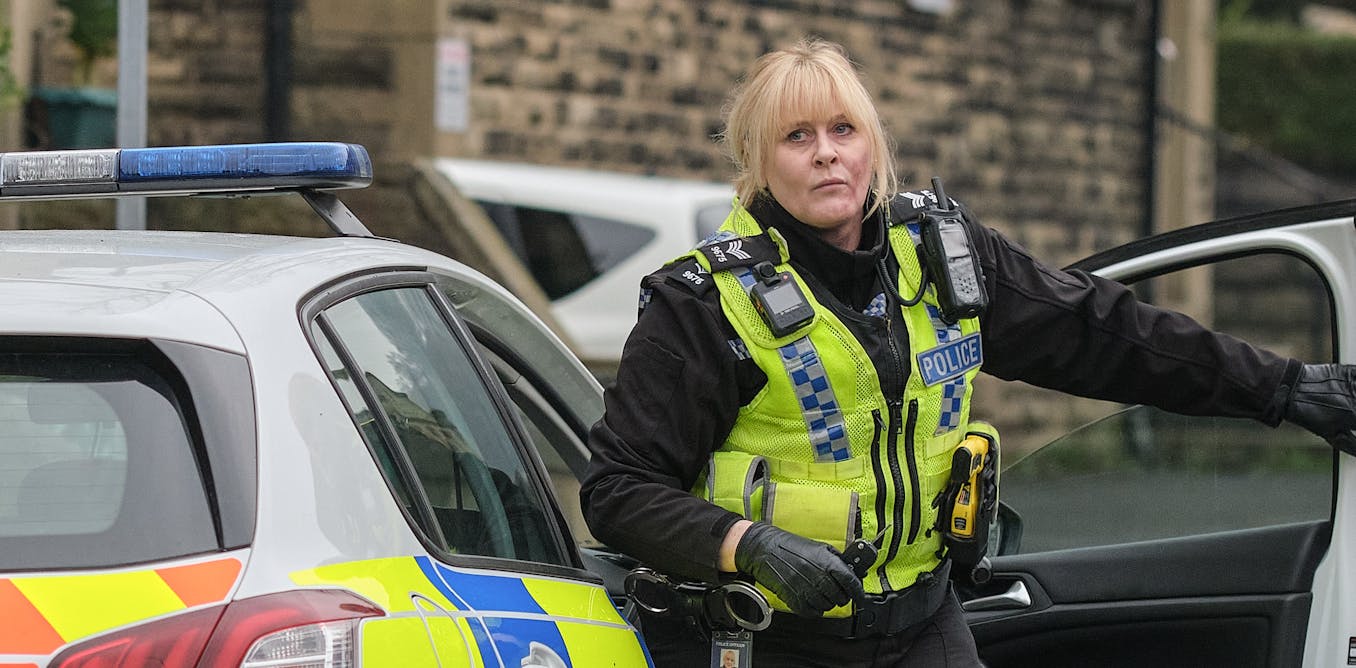 Happy Valley: the art of Sally Wainwright's perfect TV ending
Warning: the following article contains spoilers.
First hitting screens nine years ago, the final episode of Happy Valley – the BBC crime drama created and written by Sally Wainwright – has aired to an audience of over 7.5 million live viewers.
Featuring a much anticipated showdown between Sergeant Catherine Cawood (Sarah Lancashire) and escaped criminal Tommy Lee Royce (James Norton) – who Cawood holds responsible for her daughter's rape and subsequent suicide – the final scenes eschewed guns, instead moving carefully toward catharsis.
But what made this such a powerful ending to the show, which has kicked and cursed its way from Yorkshire to global success? The answer is the quality of Wainwright's plotting and dialogue, her choice of performers and her refusal to take the easy road.
Extraordinary, ordinary Sergeant Cawood
In choosing to centre her drama on a middle-aged woman, Wainwright drew the extraordinary from the ordinary.
While her characters are drawn toward taking responsibility for their actions, Wainwright also questions structural culpability, including underfunding of public services, mental health support, drug addiction support and social care.
Cawood's life is as complex as that of any women who is old enough to have experienced love, loss, familial breakdown and a working world dominated by male confidence ahead of competence. As Wainwright noted in a recent interview:
Most women in their fifties have experienced some sort of tragedy in their life as well as all the joys of life. You do get older and wiser – and sadder sometimes as well. It is inevitable. Life is slings and arrows.
To see that rendered on screen so clearly is remarkable. But Cawood, while bold and unafraid to throw or receive a punch, is also careful. Though her language is direct and humorous – she refers to Tommy as a "wankatron" – it is also what Cawood doesn't say that speaks to audiences.
She may be a straight talker, but such talk does not make her transparent. Instead, her greatest fear is only relayed to a dying Tommy in the final episode:
I've worried long enough but … that boy [Ryan] is a prince. He's about as unlike you as it's possible to be.
An unexpected ending
Cawood carries her competence alongside her grief, in her gait, her walk and in each minute facial expression. While she may be tired, she remains watchful, piecing together information quietly.
As an audience, shaped by the serial form of Happy Valley (18 hours played out over almost a decade), we are invited to listen to her voice, see her actions and detect the unspoken.
This is a key aspect of what we call in our forthcoming book on Wainwright, her "emotional aesthetic". Some viewers may have been expecting the finale to go off with more of a bang, but the writing was already on the wall. Cawood's hope, and a future for those she loves, can't be achieved by bloody revenge. That's Tommy's territory.
Instead, Wainwright's series closed in near silence, with Cawood driving her Land Rover to her daughter's resting place and placing a brief kiss on Becky's headstone.
It's a flying visit and as Cawood is about to turn away from the town, car keys in hand, she opens a text message from former boss: "TLR dead, hospital just rang." She reads the message, looks at the headstone, up to the sky, back at the headstone, breathes and walks away.
While Tommy was unable to survive his own tragic story of a life without care, he achieved a catharsis of sorts, realising, "What a nice life [Ryan's] had … what a nice life you've given 'im."
Ryan, it's hinted, may have a future in the police force himself. Cawood's sister, Clare (Siobhan Finneran) will stay in Hebden and be there for him. Ryan's teacher, Rob Hepworth, while not charged with the abuse of his wife, is exposed as an abuser of young men, his fate sealed.
Faisal Bhatti, the pharmacist who murdered Joanne Hepworth will be found out and drug runner and murderer Darius Knezevic will finally be locked up.
If it sounds neat, that's because it is. Almost. What doesn't happen on screen will happen off it.
The art of the ending
Wainwright has constructed a world of such convincing depth that the audience is left in no doubt. The threads of the story – like the crocheted blanket Cawood uses to dampen a burning Tommy – may be singed and damaged, but remain intact. Happy Valley is so expertly weaved, stitched together by yarns of labour and love, pain and recovery, that it can't be destroyed.
Wainwright didn't need guns. Her shootout took place across Cawood's kitchen table via the spat-out words and white spaces that she trusted her actors to perform. "We've had another bit of a tussle. I won. Obviously," Cawood tells her sister, after confronting Tommy for the final time. The understatement of the dialogue is Wainwright's genius.
Cawood is akin to Wainwright herself, who has fought to find traction in an industry where it is rare for female writers to get primetime drama commissioned. The tussle is now, for Wainwright at least, most certainly over.
We can only hope that after some well deserved rest, Wainwright, like Cawood, is inspired to create something equally extraordinary. In fact, we're counting on it.