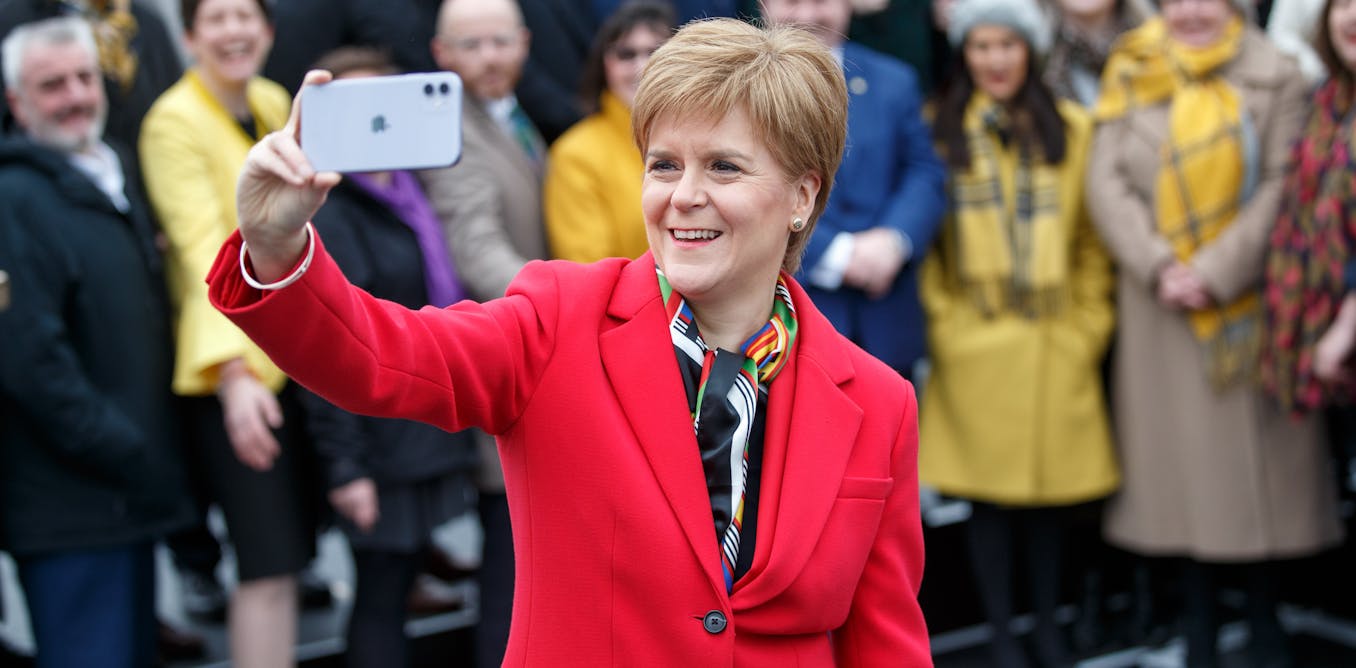 How Nicola Sturgeon mastered the art of public image and won support for a decade
With Nicola Sturgeon's departure, the UK has lost an expert in constructing a public image and winning support across political divides. Sturgeon led the Scottish National Party (SNP) to an unprecedented five electoral victories – three in Westminster and two in her home parliament of Holyrood.
As deputy and then first minister of Scotland, Sturgeon turned the map of electoral allegiances upside down. She made normal what once seemed impossible – taking from Labour what was always assumed would be its birthright as the dominant party in Scotland.
Perhaps more impressively, she did this in a period in which Scotland's governance in a range of policy areas including education and climate – and crucially, the constitutional question – have not delivered on electoral promises. Other politicians seeking to shift opinion and win public support have a lot to learn from her tactics, including whoever replaces her as first minister.
"Authenticity" is often discussed as integral to success in politics. Sturgeon has the advantage of her claims to authenticity actually being founded in truth. She is of a type that everyone in Scotland will recognise – the brain box whose head was always stuck in a book, a high achiever who moved on from the working-class estate. She became the first in her family to go to university (Glasgow) and continues, when time permits, to read prodigiously. She loves going to book festivals and promotes her favourite books on Twitter.
In spite of her success, she remains moored to her working-class roots. She lives in an unflashy new build – undoubtedly larger and much nicer than the council house her parents bought, but notable in its ordinariness.
The idea of her being a good laugh down the pub has been cemented by Glasgow comedian Janey Godley's now famous "press conference voiceover" videos. In the latest iteration, Godley's "caravanning with Nicola Sturgeon" saw the departing FM go off with "all the Sandras and the Debras" to start a Zumba group.
Sturgeon's public image
Sturgeon's "ordinary and relatable" image is supported by her approach to public engagement. She attends meetings at local universities, schools, businesses and NGOs across Scotland without much fanfare. She is also very visible in her constituency of Govanhill, notably turning up to vote in 2021 at her local polling station without security. Her look of alarm as she was harassed by a far-right extremist was shared by many who watched the widely circulated video.
This not only emphasises how differently Sturgeon does things from most Westminster politicians, but aligns with the principles underpinning the Holyrood parliament. The building itself was designed on the basis of openness and debate, rather than gladitorialism.
Sturgeon has worked very hard to achieve a similar sense of visibility and access. But in recent years, Scottish politics has become notably less transparent – and this arguably played a role in her demise. Surrounded by an increasingly small and elite inner circle of advisors and lobbyists, her government has developed a tendency to shut out criticism.
This can be seen clearly in the row over the gender recognition legislation, where a decline in public support for the bill was not addressed. It is felt keenly by critics of Scotland's education policy too, who argue that the one group least consulted is teachers.
Listening to Scottish Green party co-convenor Lorna Slater – a minister in the Scottish government but nominally of an opposition party – describe Sturgeon as a "legend" on the evening of her resignation may indicate the level of critique she's been getting from the people around her.
Another point where the legend and reality of Sturgeon diverge is in policy, and the kind of politics she pursues. Again, some of this relates to her class background and associated assumptions. Sturgeon the politician is notably cautious and firmly centrist. Some nods to wealth redistribution and growth in welfare distinguish her from the current crop of extreme right-wing politicians in Westminster, but certainly do not merit the status she holds as a "radical" or highly "progressive" politician.
A communication strategy she has used exceptionally well in this respect is the refrain of the limited powers of the devolved administration. The implicit message is that she would go a lot further towards the left if completely free to do so. This also rests on the understanding of independence as an inherently radical proposition – in itself it is, but the pathway to and nature of independence may not be.
The social media age
Sturgeon has successfully managed her image in the social media age, where tribalism rules and prominent women receive sustained and vile misogynistic abuse. While many censor themselves to avoid the vitriol, she has shown exceptional fortitude – beating the trolls time and again, online and in the tabloid press.
In choosing the time of her resignation, Sturgeon maintained this level of control over her image and public opinion. There are many explanations for her choosing to go at this time, but watching recent press conferences on gender recognition reform and the de facto independence referendum, her lack of conviction was quite striking. For all these years of persuading people, of bringing them around to her view, she could no longer convince herself.