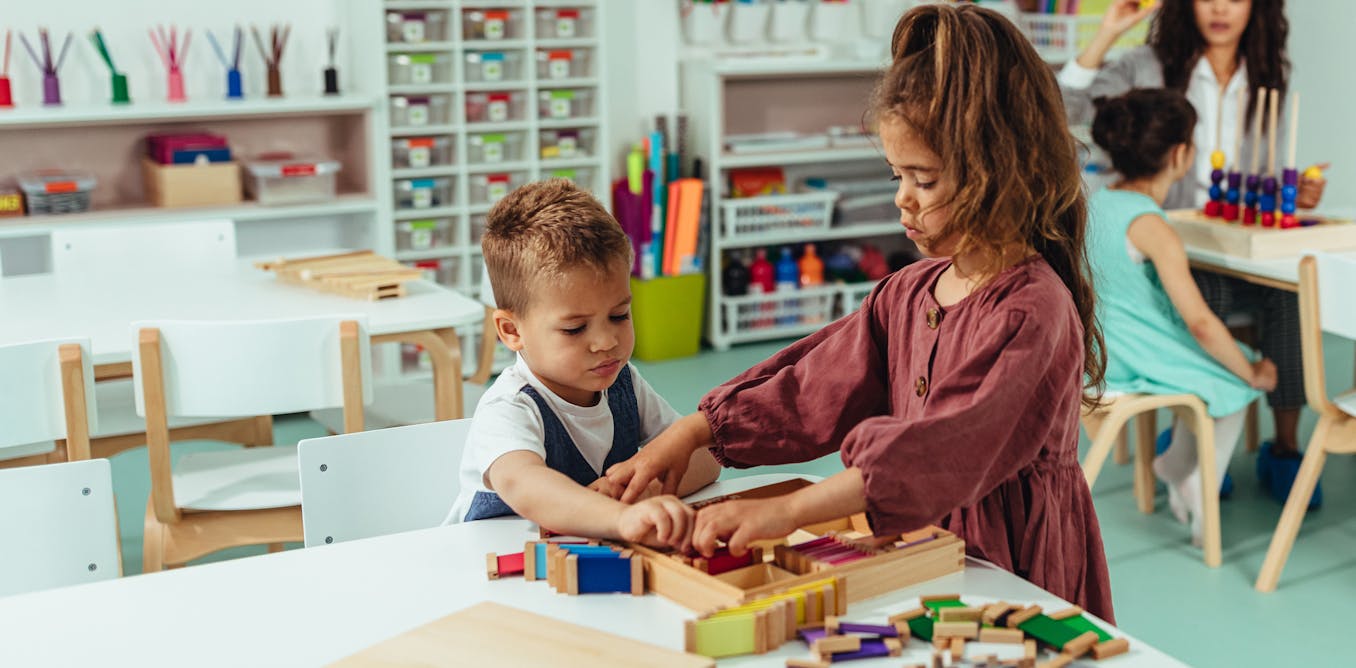 How one small school in B.C. became a public elementary Montessori school
Why do some public schools have specialized curricula or programs — what have come to be called schools or programs of choice?
And what kinds of educational leadership questions come into play when schools adapt or change?
My story of leading a process to become a public Montessori school, in Chetwynd, B.C., offers one look at this.
Schools of choice
In B.C., a school of choice is designated as an Alternate Education Program. As B.C.'s education policy notes, these schools or programs provide support through specialized program delivery and instruction that is differentiated from mainstream schooling.
After I heard rumours that officials might close the small elementary school where I was principal, and learned from the superintendent there were no immediate plans to close this school, I knew I needed to act.
The province's School Act notes that a "board is responsible for the improvement of student achievement in the school district." As principal I was responsible for the school and had a duty of care to the students already in our catchment area.
Officials consider school closure when they are not financially viable, and with a per-student funding formula, low enrolment is problematic.
I knew that Montessori methodology could offer a viable alternative to regular schooling. Named after Maria Montessori, an Italian physician and educator, the central tenet of Montessori methodology is that children are naturally curious and learn through their own experience at their own pace. I was aware of popular private Montessori programs in other parts of the province, and of public Montessori schools that drew parent interest.
I also believed adopting a Montessori approach would enable the school to enrol and attract students from out of our catchment area.
Engaging teachers, parents
Inspired by research on engaging all stakeholders through conversation that is mindful of authentic local conditions, I began by talking with my staff and then with our parent advisory committee.
Research holds that building trusting relations is a key leadership skill.
When rumours of closure were circulating, my staff showed signs of worry.
Some parents also began to suggest withdrawing their kids. Two members of my parent advisory committee told me they would be enrolling their children elsewhere.
Some considered home schooling. "If they're going to close us, we may as well put our kids in the Christian school now" was another sentiment. This was a non-denominational private school nearby.
I looked first to my teachers to consider what actions to take.
Montessori model
As a leader, I had supported teachers in developing differentiated approaches in their classrooms to meet student needs.
As a school with low enrolment numbers we already had teachers teaching multiple grades in a single class, and Montessori encourages split grades.
---


Read more:
Maria Montessori challenged and changed how kids are taught, and remains influential today


---
Montessori emphasizes caring, and teaching the child in a holistic, systematic way in a strategically prepared environment that supports independence. If we were to be successful, the only real measure of success would come from our students. The Montessori method grew from careful observations of how children learn and it puts the child at the centre of their own learning.
Creating a shared vision
I worked on creating a shared vision with my teachers — over time.
For instance, having first planted the seed by chatting with my teachers about Montessori, I let the matter rest. When a member of the district leadership team called later to ask what was going on with Montessori at my school, I knew that my teachers had been talking with each other, and their colleagues. The seed was growing.
I showed teachers how we already aligned with Montessori. I told them that if they would take the training, I would secure the funding. The teachers agreed.
We included support staff in our conversation and shared with them our excitement about this venture. With those two groups on board, we talked to our parent advisory committee.
Gauging interest, engaging community
At the parent advisory meeting, all teachers attended while I presented the benefits and rationale to parents. In a show of unity and shared leadership, my teachers and I answered parent questions.
After parents on the committee were cautiously excited by the prospect, we held a meeting for all other parents. When we had their support, we gave a presentation to the community at large.
---


Read more:
If I could change one thing in education: Community-school partnerships would be top priority


---
At the conclusion of each meeting we had a short survey to gauge interest, and to provide us with data that we used to inform our decision to proceed.
At each step on this journey, I kept my district leadership informed and they always gave the same advice: Proceed with caution.
No longer in danger of closing
Before our school formally shifted to the Montessori model, apart from regular instruction, the only other choice parents had in the school district was French immersion.
We had to present our request to our board of trustees and make a request to become a school of choice. I presented, along with one teacher and one parent so we could offer different perspectives.
The elected Board of Education at School District 59 granted our school the right to implement Montessori teaching. While this did not change our school's enrolment overnight, six years later the school has more than doubled in size and is no longer in danger of closing.
That once tiny seed of an idea had grown to fruition.