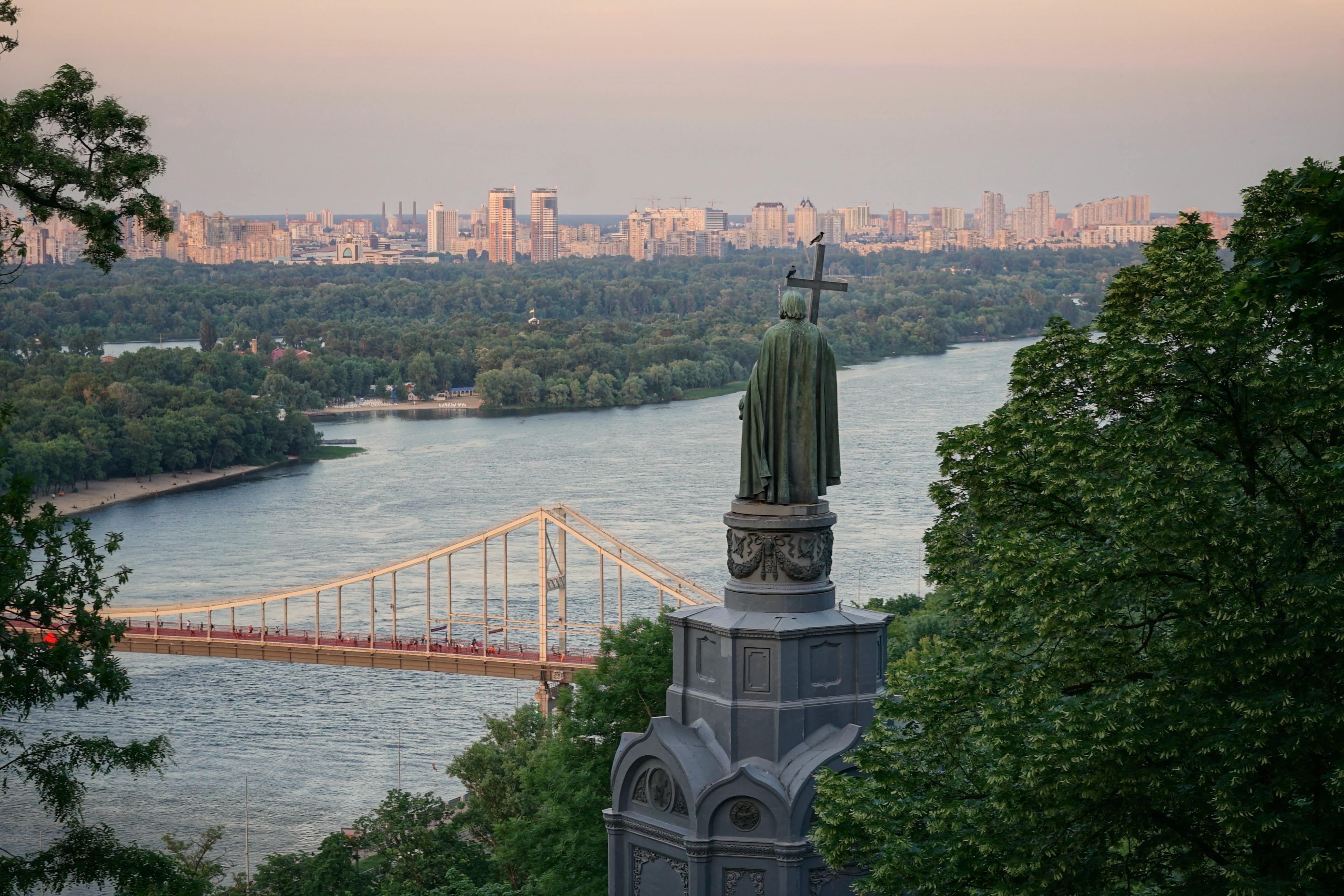 How religious freedom is eroding amid Russia's invasion of Ukraine
Russia's persecution of religious groups has worsened during the war with Ukraine, according to experts who testified before the United States' top religious freedom advisory commission this week. 
On March 15, the U.S. Commission on International Religious Freedom hosted a virtual hearing to analyze Russia's religious freedom violations and recommend policy solutions. The commission is responsible for advising the U.S. Congress and the State Department about religious freedom across the globe. 
The panel of experts included the Chief Rabbi and president of the Conference of European Rabbis Pinchas Goldschmidt, the exiled former chief rabbi of Moscow. 
Other experts who testified include Dennis Christensen, a Jehovah's Witness and former prisoner of conscience in Russia; Rachel Denber, the deputy director of the Europe and Central Asia Division at Human Rights Watch; and religious freedom expert Dmytro Vovk. 
Goldschmidt, who left Russia in July 2022 after he refused to support the war with Ukraine, believes that Jewish people should leave the country. The invasion began in February 2022, and the former chief rabbi said the Jewish community has faced pressure to support the war. In July, Russia moved to shutter a Russian branch of a Jewish agency that helps Jews immigrate to Israel. 
The Jewish leader remarked that the Jewish community in Russia is in "distress," and he fears for the safety of Jews who remain in the country. 
Goldschmidt also suggested that the U.S. and other Western countries should do more to support "Russian opposition," including religious leaders on the ground or in exile. He argued that the opposition will "bring change to the country."
During her remarks, Denber stated that the Kremlin's "muzzling of Russian citizens" is the result of a decade of "step-by-step repression." The repression "escalated" with the invasion of Ukraine as the Kremlin works to "eradicate public dissent." 
"Efforts to annihilate civil society are related to religious persecution in three main ways," she said. "First, the authorities abuse Russia's extremism and terrorism laws to persecute religious minorities and also to silence secular critics." 
"Second, the dismantling of civil society means eradicating autonomous initiatives that have an approach to public affairs that differs from that of the authority or that outright challenge them." 
The human rights researcher asserted that the government is "suspicious" of institutions, regardless of whether they're non-governmental organizations or religious, as these are institutions outside of the government's control. 
The third way that governmental authorities allow for religious persecution by annihilating civil society is through promoting traditional values as well as demonizing culture and ideas that appear to conflict with these values, Denber said.
"So, if the government can't control a religious community, the impulse is to deem it a threat to Russian traditional values," Denber added.
The Human Rights Watch researcher contends that the Kremlin attempts to "disseminate civil society" by adopting and enforcing "repressive laws." She cited Russia's war censorship laws promulgated by the government during the invasion. The laws prohibit public opposition and independent news reporting about the war. 
Another law Denber cited deals with who must register as a foreign agent, a law the country first adopted in 2012. Russia has expanded the definition of a foreign agent under the law to include anyone engaged in civic activism or expressing an opinion about the country's government or officials. 
These laws have been used to criminalize critics of the war in Ukraine, Denber noted, pointing to figures such as Illya Yashin. In December 2022, the Moscow Meshchansky District Court sentenced Yashin to 8.5 years in jail for disseminating "knowingly false information." 
Yashin had spoken "disparagingly" about Russian authorities in an April 7 YouTube video, in which he also said that the Russian military was killing civilians. 
According to Amnesty International, since March 4, 2022, around 132 people have also been indicted for disseminating "knowingly false information." 
Denber also stated that authorities have arrested people who have protested the war by holding posters in public or making inscriptions with Bible verses or the sixth commandment, "Thou shall not kill." In addition, Russian clergy members have faced imprisonment or have been fined for expressing opposition to the war. 
During a question-and-answer portion, Denber emphasized that "international advocacy" for those persecuted is "crucial." She also called for justice for the war crimes Russia has committed, a position held by Human Rights Watch.
Despite having been imprisoned after a 2017 Russian Supreme Court ruling banned Jehovah's Witnesses in the country, Christensen urged people to continue raising awareness about what's happening in both Russia and Ukraine. However, in his closing remarks, he also urged everyone not to carry hatred of Russian people, calling for people to be judged by their "deeds" instead of their nationality. 
Vovk predicted that if President Vladimir Putin succeeds in the war, Russia's political practices will "expand." In terms of policy recommendations, the religious freedom expert called for the U.S. to support religious leaders who speak against the war.
The U.S. State Department identifies Russia as a country of particular concern for engaging in severe religious freedom violations and has imposed economic sanctions as well as export controls and tariffs.