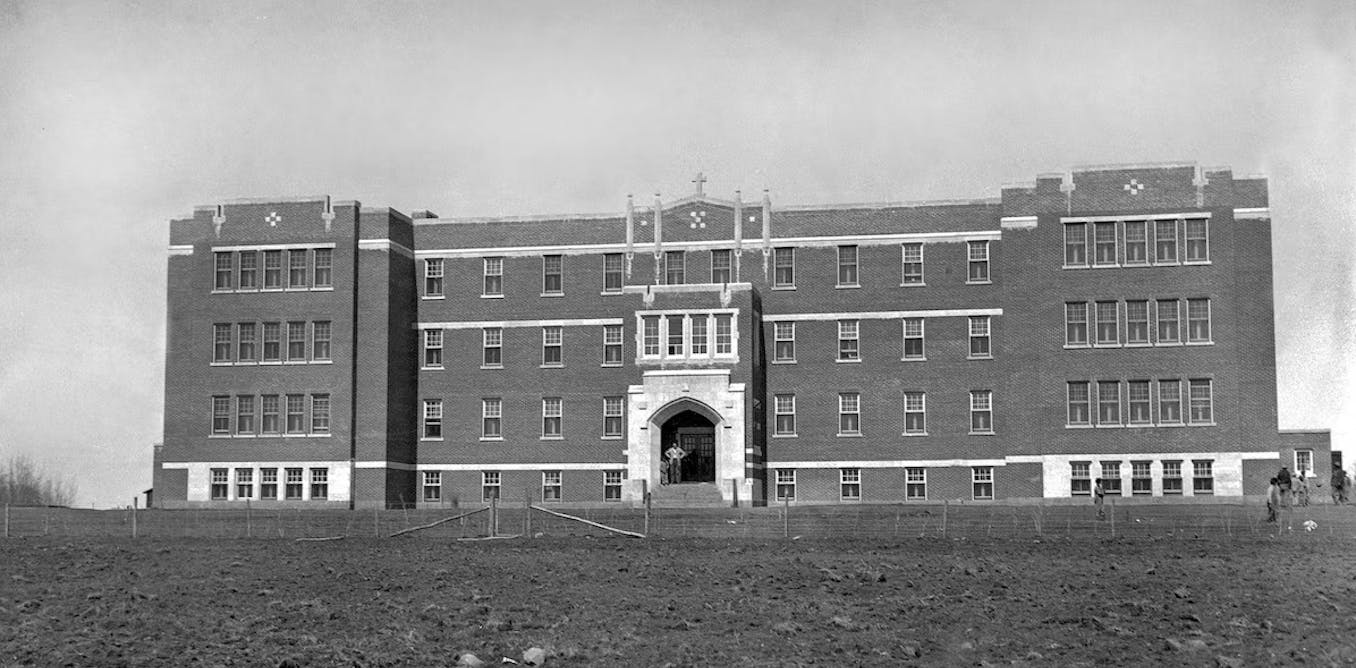 Inside the search for the unmarked graves of children lost to Indian Residential Schools — Podcast
More than 150,000 Indigenous children from across Canada were forced to attend Indian Residential Schools. And as we know, many never made it home.
Now, there are ongoing efforts to find the final resting places of those missing children.
As we approach the National Day for Truth and Reconciliation, we take you inside the ongoing quest to document the children who died in Canada's Indian Residential Schools system.
On this episode of Don't Call Me Resilient, we speak to Terri Cardinal, director of Indigenous initiatives at MacEwan University, about the work she did to uncover the unmarked graves of those who died at the Blue Quills Residential School in Alberta.
Last summer, Cardinal's team worked with the University of Alberta Indigenous-led team to conduct a five day search at University nuhelot'įne thaiyots'į nistameyimâkanak Blue Quills (UnBQ) near St. Paul, Alta., the site of a former residential school. The search involves physical searches for grave sites and oral history interviews with survivors.
It's deeply personal and emotional work for Cardinal, whose own father is a survivor of the school. Cardinal talks about what she found, how she felt, and what she hopes will come of it.
She says the number of unmarked graves across the country is much higher than many of us could have imagined. And she says it's important to keep shining a light on the rising numbers, especially with so many Canadians in denial about what really happened at these schools.
Kimberly Murray, the Independent Special Interlocutor for Missing Children and Unmarked Graves and Burial Sites, called denialism "the last step in genocide."
Cardinal is from Saddle Lake Cree Nation in Treaty 6 Territory. She is a PhD candidate in social work at the University of Calgary and the director of Indigenous initiatives at MacEwan University in Edmonton, but took a one-year leave to head up the search.
This episode deals with traumatic issues. For those who may be experiencing trauma or seeking support, here are some resources:
— The Indian Residential School Survivors Society's 24/7 Crisis Support line: 1-800-721-0066
— The 24-hour National Indian Residential School Crisis Line: 1-866-925-4419
Read more in The Conversation
---


Read more:
Residential school deaths are significantly higher than previously reported


---
---


Read more:
'Every child matters': One year after the unmarked graves of 215 Indigenous children were found in Kamloops


---
---


Read more:
Truth before reconciliation: 8 ways to identify and confront Residential School denialism


---
---


Read more:
Residential school deaths are significantly higher than previously reported


---
Resources
Intergenerational Resilience: Sharing Stories from Families of Residential School Survivors
Racism: Stories, Codes, and the Myth of Neutrality with Dr. Raven Sinclair
Search for unmarked graves at Blue Quills residential school finds 19 sites that could be unmarked plots
Remembering the students of Blue Quills
Blue Quills/Saddle Lake Indian Residential School: (1862-1970) – (Sacred Heart) – Alberta, Canada

The National Advisory Committee on Residential Schools Missing Children and Unmarked Burials
Listen and follow
You can listen to or follow Don't Call Me Resilient on Apple Podcasts, Google Podcasts, Spotify or wherever you listen to your favourite podcasts.
We'd love to hear from you, including any ideas for future episodes. Join The Conversation on Twitter, Instagram and TikTok and use #DontCallMeResilient.