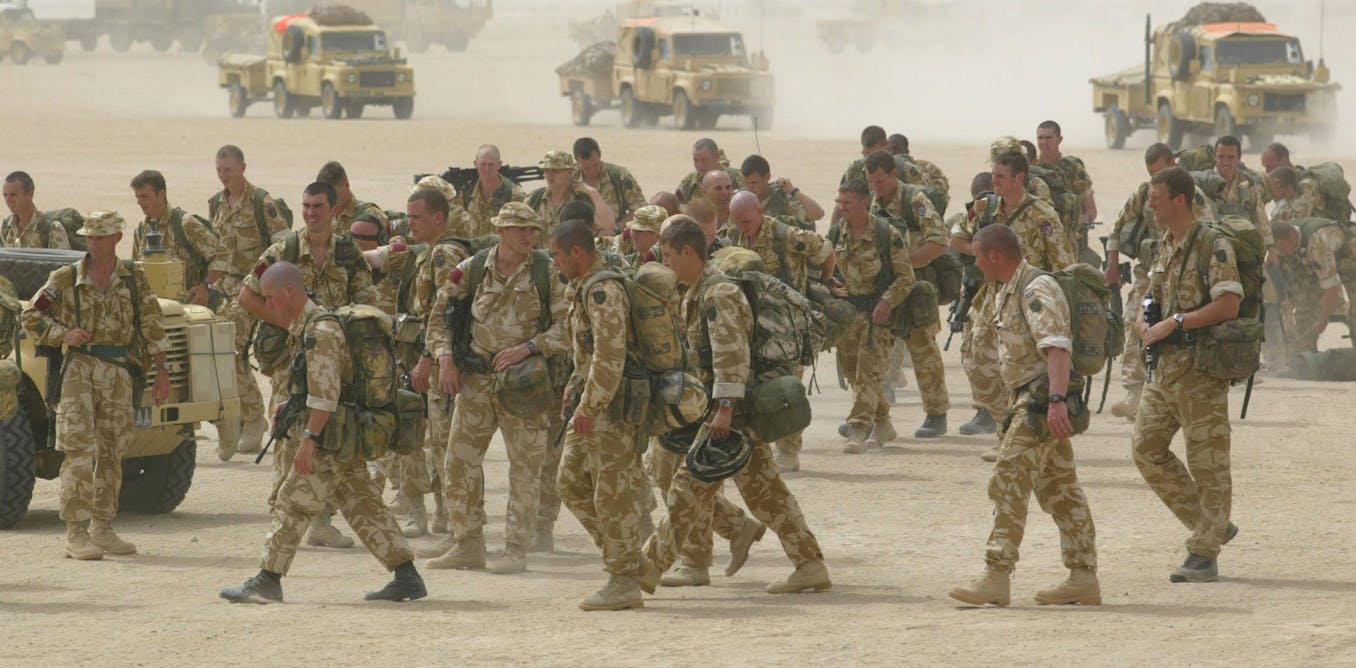 Iraq war 20 years on: the British government has never fully learned from Tony Blair's mistakes
The Iraq war remains the UK's most investigated foreign policy decision of the past 50 years. As the world marks 20 years since the invasion that killed hundreds of thousands of Iraqis, we have to ask, has the UK learned any lessons from what happened in 2003?
The US and UK invaded Iraq in 2003 with the declared intention of removing weapons of mass destruction (WMD) and liberating the Iraqi people from the dictatorship of Saddam Hussein. This followed a months-long process of diplomacy and UN weapons inspections, during which time the US and UK built their case for invasion.
As a result of all the investigations into the Iraq war, we have a good understanding of what flaws affected this process, particularly in terms of how prime minister Tony Blair made the decisions he did.
Why do we need to learn from Iraq?
The war resulted in the deaths of hundreds of thousands of Iraqis and triggered a sectarian conflict that has cast a long shadow over the country. For the UK and US, there was a huge cost in terms of service members injured or killed.
The political fallout has lasted generations too. When he announced the findings of the official Iraq inquiry in 2016 Sir John Chilcot said "the UK was, in fact, undermining the [UN] Security Council's authority" by invading Iraq. If the UK government is to be a trusted international partner in future foreign policy actions, it must understand what went wrong in this case.
The inquiry found that the culture that prime minister Tony Blair established in Number 10 led to a lack of discussion before the decision was made to invade Iraq. Blair was known to operate what became known as a "sofa government" – an informal mode of working that saw him relying on an inner circle of people invited to hang out on his sofa in Downing Street.
This culture of limiting discussion to a select group was combined with a habit of making important decisions and commitments unilaterally. Blair made some policy by sending personally authored notes to US president George W. Bush, the content of which he had not discussed with relevant ministers. The infamous "with you, whatever" note that Blair sent to Bush in 2002 is a prime example. Blair committed to backing Bush come what may without talking to his cabinet and with no change in official government policy.
Both the Chilcot inquiry and the 2004 Butler review on the use of intelligence stressed the importance of government procedures such as collective cabinet decision-making. Chilcot said the cabinet was only able to give limited scrutiny to the attorney general's legal advice on the invasion. When the attorney general presented Number 10 with conflicting advice for ministers to discuss, he was pushed into giving a more definitive view.
Lessons left unlearned
Despite all the investigations into the Iraq war and the sheer amount of evidence collected, little appears to have changed as a result.
The Iraq inquiry found that Blair's Number 10 culture excluded outsiders and limited objections and discussion. Even now, multiple administrations later, there doesn't appear to be a move to change this. In fact, ministers are more involved than ever in the process to select senior civil servants and accusations about them bullying officials suggests little progress has been made in enabling robust discussion about difficult subjects.
As for proper cabinet discussion, one need only think back to the sudden economic crisis of October 2022 that was induced by Liz Truss and her chancellor Kwasi Kwarteng's attempt to radically restructure the British economy without discussing their plans in full with the cabinet. Similarly, the controversy surrounding David Cameron's removal of British citizenship from terror suspects or Boris Johnson's prorogation of parliament in 2019 could have been better managed with fuller discussion of the decisions in cabinet.
One proposed way from the Chilcot review to reinforce government procedures was to give the cabinet secretary more power to draw attention to ministers who deviate from standard procedures – such as cabinet scrutiny of decisions. The proposal is that the cabinet secretary should be able to ask, on the record, for formal instructions from ministers if they feel that the cabinet manual is being ignored.
Those proposing this idea believe that this would have drawn greater public attention to how cabinet was sidelined on Iraq. In the proposal, this request for guidance would also be sent to the relevant House of Commons select committee, bringing public oversight and attention. However, this proposal has been rejected twice in recent years.
Despite the controversy surrounding the legal process in the months before the UK invaded Iraq, there has been little change to this process. There is little to prevent a future attorney general being pressured out of presenting both sides in a legal debate, and into giving only the legal opinion that the prime minister wants.
It is surprising that so little has changed in the two decades since the invasion, even after years of investigation and inquiry. The UK has not invaded another country since Iraq but nor has it taken action that would help prevent such a poor decision being made again in the future. There is little point in being so bruised by a decision without having learned the lessons of the mistake.