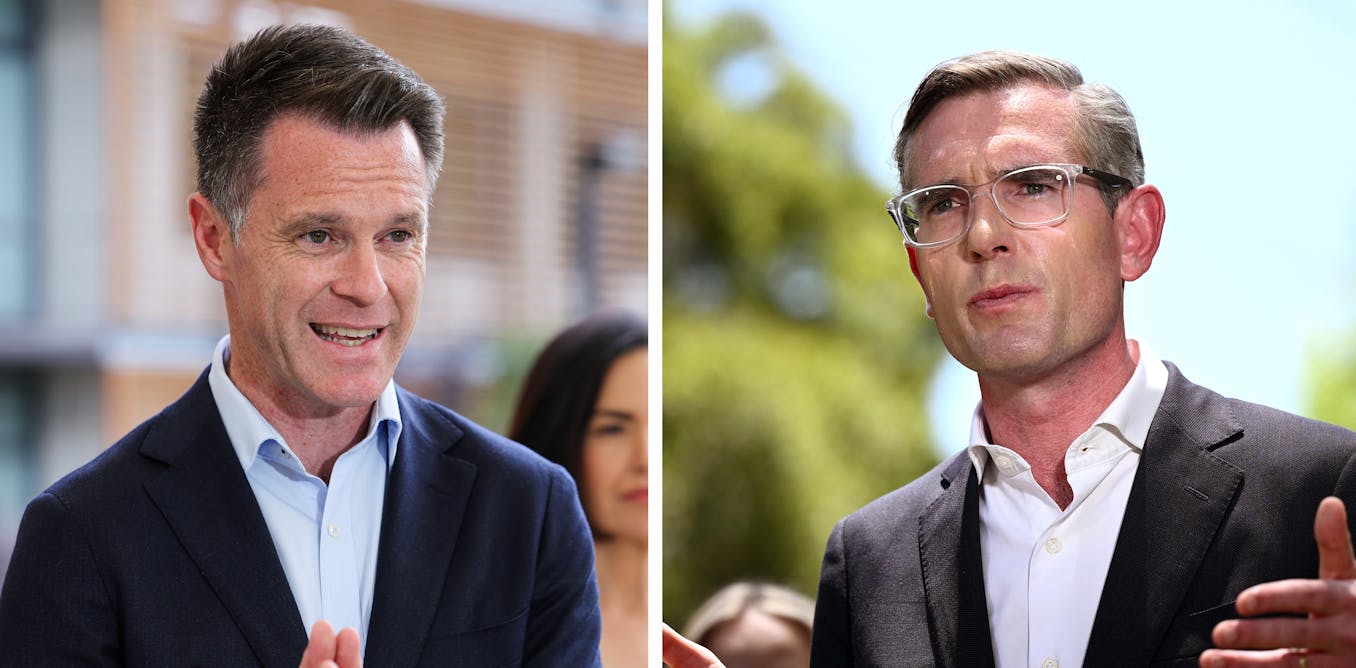 It'll be tough for Perrottet to win the NSW election. But Labor won't romp home either
At the New South Wales election on March 25 a 12-year-old Coalition government will be seeking re-election.
Hoping to return as premier is Liberal leader Dominic Perrottet – a political conservative and devout Catholic with seven children, who was this week forced to respond to allegations aired on Four Corners about curriculum concerns at a Sydney school linked to Catholic group Opus Dei. Perrottet attended Redfield College, one of the schools featured in the the ABC report.
It is just the latest headache for Perrottet, leader of a government whose 12-year term in office has only been exceeded in NSW by Labor from 1941-65 and 1995-2011.
Long-serving governments inevitably face the charge they are tired, worn-out and bereft of new ideas. The newly elected Albanese government has been a breath of fresh air at the federal level across a range of policy areas.
The Perrottet government, by contrast, is showing signs of having been in office too long: disunity, lack of discipline, inferior quality personnel, lack of vision.
In short, this will be a tough election for Perrottet to win.
---


Read more:
Berejiklian says Maguire was part of her 'love circle' but was not significant enough to declare – will this wash with ICAC?


---
A succession of short-term premiers
One way of rejuvenating a government is through a new leader, who sometimes brings the prospect of renewal. However, replacing a capable, well-regarded leader with a neophyte can bring electoral danger.
In NSW, for example, Unsworth after Wran and Fahey after Greiner were defeated the first time they faced the voters. Keneally lost the 2011 election after a brief, tumultuous term, bringing to an end the ALP era dominated by Carr's ten-year premiership.
The NSW Coalition government is unusual in that it has had a succession of relatively short-term premiers: Barry O'Farrell (2011-14), Mike Baird (2014-17), Gladys Berejiklian (2017-21), Dominic Perrottet (2021 – present).
Each of the first three won an election and contributed significantly to the government's longevity.
O'Farrell established the governmental road map that emphasised careful planning and avoidance of hasty, politically-motivated decisions. But caution did not preclude achievement; there were major reforms in economic management, infrastructure, and the public sector.
However, O'Farrell resigned prematurely after it was revealed he had inadvertently misled the Independent Commission Against Corruption (ICAC) over the gift of a bottle of wine.
Baird was more of a technocrat, strongly interested in economic management. He also dealt with ICAC's serial slaughter of Liberal MPs and won the 2015 election with an unappealing policy of electricity privatisation.
He left office with the NSW economy booming, the public finances in good shape and a massive infrastructure program underway.
Berejiklian will be remembered for her resilience, crisis management skills, and administrative competence. In 2019 she became the first female NSW premier to win a general election but resigned in December 2021 over an ICAC investigation into her relationship with discredited former MP Daryl Maguire.
Against the odds, Perrottet established himself as a trustworthy if dorky premier. Even the leaking by factional rivals of the fact he wore a Nazi uniform at his 21st birthday party didn't seem to damage him too much.
The great irony is many expected Perrottet to be an unpopular premier who would drag the government down. In fact, the behaviour of members of his government has dragged his electoral prospects down.
A series of unfortunate events
Virtually nothing has gone right for Perrottet. Damaging revelations about the short-lived appointment of former Nationals leader John Barilaro as senior trade and investment commissioner in the Americas led to the resignation of deputy Liberal leader and minister for trade, Stuart Ayres.
On July 20, an ICAC investigation found former Liberal MP for Drummoyne, John Sidoti, had engaged in serious corrupt conduct.
On August 5 Perrottet sacked a minister, Eleni Petinos, over bullying allegations.
There was bitter rivalry between Transport Minister David Elliott and Treasurer Matt Kean, who indulged in unrestrained public criticism of each other. Relations between Kean and Perrottet, who had been long-term allies, became strained.
Perrottet tried to refute allegations about the Liberal party's lack of women candidates by replacing three incumbent male upper house members with women. But the arrangement almost fell apart when the Liberal factions, who had not been consulted by their leaders, revolted. A face-saving deal was patched together at the last minute, involving the replacement of one of the proposed female candidates.
To top it off, the government introduced legislation about the clearing of native vegetation on private land that it was forced to abandon after vehement protests from environmentalists and its own backbench.
The teal threat
The NSW government faces challenges in safe seats on Sydney's north shore from "teal" and independent candidates hoping to replicate their counterparts' federal success.
Although there will probably be a groundswell of support, particularly given the lacklustre nature of some Liberal candidates, the optional preferential voting system will make their task difficult, as it did in Victoria.
All the federal "teals" came second on first preferences and won on a favourable distribution of preferences. NSW, by contrast, has an optional rather than compulsory preferential system, which means many voters will just vote one.
No easy win for Labor
That's not to say Labor will romp home. The ALP needs a high 6% swing to form majority government, although a hung parliament is a distinct possibility.
Experience shows voters are very reluctant to change government unless they have faith in the alternative: the "time for a change" vote competes with the "fear of change" vote.
Opposition leader Chris Minns is plausible and presentable – but is that enough? A Resolve poll showed him slightly behind Perrottet as preferred premier, although the ALP was ahead on the primary vote – 37% to 34%.
Given the terrible lead up to the election Perrottet has had, this must be a disappointing result for Labor. Previous opposition leaders who defeated long-term governments, such as Neville Wran, Bob Carr and Barry O'Farrell, were aggressive political carnivores. Minns comes across as a mild herbivore.
From here, Minns must go hard on the government over its mistakes, divisions and scandals. At the same time, he needs to outline convincing policies and persuade the voters that life under his leadership will be an improvement.
---


Read more:
Stadiums, bushfires and a pandemic: how will Gladys Berejiklian be remembered as premier?


---
This article has been updated to clarify that Kristina Keneally did not immediately succeed Bob Carr.