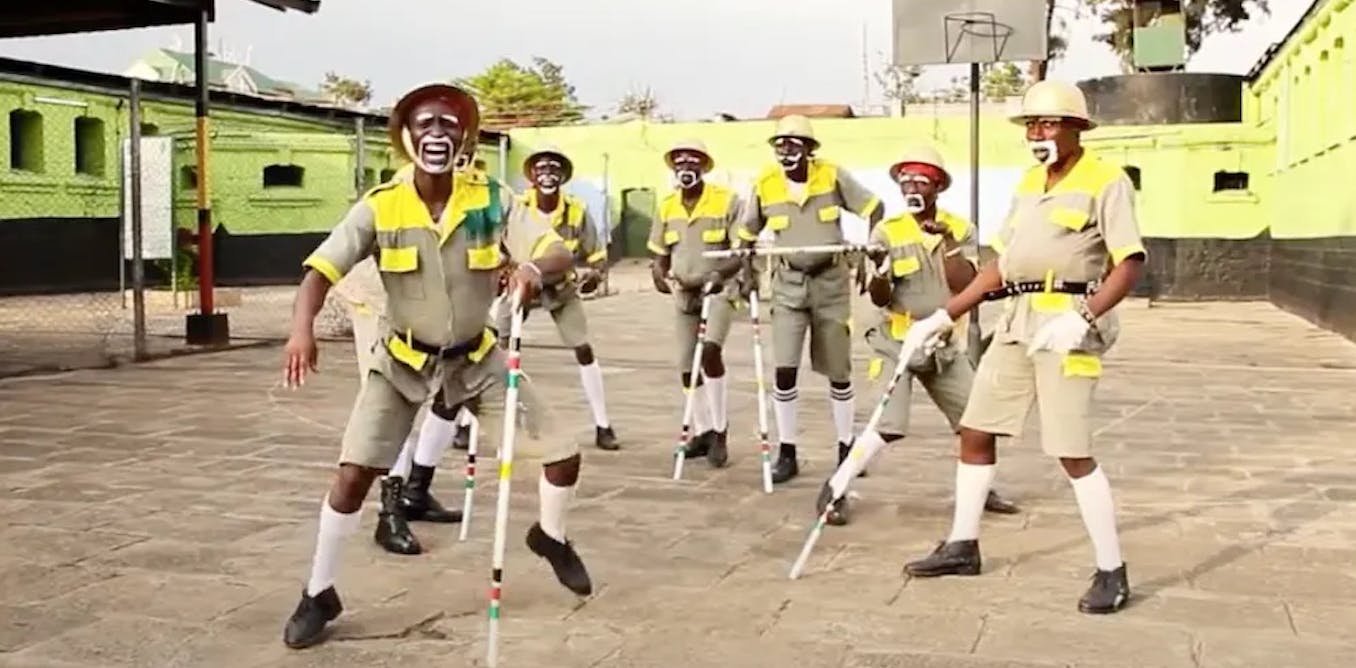 Jean-Paul Zé Bella: the cunning Cameroonian soldier who became a global music legend
One of Cameroon's most influential music stars – Jean-Paul Zé Bella – passed away on 15 January at the age of 71 after a battle against cancer. The singer and drummer was a founding member of the band Zangalewa and performed with it until he retired from the military. Part of the texture of Cameroonian popular culture, he continued making music until he fell ill. He lived an extraordinary life, from starting out as a lowly soldier to shaping the global hit song Waka Waka. We asked media studies professor Lyombe Eko to tell us more.
---
Who was Jean-Paul Zé Bella?
Jean-Paul Zé Bella was a multi-talented musician. He was a composer, singer, drummer, dancer and spoken word artist. He was an atypical musician; his story is also a military story. He was a soldier whose music entertained the masses in Cameroon and beyond by satirising the military and creating playful but mocking caricatures of soldiers.
What is his legacy?
Zé Bella and Zangalewa are culturally significant in Cameroon because the band is unprecedented. It is an African version of the jester's privilege. The repressive government of Cameroon gave Zangalewa free rein to clown around, believing that their popular act softened the austere and brutal image of the military. However, they came across as suffering soldiers who spoke the language of the people.
Zangalewa had a certain complicity with their listeners. They inserted critical messages in their music that the military top brass did not understand. They left a mark on Cameroonian music as master caricaturists and parodists who used humour and exaggeration that ordinary people could understand by "reading" between the lines of their lyrics.
What happened to him in the military?
Zé Bella was recruited into the military and joined the musical corps of the Gendarmerie Nationale in the 1970s. His talent as a drummer in his military band led to a promotion to the musical corps of the Guarde Républicaine (Republican Guard), the elite guard of Cameroon's first president, Ahmadou Ahidjo.
Ahidjo resigned in 1982 and handed over power to Paul Biya, who has been the country's president ever since. When Biya came to power, things took a terrible turn. In 1984, the Republican Guard, whose officers and soldiers were mostly from Ahidjo's bastion in northern Cameroon, staged a coup and unsuccessfully attempted to overthrow Biya. The uprising was crushed with extreme violence. The Republican Guard was dissolved and those members suspected of being involved in the coup were executed and buried in mass graves or given lengthy jail terms. Zé Bella, though, was not involved in the coup attempt.
When did he create The Golden Sounds?
After the coup attempt, Biya invited the Israeli government to create a new presidential security apparatus. The Cameroon Presidential Guard was formed and Zé Bella became part of its musical corps. In 1986, Zé Bella and a few of his colleagues decided to humanise the Cameroon army, which was known for its extreme brutality and for court-martialling civilian dissidents. So Zé Bella created The Golden Sounds. Their sounds were not golden at all. They played a medley of jocular, satirical, Boy Scout and military bootcamp songs that were as danceable as they were loaded with joking irony.
The music of The Golden Sounds became a cultural phenomenon. Zé Bella's masterful makossa-style arrangements were clever word images, caricatures and parodies sung in the language of the street, the expressive Camfranglais. This is a hodge-podge of Pidgin English, French, Douala, Ewondo, Bassa and other Cameroonian dialects.
The songs in Zé Bella's medleys glided smoothly and effortlessly from language to language, and turn of phrase to turn of phrase. Zé Bella was a musical salesman who was selling the public a lighter side of the authoritarian military.
How did the hit song Zangalewa come about?
Ironically, it was the tightly controlled government broadcaster Cameroon Radio and Television Corporation (CRTV) that made Zé Bella and his band a household name, first in Cameroon and later in other African countries and beyond. The most popular song by The Golden Sounds was Zangalewa (The Pot-Bellied Soldier). Producers at CRTV superimposed the grotesque military parodies of Zé Bella and The Golden Sounds over sequences of solemn Cameroon military parades on national unification day. The effect was hilarious.
The Golden Sounds changed their name to Zangalewa. Under Zé Bella, Zangalewa became a military band that did not play traditional military music. It was a disciplined band that treated the military with utmost jocularity bordering on ridicule. Its "nonsensical" lyrics and exaggerated visuals in tunes like Zangalewa, Caporale Grille (Burnt-Out Corporal) and Casque Coloniale (Colonial Pith Helmet) satirised corrupt, pot-bellied soldiers – and even the country more broadly, for still "wearing" a colonial helmet.
Zangalewa was a hit song that soon moved beyond Cameroon. CRTV sent a copy to the now defunct programme exchange centre of the Union of National Radio and Television Organizations of Africa in Nairobi, Kenya. Zangalewa was included in a collection of African music called African Musical Safari, and distributed in English and French to TV stations across Africa. German broadcaster ZDF aired an excerpt of Zangalewa as part of its 1986 World Cup programming. African DJs introduced Zangalewa to the Afro-Colombia community in Colombia and the song became a hit in the bars and nightclubs of places like Medellin and Cartagena. It is therefore no surprise that Colombian musician Shakira adapted it for the men's football World Cup in South Africa in 2010.
---


Read more:
Tribute to Manu Dibango: Cameroonian jazz pioneer loved across Africa and the world


---
Her song Waka Waka, which is Pidgin English for "wanderer" or "rover", used the chorus and the words "waka waka" from the original song Zangalewa, the medley of "nonsensical" Boy Scout and army boot camp songs skilfully stitched together by Zé Bella. Waka Waka became the theme song for the tournament, and a global hit.