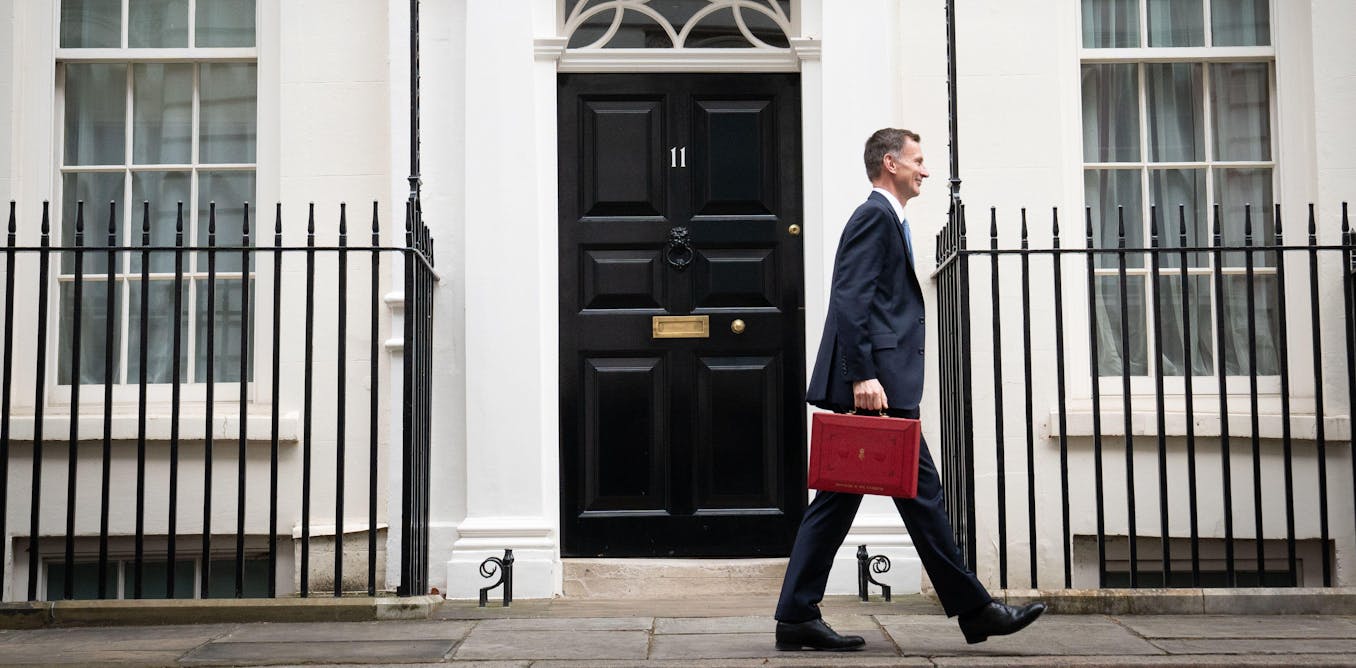 Jeremy Hunt's budget is more about short-term politics than the economy
Jeremy Hunt's first budget day as chancellor was in many ways more about politics than economics.
Historically, the Conservative party's electoral success has been based on a reputation for economic competence. October 2022's infamous Liz Truss/Kwasi Kwarteng "fiscal event" seriously damaged this brand and caused considerable short-term economic damage.
The Conservatives have been consistently behind Labour in the polls since. Labour is now more trusted to manage the economy and oversee economic growth.
The challenges faced by Hunt in his attempt to present a "budget for growth" reflect months, if not years, of poorly focused, short-term politics. He had to balance the need for post-Brexit growth, reassure the markets after the October crisis and win back the electoral coalition that delivered his party its 2019 victory.
Clearly, there are some measures that help with this. Hunt has sought to ease Brexit and COVID-related labour supply problems by improving childcare support and using pension and universal credit reform to incentivise certain groups to return to or stay in work.
There are measures to support investment in new technologies around artificial intelligence and carbon capture and tax incentives for investment. To "unleash civic entrepreneurship", there is substantial support for new investment zones. These are intended to encourage innovation by creating links between businesses, universities and local government.
Compared to the Truss dash for growth, Hunt seems to have taken a pragmatic approach to balancing the markets and voters.
But his claim to "build for the future" does not stack up. Many big decisions have been kicked into the long grass. A familiar problem is at play here: decisions have been made according to a politicised short-termism.
Budgeting for the next election
Post-Brexit, Britain needs a new growth model but the money intended to develop regional growth through "levelling up" has been reduced, with inflation limiting the development of many regional projects. The necessary long-term investment in infrastructure is being curtailed. The decision to delay the completion of the HS2 rail network is a prime example. This fundamental problem was not addressed in Hunt's budget.
By cutting funding in the short term, the government can use this budget to show that it is spending less than expected and is therefore in a position to promise tax cuts in the run up to the 2024 election. But these savings will hamper long-term economic growth, meaning that projects like HS2 will cost more and fail to rebuild regional economies.
Indeed, while the budget seems to be a splurge of spending and positive tax incentives, it comes off the back of an autumn statement that significantly squeezed public spending in key areas. So, the state takes a greater role in childcare in this budget, but at the same time little is being done to tackle the underfunding of core welfare services such as health, social care, education and transport.
Hunt, like so many chancellors of every political stripe before him, has shaped his budget according to the pressures posed by a rapidly approaching election. What is missing is a long-term, strategic growth plan to combat the stuttering approach to reducing inequality and tackling failing public services. The blame for this lies not with individuals or the much-derided Treasury orthodoxy (the need to balance the books) but with the British political tradition.
Westminster's first-past-the-post, winner-takes-all electoral system means that politicians prioritise electoral victory over long-term economic strategy. They manage the public finances accordingly. The continuation of budget secrecy means that there is no opportunity to properly assess the long-term cost and policy implications of initiatives before announcements are made.
The result is a Treasury that is obsessed with counting the pennies in order to allow politicians the options of making electoral calculations, instead of considering the long-term health of the British economy.