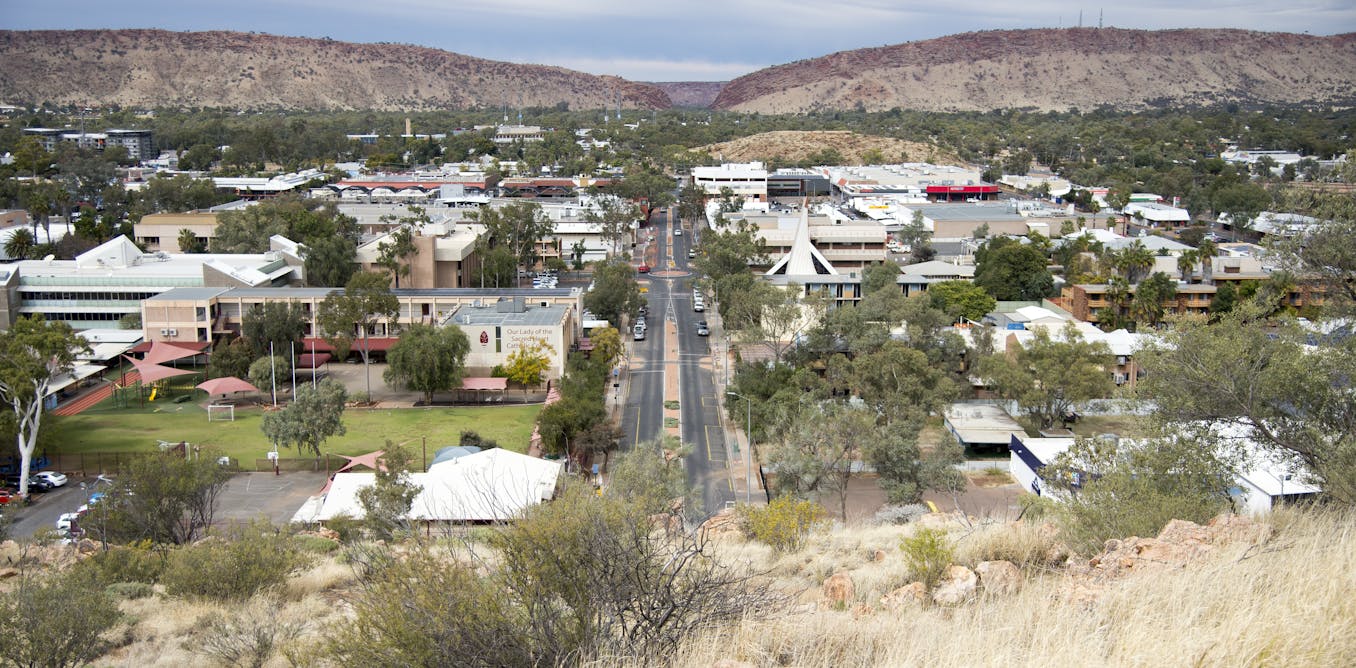 'Just ask us, come and see us'. Aboriginal young people in the Northern Territory must be listened to, not punished
The media frenzy about the "crime wave" in Mparntwe (Alice Springs), and the way the Northern Territory and federal governments are responding, are cause for serious concern.
Everyone has the right to be safe, and crime in Alice Springs must be addressed. But alcohol bans won't work, nor will punitive, tough-on-youth crime laws.
Previous research interviewing Aboriginal children and young people (aged between 10 and 17 years old) whom the Intervention was supposed to help and protect, about the 2007 Northern Territory Emergency Response, said the Intervention's alcohol bans were ineffective and did little to improve their lives, but the bans did shame their communities.
So far, government responses to the situation in Alice Springs echo the same rapid, non-consultative approach to law-making that occurred during the Intervention.
---


Read more:
Here's some context missing from the Mparntwe Alice Springs 'crime wave' reporting


---
Media moral panic led to the Northern Territory Intervention
The media's reporting on Alice Springs over the past few weeks is reminiscent of the role the media played in garnering social and political support for the Howard government's 2007 Northern Territory Emergency Response, commonly known as the Intervention.
Six days after the release of the Little Children Are Sacred report in 2007, the federal government rushed the passage of the Intervention legisation without warning and without consultation with Aboriginal people. Through suspending several laws including the Racial Discrimination Act, measures such as income management, and alcohol and pornography prohibition were implemented in certain areas.
Persistent governmental failure to uphold Aboriginal young people's human rights is one of the core drivers of the social problems in Alice Springs. Defunding youth and family support services and ignoring young Aboriginal people's voices are key examples of this.
Yet blame for the problems in Alice Springs is being directed toward young Aboriginal people while the systemic drivers of the alleged "crime wave" are overlooked.
---


Read more:
Alcohol bans and law and order responses to crime in Alice Springs haven't worked in the past, and won't work now


---
What young people said
Every young person in this study said alcohol bans and the huge signs placed at the entrance to select communities and town camps (that said "NO LIQUOR") negatively impacted their lives.
A young woman (16 years old) said the signs "make communities look bad. They don't respect the community". Another young person (13 years old) said of the signs: "They're racist".
Several young people said the "NO LIQUOR" signs were erected even though their community was a self determined "dry community". Other young people spoke about the fact their parents did not drink alcohol and they had never seen alcohol consumed in their home. Yet these young people and their families were still subjected to the humiliating blanket alcohol regulations under the Intervention.
It's time to listen to communities
The Intervention was predicated on false and racist ideas about Aboriginal people, and in particular children, their families and communities. Yet even given its original objectives to "protect" Aboriginal children from harm, and reduce or eliminate alcohol use, it still failed to achieve these objectives.
What it did do was worsen intergenerational trauma for Aboriginal people and enabled the expansion of harmful policies against Aboriginal communities and their children, leading to sharp increases in the removal of Aboriginal children from their families into the child protection and juvenile detention systems in the NT.
The NT Chief Minister Natasha Fyles' describes "alcohol-related harm" as the Northern Territory's "biggest social challenge". Yet Aboriginal children in this research said upholding Aboriginal people's human rights, especially children's rights, is the Northern Territory's biggest social challenge, about which the United Nations agrees.
The recent knee-jerk alcohol ban goes against the government's messaging about the Indigenous Voice to Parliament. If the government is serious an Indigenous Voice to Parliament will be more than a symbolic gesture, they must start listening to the voices of Aboriginal communities, including those not yet old enough to vote.
Law-making with Aboriginal young people
Governments must consult with Aboriginal people before making any laws that may impact them. More than half the Indigenous population in Australia is under 24 years of age, which makes consulting with young people even more urgent and significant.
The Aboriginal young people interviewed in this study understood how laws and policies will impact them and urged the government to support their active participation in these processes.
Young Aboriginal people in this study expressed a desire to be involved in making "white-fella law" and said their involvement could produce "better laws" that are more attuned to Aboriginal culture and their community's needs. And yet, these same young people confirmed they had never been asked for their views about any proposed policy that will impact their lives (such as the Intervention and alcohol regulations) by any government official. Significantly, they said they felt valued, listened to and heard in their family, community and school.
Governments should respond to the call from a young person (16 years old) in this research, when she invited Australian governments to: "Just ask us. Come and see us".
Continuing laws and policies that deepen racial discrimination against Aboriginal people will only do further harm to Aboriginal communities, impacting children and young people for generations to come.
---
The authors thank Professor Susan Page, Professor Thalia Anthony, Dr Carolyn Adams and Teresa Somes for their feedback on this article.