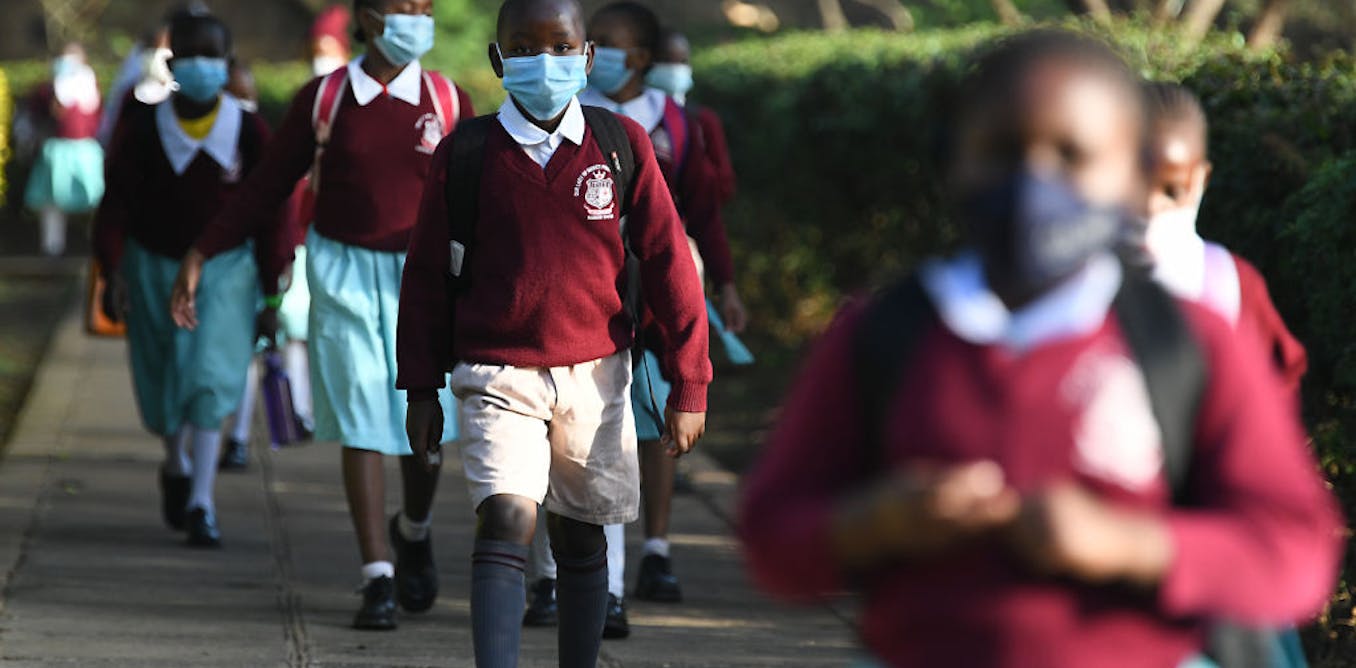 Kenya's school reform is entering a new phase in 2023 — but the country isn't ready
The start of the 2023 school year in Kenya marks an important occasion: the first cohort of pupils to adopt a new curriculum in 2017 are entering junior secondary school.
The competence-based curriculum, as it is known, was launched in 2017 to replace the 8-4-4 system that had been in place for 32 years. The older system was criticised for its emphasis on teachers instructing students and on examinations. An evaluation in 1998, 13 years after it was introduced, detailed numerous shortcomings. These include subjecting students to a heavy workload.
The new curriculum aims at learners constructing their own knowledge and skills through exposure to challenging situations and experience. It is learner-centred and adaptive to the changing needs of students by encouraging innovativeness and creativity. Learners explore and find solutions in classrooms that are connected to real-life situations.
Since 2017, the new curriculum has been introduced in phases. Children who entered grade 1 at all public schools and all but a handful of private schools that year have been taught the new curriculum since day one. Six years on, approximately 1.2 million of those pupils, aged around 12, are entering grade 7. This grade, along with grade 8 next year, will be known as junior secondary school – a stage which hasn't previously existed in Kenya. This stage will be housed in primary rather than in secondary schools.
But that is about all Kenyans know for sure about junior secondary school. Schools are poorly prepared to host and instruct junior secondary classes. Classrooms are incomplete, laboratories are lacking and learning materials have yet to be delivered to schools.
On top of this, the presidential Working Party on Education set up in September 2022 to assess hurdles to implementation and other practical questions has yet to publish its recommendations on implementation. The practical issues include a widespread perception that the new system is a financial burden for poor parents.
The government's immediate task is therefore two-fold. First, it must try to ensure that the quality of education does not suffer. Second, it must provide education without discriminating against any learner based on their social or economic background. This would allay fears that the new system favours the rich.
---


Read more:
6 priorities to get Kenya's curriculum back on track – or risk excluding many children from education


---
The main challenges
There are three major hurdles to successfully implementing the new curriculum.
The first relates to preparedness of teachers and teaching material. Facilities like laboratories and workshops that are a key requirement for successful implementation of the curriculum are yet to be built, and the teaching materials are not ready for grade 7 learners.
Three years ago, Kenya's main teachers' union reported that an internal survey found that few primary school teachers across all 47 counties had been trained to roll the curriculum out. The union said training was truncated from the stipulated five days to just two or three days per school term. Teachers, by their own admission, lack the knowledge and skills they need to follow the curriculum.
This problem is compounded by chronic under-staffing in most schools across Kenya. The teacher deficit stands at over 90,000. This is mainly due to a freeze in employment imposed in 1997 owing to budgetary constraints. Until the 2022 order to hire 30,000 new teachers, only enough were employed to replace those retiring or leaving the profession through natural attrition. The new hires, though welcome, are a drop in the ocean.
The second hurdle is physical facilities: there simply isn't enough room for the new pupils. The lack of infrastructure is a challenge which the government hasn't met over the years. Some learners continue to attend lessons under trees.
Finally, the curriculum has been labelled as very expensive especially for parents in rural areas and those with low incomes. This is because parents are frequently called upon to buy materials for practical classwork. The assumption that all parents can afford smartphones and have access to a computer or printing services for some assignments has also not gone down well.
This would appear to advantage some students at the expense of others and add to existing disparities. This raises concern because education is a basic human right.
Way forward
One of the biggest challenges in Kenya is implementation of policies. This was also evidenced in the early years of the education system that is now being phased out. This is partly due to the failure to involve all stakeholders in education and the private sector to enhance partnerships and collaboration. Working together could promote innovation and research to make the education system relevant and practical.
Faced with the current challenges, the government can borrow a leaf from UNESCO's guidelines on quality education for all. The recommendation calls for partnerships of all actors to learn, compile and evaluate good practices, provide resources enabling practitioners to exchange experiences, and pilot and scale up good ideas.
The government needs to ensure quality education without discriminating against any learner based on their social or economic background.