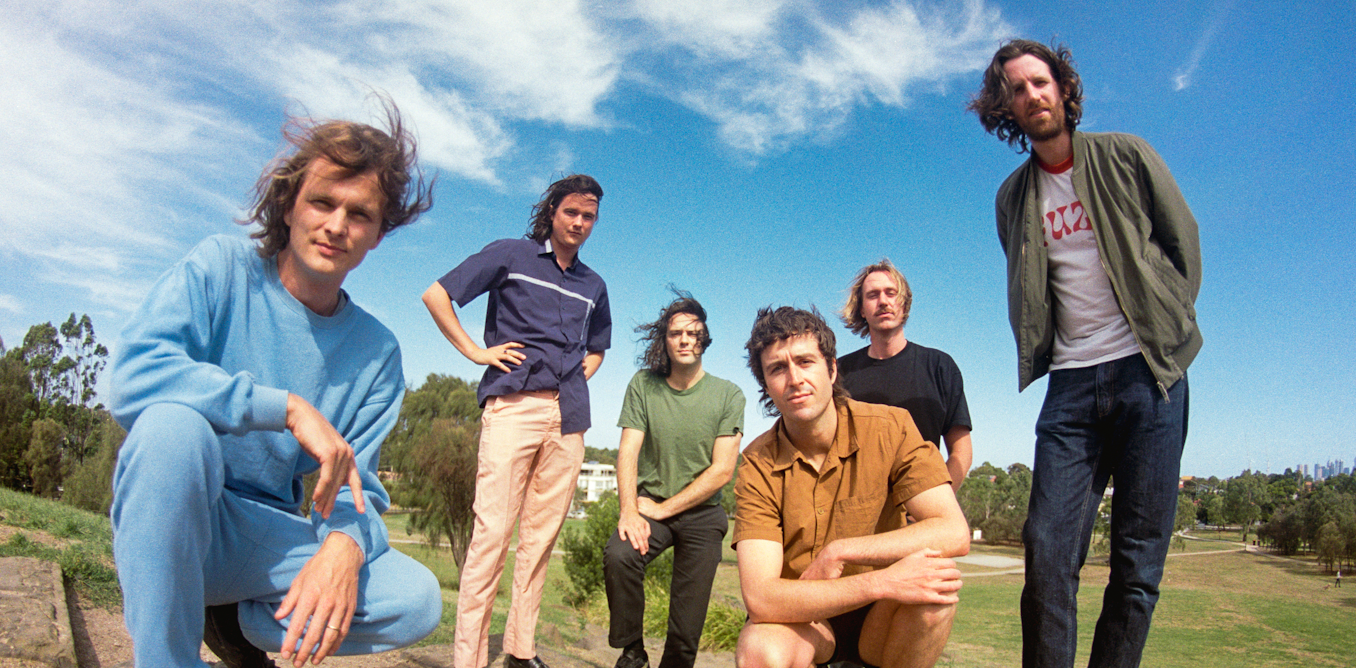 King Gizzard and Sampa the Great abandoning Bluesfest highlights the power of artists to change the culture of the music industry
On Monday, psychedelic rock band King Gizzard and the Lizard Wizard announced they were withdrawing from their scheduled headlining appearance at the Byron Bay Bluesfest in April.
On their social media they attributed this decision to Bluesfest "presenting content" that did not align with their values of being opposed to "misogyny, racism, transphobia and violence".
Sampa the Great has since also withdrawn from the festival.
While not stated directly by either artist, the widely held assumption is that these decisions were prompted by the announcement the band Sticky Fingers had been added to the line-up.
Sticky Fingers have been a controversial group, with accusations of misogynist, racist and transphobic abuse having been levelled at lead singer Dylan Frost.
Bluesfest director Peter Noble defended his decision to include Sticky Fingers. He cited the length of time since the alleged offences and the singer's mental health issues as reasons why they should be allowed to appear at the festival.
This response has echoes of Noble's reaction to Bluesfest being called out in 2018 for a lineup that included only 15% women.
In both cases, his replies are marked by defensiveness and a refusal to admit there may be any issue to answer for.
What's going on?
Understanding why many are frustrated by Noble's responses requires a look at the context. The past few years have been something of a reckoning for the Australian music industry.
Women, LGBTIQ+ communities, First Nations people and people of colour have long been underrepresented, excluded and subject to harassment and violence in the Australian music industry. These groups are routinely underrepresented in festival line-ups, radio airplay and as the recipients of prestigious industry awards.
White men disproportionately hold positions of power in the industry.
The male-dominated nature of the industry has serious impacts. The "boys club" culture contributes towards the normalisation and occurrence of gender-based violence.
Women who have experienced sexism and violence reduce their participation or leave the industry. This limits whose voices and creative work we hear.
We all lose when people from marginalised groups are actively excluded.
Women and others within the industry are increasingly unwilling to remain silent about the sexual harassment, violence and discrimination to which they are subject.
Artists such as Camp Cope and Jaguar Jonze have been instrumental in drawing attention to these issues.
---


Read more:
Camp Cope leaves the Australian music industry forever changed by their fearless feminist activism


---
The activist Instagram account Beneath the Glass Ceiling routinely exposes incidents of sexual violence and harassment in the industry. Infamously, former Sony Australia boss Dennis Handlin was fired after a culture of endemic bullying was brought to light.
In 2022 several key industry bodies commissioned a study looking at working conditions within music in Australia. Raising Their Voices showed widespread discrimination, bullying and exclusion within music spaces. It noted "harmful behaviours can be normalised across the music industry".
To create a more healthy and inclusive environment, one of the report's recommendations was to create a centralised body where industry workers could report incidents, and where accountability might be possible.
The recent cultural policy Revive has provided for a body along these lines. The Centre for Arts and Entertainment Workplaces will provide support to people in the arts who have experienced discrimination, harassment or bullying.
But there are considerable challenges to reporting and addressing harassment within an industry where getting work is often dependent on "who you know".
Those who speak up risk being ostracised.
---


Read more:
Pay, safety and welfare: how the new Centre for Arts and Entertainment Workplaces can strengthen the arts sector


---
The show must go on?
This is where the actions of King Gizzard and Sampa the Great are pivotal. Artists' willingness to stand by their values is key to counteracting the normalisation of harmful behaviours noted by the Raising Their Voices report.
Taking a stance is important in keeping the discussion going around these issues. The withdrawal of these bands from performing consequently raises questions around the social licence of bands, festivals or organisations who repeatedly act as though harm minimisation and inclusiveness are not their problem.
It has been suggested – as it often is when artists take a stance – King Gizzard should not be political, but just be performers. This simplistic argument ignores the way art is often drawn from politics. It also ignores the significant social and cultural capital some artists possess, placing them in a position of power and influence to generate change.
This is not to say there should never be forgiveness, or that people who have caused harm should be "cancelled" in perpetuity (though in some cases this might be appropriate).
However, as we have seen with other high-profile men accused of sexual and other violence, they are often welcomed back into public life without having been held to account and without meaningful steps to make reparations or to change their attitudes and behaviour.
The experiences of their victims are often sidelined in this process. This perpetuates a culture in which harmful actions are condoned and excused at the expense of the safety and wellbeing of others.
Generating meaningful change
Building on the work of the Music Industry Review, there is a need for a sustained dialogue about how we can ensure those who cause harm are appropriately held to account. How can people make amends for their actions? How do we know if it is safe for them to be welcomed back into the industry?
In the absence of meaningful processes of accountability, artists using their position of influence to take a stand against harmful behaviour is a key lever for generating change.
---


Read more:
Is sexual abuse and exploitation rife in the music industry?


---