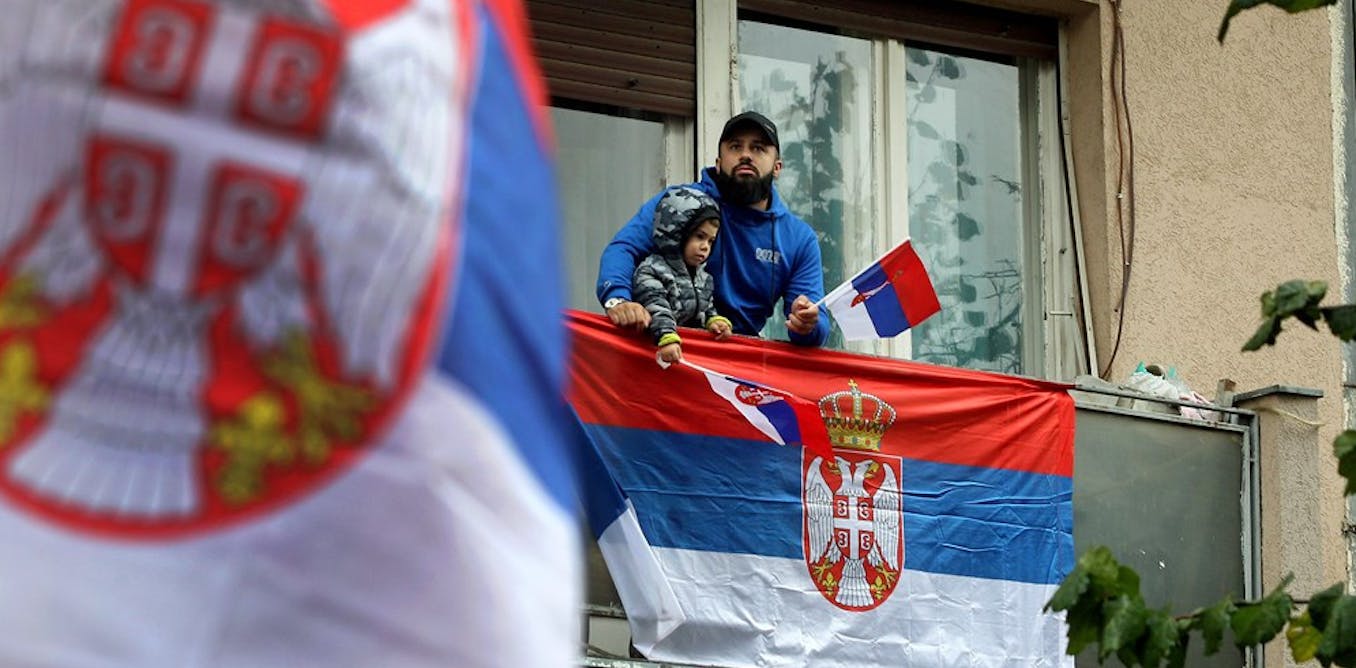 Kosovo: ethnic tensions have created a political 'volcano' that could erupt anytime
After US state department counsellor Derek Chollet recently visited Kosovo in a bid to calm tensions flaring in the north of the country, he said Washington's priority was to prevent "violence metastasising" (spreading) between Serbs and Albanians.
"The last thing any of us wants right now is a crisis in this part of the world given that we have the biggest crisis since the second world war not too far away," Chollet told journalists. He added that: "We don't want to be in a crisis diplomacy. First, licence plates, then barricades, we don't want something else next week."
The US diplomat was referring to a crisis late last year over car license plates in north Kosovo, which borders Serbia. More than a decade after Kosovo – formerly an autonomous province of Serbia – unilaterally declared independence, Serbia has never recognised Kosovo as a sovereign state.
Serbs living in the north of Kosovo, similarly, do not acknowledge Kosovo's independence and overwhelmingly regard themselves as part of the Republic of Serbia. Many have therefore continued to use car license plates issued in Belgrade. Last November, the Kosovo government began the implementation of a plan to outlaw these license plates, triggering the mass resignation of Serbs from state jobs.
Although Serbia and Kosovo subsequently reached an EU-mediated agreement, the situation flared up again following the arrest on December 10 of Dejan Pantić, a former Serb police officer, who was charged with organising a "terrorist act" against the Central Election Commission (CIK) and Kosovo Police. Kosovo authorities claimed that Pantić had attacked CIK officials and police. Serbs responded by erecting barricades and blocking several main roads.
Kosovo's prime minister, Albin Kurti, called on Nato forces stationed in the country to remove the "warlike barricades" and insisted that Kosovo authorities would dismantle them if Nato failed to do so. Serbia's president, Aleksandar Vučić, put Serbia's armed forces on the highest state of alert, maintaining that this was necessary to "protect our people [in Kosovo] and preserve Serbia."
The crisis was defused after Kosovo authorities agreed on December 28 to release Pantić from prison and gave assurances that Serb protesters would not be prosecuted. Vučić responded by calling on Serbs in the north to remove the barricades, which they agreed to do.
Exploiting the crisis
While the situation in the north was certainly volatile, the risk of outright conflict was arguably small – and remains so, despite sporadic acts of violence. Serbia is an EU candidate and Kosovo wants to follow suit. Neither country has anything to gain from renewed bloodshed.
But this hasn't stopped leaders on both sides ramping up tensions for their own ends.
Serbia's prime minister, Ana Brnabić, told the Serbian parliament on December 21: "We are on the brink of an armed conflict thanks to [Kosovo's capital] Priština's unilateral moves."
She also called on civil society organisations to "speak out about the torture experienced by Serbs in Kosovo and Metohija". After Serbs in the north agreed to take down the barricades, Brnabić thanked both them and Vučić for "finding the strength to respond to brutal terror and aggression."
Vučić has referred to Kurti as a "terrorist scumbag" and warned: "If the terror continues, we will close the north of Kosovo forever to the institutions of Priština."
Meanwhile political leaders in Kosovo frequently misrepresent Serbs in the north as "criminal persons/groups." Extremist elements have been active in the north, including members of the Narodne Patrole, a Serb nationalist organisation with connections to the Russian mercenary Wagner Group which is fighting in the war in Ukraine.
But focusing only on extremists ignores the valid concerns of Kosovo Serbs in the north, who have little trust in the government in Priština to protect their rights. Moreover, men and women of all ages have taken part in recent protests, as video footage shows, and thousands of Kosovo Serb women have called for calm.
Political leaders in Kosovo have also been keen to stress Vučić's relationship with Putin to argue that Russia is behind the recent crisis in northern Kosovo and has an "interest in spillover".
This is unlikely. For one, Putin has his hands more than full in Ukraine. Furthermore, the instability in Kosovo goes back decades to the late 1980s when Kosovo's autonomous status was revoked. This ultimately led to Kosovo's declaration of independence from Serbia in 2008.
Kurti's assertion that Russia has "a client who's in Belgrade" is also wide of the mark. It misrepresents the Serbian leadership as Putin's lackeys and ignores the fact that Vučić has his own interests with respect to Kosovo and politically benefits from instability there. Tensions in Kosovo help Vučić to win political points in Serbia and he frequently argues that Germany and Britain are behind everything that Kurti does.
The way forward?
Kurti has used the war in Ukraine to try and accelerate Kosovo's EU membership, and Kosovo formally submitted a request to join the EU on December 15. But the issue of Kosovo's (and Serbia's) membership of the EU cannot begin to be resolved until northern Kosovo is stabilised.
This will mean respecting the Belgrade-Priština Dialogue process, established as part of the 2013 Brussels agreement. Under this, Kosovo and Serbia agreed to create an association of Serb majority municipalities as a mechanism to protect the rights of the Serb minority in Kosovo. Ten years on, this has still not been formed.
No doubt with Kosovo's membership application in mind, the EU's high representative, Josep Borrell, recently called on Kosovo to "start immediately" the process of establishing the association. This is to be welcomed. Without a progressive dialogue between Serbia and Kosovo, and a solution to the issues in northern Kosovo in particular, the hostilities between the two countries will continue to simmer and Kosovo will remain like a volcano at risk of politically erupting every few years.